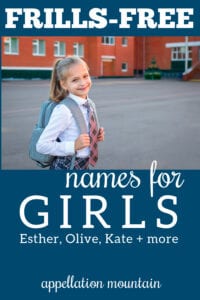 Frills-free names for girls fall somewhere between James and Arabella.
They're clearly feminine. And yet, sound-wise, they're tailored. Even brisk.
And they're not primarily surname names. Blair and Sloane, Harper and Peyton count as frills-free names for girls … but we could just as easily use them for our sons, so they seem to belong on a slightly different list.
They also lean traditional.
It would be easy to come up with frills-free names for girls drawn from the natural world. And some of these do fit that description! But to belong on this list, they also need to feel like names with some amount of history … even if it's twenty years, rather than two hundred-plus.
So if you're into names with a little bit of history, but with a spare and buttoned-up sensibility, this list might be for you!
FRILLS-FREE NAMES FOR GIRLS
ADELE
We're wild about Adeline – choose your spelling – but spare Adele seems like a traditional, restrained option.
A sweetly flowing Scottish river, immortalized in poetry and song.
Storybook Alice is the restrained, vintage charmer that has eclipsed frillier 80s favorites Alicia and Alyssa.
ANN
Among the most traditional of choices, and as stripped-down as they come. Adding an 'e' to make it Anne is only a little fancier.
ASTRID
A Viking name that's equal parts accessible and fierce.
AUTUMN
Seasonal Autumn is tailored and just on the right side of traditional.
BRIAR
A nature name with a fairytale tie-in, via Sleeping Beauty's story.
CARMEN
Carmen means "song," and since it's famous as an opera, that tracks.
A Welsh name meaning "love" and a thoroughly tailored option.
A sophisticated name, all wrapped up in a single syllable. Clare makes it even sparer.
It's French and maybe a little fancy … but only a little. The strong sounds put Colette on the list of frills free names for girls.
A virtue name with a serious vibe.
Pretty, but still far more restrained that Cordelia, Coraline, or many other Cora names.
It fits with Penelope and Persephone, but Daphne seems just a little briefer and more contained.
A Biblical Garden, and a strong, distinctive sound.
A vintage name with a capable vibe.
ELISE
An Elizabeth nickname, Elise feels complete and slightly spare.
ELLE
A single syllable name, though one with quite a bit of style.
ELLEN
Pleasantly old-fashioned, and surprisingly overlooked today.
ELSPETH
A Scottish take on Elizabeth, short and strong.
Like other frills free names for girls, Esme is just the tiniest bit romantic – but still far less elaborate than many favorites.
ESTELLE
Stella and Estella seem sparkly, while frills free Estelle is the strong, serious type.
An Old Testament name known for heroics.
FAITH
A virtue name, rich with meaning.
FERN
Gentle Fern is as simple and lovely as a name can be.
Classic and traditional, Frances has long been in the shadow of frillier Francesca.
GRACE
Simple, straightforward, and as elegant as the late Grace Kelly.
GREER
Another Hollywood-inspired name, Greer started out as a contraction of Gregory, but today feels more like a rare name for a daughter.
Like Margot, Greta comes from Margaret – but stands on its own today.
GWEN
Few names sound quite like Gwen, and Gwen seems whole and complete – even though it could be short for the elaborate Gwendolyn or Guinevere.
A virtue name with sharp and tailored style.
Nature name Hazel is almost exclusively used for girls, packing plenty of style into two short syllables.
HELEN
A serious name with plenty of notable namesakes.
HOPE
A simple word name that carries so much potential.
A strong Scandi import with the glam of Hollywood Golden Age star Ingrid Bergman.
An early twentieth century favorite with a powerful meaning: peace.
An elegant floral possibility.
A mini name at home in the winter, or really any season.
JADE
A glittering green name with a straightforward sound.
Frills free and oh so literary.
Judy is a Jetson, but strong and capable Judith belongs with the frills free names for girls.
A summery month with a sunny disposition.
Goddess Juno is bright and frills-free.
A distinctive sound with a great meaning: just.
The original frills-free name for a daughter, bright and upbeat.
LENA
Helena and Magdalena and Catalina are elaborate, dramatic choices. Just Lena seems far more down-to-Earth.
LIV
A Scandinavian name meaning "life," Liv is the pared down alternative to romantic and elaborate Olivia.
Sister to Louis, with a vintage vibe.
Lucia, Lucinda, and Lucienne all turn it up to eleven, while homespun Lucy is the spare alternative.
A Top 100 favorite with maybe the tiniest bit of frill.
A music name with a tailored sound.
Mini Mae offers a brief, bright possibility for a daughter.
A name from Irish legend with a strong sound and an appealing meaning: intoxicating.
Possibly a Mary cousin, but with an even more tailored sound.
Margaret isn't frilly, but the French nickname Margot seems like a separate – and even more straightforward – option.
Marlowe is the surname name possibility, but mid-century Marlo seems like the definition of frills free girl names.
A classic with history to spare, Mary is also nicely free of embellishment.
MEREDITH
Some a first, and sometimes a last; sometimes masculine, but more often feminine in recent decades, Meredith feels like a name that continues to adapt to our changing world.
NEVE
A name with multiple meaning and origins, Neve seems like the perfect brief, but complete, choice for minimalist parents.
As simple and feminine as a name can be.
OLIVE
The edible – and far simpler – alternative to Olivia.
A gemstone name that's slowly returning to wider use.
Understated and sophisticated, all at once.
PETRA
A rarity with a strong and unexpected sound.
A late twentieth century favorite, but an enduring classic, all the same.
A garden full of roses is anything but frills-free, and yet this name sounds brief and strong.
Steely Ruth is an Old Testament name with plenty of backbone.
SEREN
A Welsh name meaning star, tailored and complete.
A French name with a serious, sophisticated appeal.
SKYE
More common than word name Sky, this name seems as big as the natural world it seeks to describe.
Once a name for a prophetess, Sybil now feels practical and self-contained.
TAMAR
An Old Testament rarity that fits with surnames like Harper, Parker, and Piper.
A slimmed-down take on elaborate Thomasina.
A lively name with a bright sound, Vivian is just on the right side of frills-free.
A tree name with an appealingly brief sound.
One of several avian names very much in favor today.
What are some of your favorite frills-free names for girls? Would you use any of the names on this list? Are there more names that should be included here?
First published June 28, 2008, this pst was substantially revised and re-posted on February 24, 2014 and again on July 1, 2021.