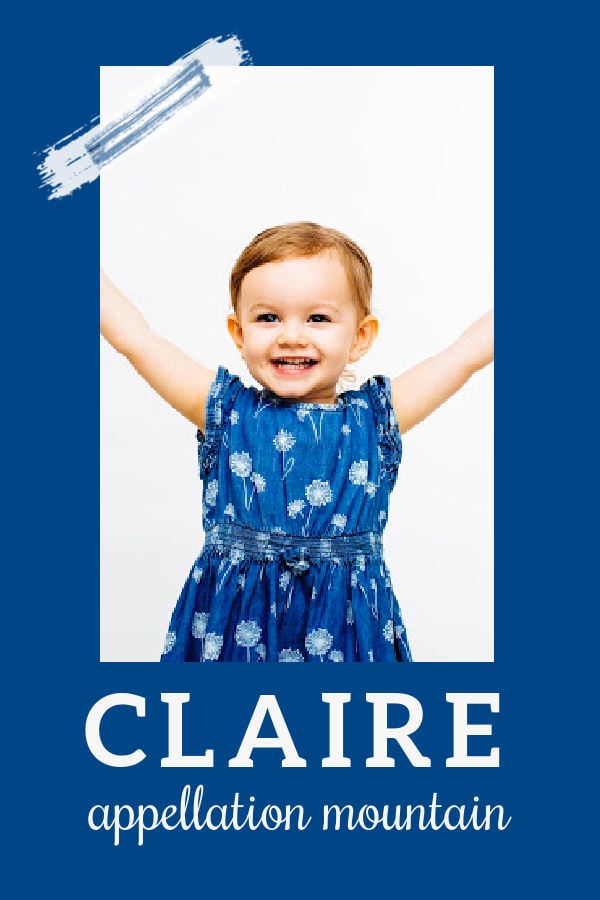 The baby name Claire combines a classic sensibility with a shining meaning.
Our Baby Name of the Day is inspired by my mom.
CLARUS
In Latin, clarus means clear. It's the root of our word clarity.
Though clear can, of course, imply other things. Fair weather. Innocence. Brightness, even splendor. Certainty. Perhaps intelligence.
That makes the baby name Claire almost a virtue choice, or at least a very auspicious meaning.
CHIARA
Another reason to find the baby name Claire virtuous?
Much of its fame comes from a saint.
Born Chiara Offreduccio in 1194, you might know her as Saint Clare of Assisi, an early follower of Saint Francis. She founded a religious order officially called the Order of Poor Ladies, but long known as the Poor Clares.
When Clare fell ill, it was said that she could see Mass projected on her bedroom wall. In 1958, she was named the patron saint of television.
By a twist of fate, in 1981, Mother Angelica founded the Eternal World Television Network, Catholicism's cable network. She, too, was a member of the Poor Clares.
CLARA + CLARE
Chiara, of course, is simply the Italian form of the baby name Claire. It's popular, too – a long-time Top 20 favorite in Italy.
Strictly speaking, Claire is the French spelling and Clare the English. Clara, the Latin version of the name, is heard in many languages, though it's often spelled with a K – Klara. The Irish Ciara, however, has other roots.
Masculine form Clarus saw some use, probably by the 200s. Some list Saint Clarus – or Clair – as the first Bishop of Nantes around that time.
The surname Sinclair comes from the place name Saint-Clair.
Clare, Clair, and Claire all occur as surname spellings, too. Many come from the given name, but not all.
Richard Fitz Gilbert came to England with the Norman invasion in 1066 and was created the 1st Lord of Clare. His family enjoyed significant holdings in the centuries following, and they became known as the de Clares. He built Clare Castle in Suffolk, though it is no longer standing.
Between the surname and the original Latin form, there are male Clares – and Clairs, and perhaps a few Claires, too.
CLAIR DE LUNE
Of course, clarus gave us words as well as names. In French, clair means clear or light.
The phrase clair de lune means moonlight in French. Claude Debussy used the phrase as a title for part of a piano suite; it's the name of a traditional French folk tune, too.
BY THE NUMBERS
Place name, word name, masculine and feminine … how does the baby name Claire fare in terms of numbers?
In the US, the baby name Claire has always ranked in the US Top 1000 for girls, and appeared on the fringes of the rankings for boys, too, well into the 1930s. The Claire spelling has always been reasonably well known, but it is most popular today. Claire entered the Top 100 in 1998, and sits at #55 as of 2019. It is no longer used for boys.
Clare's story is similar. It's nearly always ranked in the girls' Top 1000 in the US, and appeared for boys as late as 1941. But the Clare spelling has been far less popular in recent decades. As of 2019, it stood at a frosty #800 for girls. This spelling held on slightly longer for boys, but is also nearly unheard of today.
And then there's Clair. The numbers here are very different. It doesn't chart in the US Top 1000 at all – and hasn't since the 1960s. But when it did appear, it was almost exclusively masculine. The numbers flipped in the late 1970s. As of 2019, 40 girls and fewer than five boys received the name Clair.
FAMOUS CLAIRES
The baby name Claire brings to mind dozens of famous figures.
Claire MacDowell starred in hundreds of silent films in the early twentieth century. Actor Claire Trevor scooped up a series of Oscar nominations from the 1930s into the 50s; she won Best Supporting Actress for 1948's Key Largo. More recent celebrities include Claire Danes and Claire Foy.
The B-52s' spaced-out single "Planet Claire" was released in 1979. And Molly Ringwald played Claire in classic 80s flick The Breakfast Club.
Television characters have ranged from Hayden Panettiere's cheerleader on NBC's early 2000s hit Heroes to the more recent Claire Dunphy, played by Julie Bowen, in ABC's Modern Family. Series like Six Feet Under, Law & Order, House of Cards, and Lost have used the name, too.
Outlander and The Time Traveler's Wife both use the name, too.
TAILORED CLASSIC
The baby name Claire hits all the right notes. It's nearly as classic and enduring as Katherine or Elizabeth, but with a spare simplicity. More elaborate Claire names abound, but the single-syllable remains among the most enduring.
In a world of Quinns and Sloanes, Isabellas and Sophias, Claire falls exactly in the middle. It's sweet for a child, sophisticated for an adult. The shape-shifting name feels instantly familiar, but not too common.
What do you think of the baby name Claire? Do you prefer Clara, Chiara, or Clare instead?
First published on April 9, 2010, this post was revised substantially and re-posted on February 20, 2021.