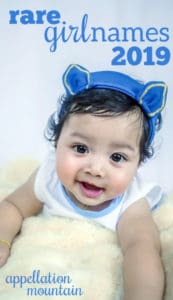 Today we'll look at rare girl names 2019. Every one of these picks was given to just eight girls born between January 1st and December 31st of 2018.
That makes them very rare, indeed. Consider this: parents named 18,688 girls the #1 name, Emma. And even the names perched at the very edge of the US Top 1000, like Kimora and Maliah, were given to around 259 newborns.
The great eights? They fall solidly into the so-rare-you'll-never-meet-another category.
Agape
The Greek word for love, worn as a given name by early saints, Agape seems quirky, even extreme. Except we're naming girls Chloe and Daphne and Penelope, so is ah-gah-peh any tougher to say? Maybe … but I think the meaning and possible nickname Aggie could make up for it.