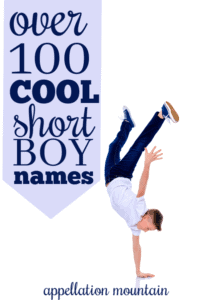 Looking for cool short boy names?
They're perfect with a longer surname. They work wonderfully well in the middle spot. And if you're keen to avoid nicknames, then keeping it simple can help – a lot!
These short boy names range from classic cool to names you've probably never considered before. But there's something on this list for nearly every family.
I've skipped some of the most tried-and-true of the classic boy names, even while others made the cut.
Many of these could fit into more than one category, too, so if you're after a short, cool globetrotter, nature name? You'll find something here.
And while short doesn't necessarily mean one-syllable, I've kept this list to single-syllable names.