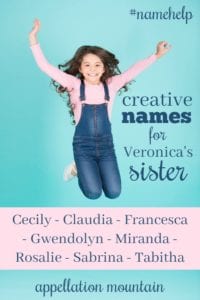 Name Help is a series at Appellation Mountain. Every week, one reader's name questions will be discussed.
We're relying on thoughtful comments from the community to help expectant parents narrow down their name decisions. Thank you in advance for sharing your insight!
Kristen writes:
Help! We're expecting a second daughter at the end of August, and we can't decide on a name.
Our first daughter is Veronica Claire. We chose her name almost instantly, during a long drive right after the ultrasound where we found out she was a girl.
What we like about it: it's different, but everybody knows it. There's really only one was to spell it. It feels sort of creative and fun, but it's really kind of an old name. We sometimes shorten it to Vee and Vica and Vero at home, but most other people just use the full name.