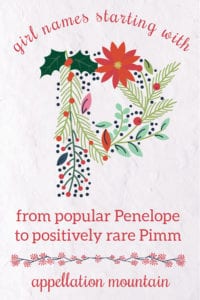 Plenty of perfectly pleasing girl names starting with P populate this list.
There's something about the letter P, isn't there? It reads little offbeat. And it's tempting to use for siblings. Just ask the Halliwell sisters of Charmed fame – Prudence-called-Prue, Phoebe, and Piper, plus cousin Paige. Or the Featheringtons of Bridgerton. There's mom (or is that mum) Portia, plus daughters Philippa, Prudence, and Penelope.
The letter ranks 16 out of 26. And that's about right. Only Patricia has ever made the list of the most popular girl names. So while there are always some girl names starting with P near the top of the charts, it remains an interesting letter.
Girl names beginning with P are enjoying a particularly stylish moment. There's Penelope and Piper, of course, and plenty more. Some of them are Ph names that sound like F. But most of them offer the satisfying pop of the letter P.