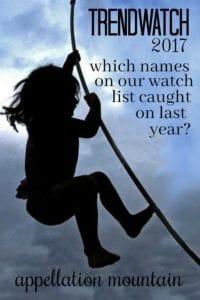 Time for the Trendwatch 2017 report!
Every year, I choose a list of names to watch. I think they're likely to rise – or I know they've been steadily rising. But I'm guessing that they'll make the Top 1000 in the coming year.
It's a nice, bright line. Either the names break in – or not. And what can I say? I like a score card, even though I know my hit rate will always be on the low side.
Why does it matter if a name makes that magic cut-off? The Top 1000 list is widely discussed and dissected by everyone from baby name enthusiasts to casual pop culture fans. It comes up ALL the time, whenever there's a wildly unconventional celebrity baby name, a headline-worthy event that inspires parents to name their children accordingly, or just a slow news cycle. And it's the list that a great many expectant parents refer to when choosing names. So a name on the list is more likely to catch on than one that's just outside.