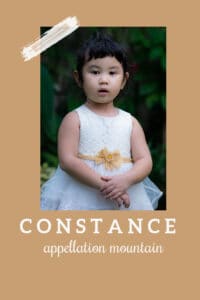 The baby name Constance could be the perfect successor to Eleanor or Grace or even Charlotte.
Thanks to Corinne for suggesting our Baby Name of the Day.
STEADFAST
In Latin constantem means constant or steadfast. Names have been based on this word for millennia – think of Constantine.
In Late Latin, Constantia appeared as the usual feminine form.
Roman emperor Constantine the Great had a daughter called Constania. She's now known as St. Constance, making this an early name from Christian tradition. Her story is told in the Golden Legend, a collection of saints' lives. (Though the story told there is very different from other accounts of the historical figure.)
It wasn't until Medieval England that the -stance ending became common for girls. Credit goes to William the Conqueror, whose daughter answered to the name – possibly thanks to the popularity of the saint's story.
HISTORY GALORE
Besides the saint and the Anglo-Norman princess, plenty of other famous people have worn the name, including:
A twelfth-century Duchess of Brittany; a character based on the duchess appears in Shakespeare's King John, making this a literary name, too
In medieval France, Constace was the only daughter of King Louis IV.

Members of the royal family of Sicily
Mozart's clever wife, Constanze
A passenger on the Mayflower, sometimes called Constanta
Lake Constance sits at the foot of the Alps, and touches Germany, Switzerland and Austria. The lake takes its name from neighboring city Konstanz, and Konstanz comes from Roman emperor Constantius I.
Constance Markievicz became the first woman elected to Parliament in the UK, and would later serve as Minister for Labour in the Irish Republic's First Dáil, making her the first female cabinet minister in Europe in the early 1900s.
MIDCENTURY FAVORITE
During the late nineteenth century, the baby name Constance would have felt familiar in the US. It ranked in the 300s most years.
Then it started to climb. Some credit goes to Constance Bennett, a 1930s Hollywood favorite, best remembered for starring opposite Cary Grant in 1937's Topper. Constance Moore also became a Hollywood staple in the same era.
By the 1940s and early 1950s, it had become a Top 100 favorite.
Women by the name went on to become leaders in a great many field. Constance Baker Motely was a lawyer, judge, and leader in the Civil Righs Movement during the 1960s,
And that's the problem. Most of us file Constance with midcentury favorites like Barbara, Linda, and Carol. Constance feels stuck in style limbo with other Baby Boomer staples.
CONNIE
But it's not Constance that's so very dated.
Instead, it's the nickname Connie.
As it happens, Connie outranked Constance by quite a bit, reaching #35 in 1955.
Singer Connie Francis – born Concetta – became a household name during the late 1950s. But that's probably another reason the name feels dated, not why Connie caught on in the first place.
There's also Connie Chung, the journalist and news anchor whose career spanned the 1970s into the early 2000s. A generation of Asian women were named for the reporter.
BY the NUMBERS
From 1946 through 1953, the baby name Constance appeared in the US Top 100. The name remained in the US Top 300 until 1968.
Nickname Connie fared even better, ranking in the US Top 100 from 1940 until 1968. Connie remained a Top 100 pick until the year 1980 – suggesting that Connie Chung's influence was small, but significant.
That means that Connie feels particularly dated in the 2020s.
One way to sidestep the issue: choose Constance, rather than shortening the name to Connie.
Neither Connie nor Constance has ranked in the US Top 1000 during the twenty-first century, both leaving the rankings during the late 1990s.
THE BRIDE
Constance does feel delightfully vintage.
Disney fans might recognize the name for another reason. Iconic ride The Haunted Mansion takes us through the crimes of Constance, a black widow bride who ghoulishly cackles as she says "Til death do us part."
Since the Mansion is set in the nineteenth century, it's a period-appropriate choice. And choosing a name that signals steadfastness for such a terrible character is an extra touch.
On a similarly dark note, Shirley Jackson's We Have Always Lived in the Castle introduced us to Constance Blackwood, older sister to Merricat. This fictional Constance was arrested for murder, and while she's aquitted, the whole town still thinks she's guilty.
Just one more: offbeat and macabre musical Ride the Cyclone was the story of members of St. Cassian's High School choir, who perished when a roller coaster malfunctioned. One of the victims who sang her story posthumously? Constance Blackwood – yup, same name – the "nicest girl in town." Or is she?
CONTEMPORARY CONSTANCES
While the name Constance hasn't made an appearence in the US popularity rankings in recent decades, a handful of high-profile women have kept it in the spotlight.
Actress Constance Marie, who rose to fame as Angie in The George Lopez Show.
French model Constance Jablonski has appeared in campaigns for global brands like Estee Lauder.
Constance Zimmer has appeared in series like Entourage, Boston Legal, House of Cards, and Unreal, earning a Primetime Emmy nomination for the last role.
If you watched the original Gossip Girl, you might think of the fictional prep school attended by Blair, Serena, and friends: Constance Billard School for Girls. It's referred to simply the founder's first name. The Max reboot takes us back to Constance, this time with Julien, Zoya, and more.
The most famous Constance of recent years is probably Constance Wu. Lauded for her star turn as Rachel in Crazy Rich Asians and Fresh Off the Boat, Wu has become a household name.
UNIQUE NICKNAMES
One reason none of these famous women have helped bring back Constance? Default nickname Connie feels a little too dated.
And yet, a little bit of creativity might lead to the perfect nickname for a Constance born today.
Cassie – The consonant sounds are almost there, even if the vowel is a reach.
Cece – There are two Cs in Constance, so why not?
Coco – A promising potential nickname, Coco is sometimes used by both genders. (Think Conan O'Brien.) But it feels like a very on-trend option for Constance.
Cosi – No question the sounds are there.
Costa – A masculine nickname for Constantine in some cultures, It's Consta, hold the N.
Stacy – A formerly popular name for an earlier generation, the strong STA sound makes Stacy an option for Constance.
Tancy/Tansy – Yes, it's a flower and a herb. It's also the last syllable of Constance, plus a Y ending.
Spanish nicknames like Conchita could work, too, though it's originally associated with Concepcion. Still, there's no shortage of potentially good nicknames.
Of course, the real answer might be that two-syllable Constance doesn't need a nickname any more than Charlotte, Caroline, Amelia, Eleanor, Florence, or many other lovely vintage choices.
UNDERUSED GEM
Overall, a picture emerges of an underused gem. The baby name Constance is rich with history, from ancient Rome and the medieval era to recent centuries.
For families looking for something meaningful, accessible, and rare all at once, this feels like a potentially perfect choice.
What do you think of the baby name Constance? 
This post was published on September 18, 2009. It was revised and reposted on September 5, 2016 and again on November 4, 2023.