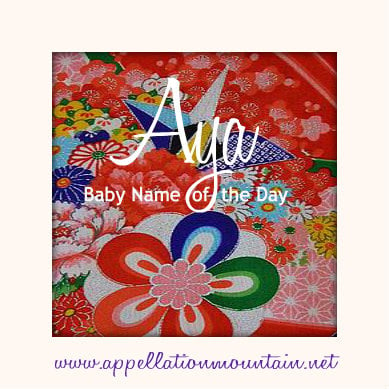 She's a super-short name with a meaning and origin to please anyone.
Thanks to Michelle for suggesting Aya as our Baby Name of the Day.
Mini names tend to be shape shifters, heard in many languages, with ties to multiple given names.
From the common to the obscure, you might find Aya listed as:
A Japanese given name related to color, design, or a type of silk.  The exact meaning depends on the kanji – characters – used to write the name, so other possibilities exist.
She's also a short form of many Japanese feminine names, like Ayako, Ayame, and Ayano.
Among the many variations of Maria, there's Marja.  In Scandinavia, a pet form of Marja is Marija, and Aija, Aja, or Aya is a sometimes-heard nickname form.
In Turkish, aya is the word for palm, as in the palm of your hand.  But I've yet to find her listed as a Turkish given name.
Many sources say that Aya is an Arabic name meaning miracle or sign.
Others say Aya is Hebrew for bird, or maybe vulture or hawk.  It's a masculine name in the Old Testament, also spelled Ajah and Aiah.
Istanbul's Hagia Sophia was built as an Eastern Orthodox cathedral in the fourth century, served as a house of worship for various faiths over the centuries, and is now a museum.  Hagia Sophia means holy wisdom, and in Turkish, she's called the Ayasofia.  I assume this means Aya means holy, but I can't confirm that.
There's an ancient Akkadian mother goddess called Aya, associated with the dawn.
Some accounts list a Saint Aya in the early 700s, a noblewoman who took religious vows and donated much of her land to her order.  She's more commonly listed in Catholic sources as Agia.  A sixth century queen of Burgundy is recorded as Austregildis, another name sometimes given to Aya, so perhaps there's a story there.
She's a Top 100 pick in France today.  Meilleurs Prenoms attributes her rise to the French Muslim community.
She's also popular in Belgium and Spain, and she's been catching on slowly in the US.  A handful of girls received the name in the 1970s, so few that they might all be Japanese-American families looking for a cross-cultural possibility.
But today Aya is on trend for another reason.  We're more interested in short names than ever before.
Ava and Mia are both in the US Top Ten.  Zoe and Eva aren't far behind.  You might also meet girls named Amy, Ana, Ivy, Gia, Lea, Lia, Nia, Tia, Ada, and Ali as well as single-syllable choices like Mae, Liv, Sky, and Joy.  For some parents, the ideal twenty-first century name is spare, simple, and nickname-proof.
She shares sounds with Ayla, Isla, and Anya, names that have attracted attention in recent years.
Aya fits the mini-names trend, and has the added appeal of being nicely cross-cultural.  For families eager to find a name that isn't too closely tied to one background, Aya solves the riddle in a compact, current package.