Arlo was originally published on January 31, 2009. It was substantially revised and re-posted on February 1, 2016.
Ends in 'o' names for boys are quite stylish today, and this one is no exception. Thanks to JNE and Christina for suggesting our Baby Name of the Day.
Arlo: Guthrie
Even if you're more into Britney than bluegrass, you've probably heard of Arlo Guthrie, the American folk singer.
Tune into many a radio station on Thanksgiving Day, and you'll hear Guthrie's famous "Alice's Restaurant." The song lasts for 18 minutes, 34 seconds. And yes, his Alice is a real person – but she runs an art gallery.
Arlo: 1915 Name
Guthrie was born in 1947. He was actually a late example of the name. Arlo reached a highpoint in 1915, at #667 in the US, after first cracking the US Top 1000 way back in 1900.
Other bearers of the name include:
Novelist, poet, and newspaper editor Arlo Bates, born in Maine in 1850.
World War II Medal of Honor winner Arlo Olson.
There were others, too, but this name was nearly extinct by the 1960s, and remained so well into the 1990s.
Only around 2004 did the name show signs of a comeback. More on the numbers in a minute.
Arlo: Origins
The name's origins and meaning are debated. Here are the top contenders:
It could come from the Italian form of Charles, Carlo.
It might be a a form of the English surname Harlow, which may mean fortified hill.
Some suggest that the name was once a Spanish word for barberry trees, but despite this being much-repeated, I can't verify it. (El bérbero seems to be the preferred Spanish word, at least in 2016.)
In Edmund Spenser's The Faerie Queen, Arlo Hill is "the best and fairest hill" and is surrounded by "faire forrests." Scholars believe Spenser was inspired by a real location, possibly Ireland's Glen of Aherlow.
One more twist: Mr. Bates, one of the earliest Arlos I've found, was almost certainly given an invented name, as was his father, Niran. He continued the tradition, naming his son Oric. It's possible that the author inspired parents to borrow his unusual given name.
Arlo: By the Numbers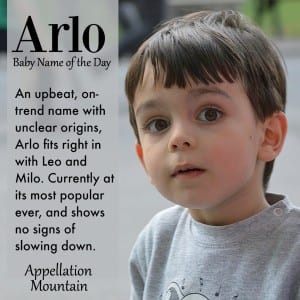 In recent years, this name has become more popular than it was way back in the early 1900s. In 1915, Arlo reached #667. By 2014, it stood at #539, surpassing its previous peak.
A small number of parents have used this name for girls, too, including Leighton Meester and Adam Brody's Arlo Day, born in 2015, and Johnny Knoxville and Naomi Nelson's Arlo Yoko, born in 2011.
But this name definitely leans masculine, and has been used for a long list of fictional men and boys. In the 2015 Disney Pixar movie The Good Dinosaur, it's the name of the main character – an apatosaurus. (The caveboy answers to Spot.)
Characters have also worn the name on a later season of Fox's 24, FX's Justified, and a handful of minor roles, too.
Overall, it's made for a boy's name that feels upbeat and accessible, novel but not nouveau, and cool without being too edgy. While the name is definitely catching on, there were just over 500 newborn boys given the name in 2014 – that's a far cry from over 1,100 Milos and nearly 4,000 Leos.
Would you consider Arlo for a son? Have you met any boys by the name?