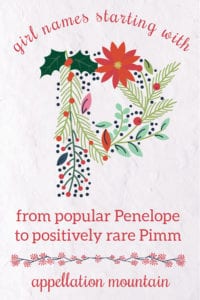 Plenty of perfectly pleasing girl names starting with P populate this list.
There's something about the letter P, isn't there? It reads a little offbeat. And it's tempting to use for siblings. Just ask the Halliwells of Charmed fame – Prudence-called-Prue, Phoebe, and Piper, plus cousin Paige. Or the Featheringtons of Bridgerton. There's mom (or is that mum) Portia, plus daughters Philippa, Prudence, and Penelope.
As first initials go, the letter ranks 16th out of 26. And that's about right. Only Patricia has ever made the list of the most popular girl names. So while there are always some girl names starting with P near the top of the charts, it remains an interesting letter.
Girl names beginning with P are enjoying a particularly stylish moment. There's Penelope and Paisley, of course, plus plenty more. Some of them are Ph names that sound like F. But most of them offer the satisfying pop of the letter P.
MOST POPULAR P NAMES FOR GIRLS
Clever and fearless, ancient Penelope has been with us across the millennia. The name has never gone completely extinct, and never been especially popular – until now.
Colorful, bohemian Paisley falls somewhere between color names like Scarlett and surnames like Harper – but with a distinctive style, too.
A musical surname name, Piper was already climbing the charts when the world met Orange is the New Black's Piper Chapman in 2013.
A 1990s breakout hit for boys and girls alike, Peyton rose steadily for both genders until around 2007. That's when it leapt into the girls' Top 100 and began a slow fade for boys. It's falling for both genders now, though it remains quite popular – especially for our daughters.
PARKER (#128)
Parents of a certain age will think of early 90s sitcom Parker Lewis Can't Lose, but maybe indie actor Parker Posey, too – and yes, that's her birth name. The outdoorsy surname has always been unisex in use, but the numbers still give a slight edge to the boys – for now.
PRESLEY (#213)
It's a surname name with a rock and roll vibe, thanks to Elvis. And because of Elvis, this name has never really left our pop culture consciousness. It's gone from seldom heard choice to familiar twenty-first century name.
PAYTON (#218)
Another spelling of Payton, making this name even more popular than it seems at first.
Phoebe owes something to Zoe and Chloe and Penelope, too. But it's also a nature name – relate to birds – with a great meaning: bright. Besides the Charmed character, it's also the name of one of the Friends, making this instantly familiar across generations.
Originally a surname given to a young servant, Paige became a 1990s favorite. It still feels like a minimalist possibility for a daughter born today, a sister for Sloane or Quinn.
A place name with a distinctive sound, and a mythological creature associated with rebirth makes Phoenix unlike any other name.
A surname name with spiritual overtones – Palmers originally referred to pilgrims, holding their hands together in prayer – Palmer continues to follow Parker and Piper up the charts.
PAISLEE (#378)
Paisley meets Kaylee.
PARIS (#419)
A romantic place name with ancient roots, Paris has gone from Trojan prince to celebutante. And while Paris Hilton might give some parents pause, she's also made us all familiar with France's capital city as a given name.
Bright and energetic Poppy is a flower name less expected than Daisy, with plenty of spirit.
FAMILIAR GIRL NAMES STARTING WITH P
A gentle, lacy antique, Priscilla is one of those names everyone knows – but (almost) no one is using.
PENNY (#727)
The obvious Penelope nickname stands on it own, with a hint of copper.
A richly meaningful gemstone name, Pearl makes a big impact in a single syllable.
PRINCESS (#797)
A royal name to go with brothers Duke and Reign.
A goddess associated with the season, Persephone logically follows Penelope.
PAULA (#822)
This feminine form of Paul peaked in the 1950s, then got another boost from 1962 hit "Hey Paula," recorded by duo Paul and Paula. (Really, Jill and Ray, but their first hit song lent them their stage names.)
An elaborate spin on Paula, this feminine form of Paul seems closer to current favorites like Isabella.
A word name with a strong and virtuous meaning.
PAISLEIGH (#863)
Another possible Paisley spelling.
A lovely Spanish name with a peaceful, avian meaning – dove.
PAOLA (#955)
The Italian form of Paula, with a globe-trotting vibe.
PAITYN (#984)
Another take on Paityn, influenced by former favorite Kaitlyn.
RARE GIRL NAMES STARTING WITH P
Perhaps a difficult virtue for a small child, but a worthy one nonetheless.
PERIDOT
A gemstone name far rarer than Ruby.
PERSIS
An intriguing rarity from the New Testament.
PETAL
A pan-botanical possibility far rarer than Lily or Rose.
A feminine form of Peter, this name is far more common in European languages than American English.
PETULA
As in 1960s singer Petula Clark.
A name from Greek myth with a tragic story and an uplifting meaning: light.
PHILIPPA
Pippa Middleton's given name, this feminine form of Philip is rare, but perfectly wearable.
An elaborate ancient name that could fit right in with Sophia and Olivia.
A mini name in the key of Mia, with a spiritual meaning: pious.
Pilar is simply the Spanish word for pillar, which implies strength. But it's pronounced peh LAHR, and it refers to an apparition of the Virgin Mary, dating to the year 40.
PIPPA (unranked)
Originally short for Philippa, this sparky name is widely familiar thanks to Pippa Middleton, sister to future queen Kate.
A type of elfin creature, but far more name like than Fairy or Sprite.
POET
An occupational name with a literary vibe. Poem and Poetry might also be options.
A rarity found on the royal Grimaldi family tree, Pomeline comes from the Roman goddess of fruit trees.
A Shakespearean name that gives your daughter an impressive namesake.
Also spelled Posy and Posie, this name might refer to a small bunch of flowers, or a sweet sentiment.
If we name our daughters Meadow, why not Prairie?
An optimistic spring-time name, made famous by The Hunger Games.
A Sanskrit name, Priya means beloved.
A virtue name that comes with a trippy, built-in lullaby from The Beatles.
P NAMES FOR GIRLS FROM ANOTHER AGE
A poetic invention that peaked in the 1950s.
PAULETTE
Paulette peaked in France early in the twentieth century, then traveled to the US and caught on here, too, as a 1940s favorite.
PATSY
This Patricia nickname stands on its own, thanks to musical legend Patsy Cline – born Virginia Patterson Hensley – and maybe even Absolutely Fabulous' inimitable Patsy Stone.
PATRICIA
Classic Patrick's feminine equivalent is Patricia, a long-time Top Ten chart-topper currently in hibernation.
PEGGY
This sweet, vintage Margaret nickname could fit right in with Maggie, Molly, and other nickname names for girls.
A spice name in the key of Rosemary, Saffron, and Sage, but with the Avengers seal of approval thanks to Pepper Pots.
PERPETUA
A Latin name derived from the same roots as "perpetual," Perpetua is rare in the US but might be a sister for Aurelia.
PHYLLIS
A 1930s favorite, this Greek mythological name has an on-trend nature meaning: foliage.
An almost-forgotten Mary nickname, Polly ought to be more popular given our ongoing love of Molly.
ONE-SYLLABLE P NAMES FOR GIRLS
The Latin word for peace, it's more likely to be used for a son today. But Pax started out as a Roman goddess.
PEACE
Instead of Pax, the straight-up word name feels virtuous and appealing, too.
PEACH
More common as a nickname than a formal name, Peach – along with Peaches – does occasionally appear as a given name, too.
PENN
A nod to Pennsylvania, Penelope, or just a brief name less expected than Lynn.
A Dutch nickname for William, but also sometimes a surname borrowed from feminine given name Euphemia.
PINE
A tree name far less common than Willow or Rowan, but nearly as wearable.
PLUM
An edible name, Plum can also mean excellent – think of a plum assignment. It fits in with Navy and Teal, too.
PRAISE
This accolade name suggests a spiritual meaning.
PRUE
Short for Prudence, though a great meaning women with the full name prefer Prue.
Another spiritual possibility, chosen by a Kardashian and with the appeal of many modern word names.
Whoa – that's a lot of girl names starting with P! Any favorites here? What would you add to this list?
First published on April 12, 2021, this post was revised and re-published on March 14, 2022.