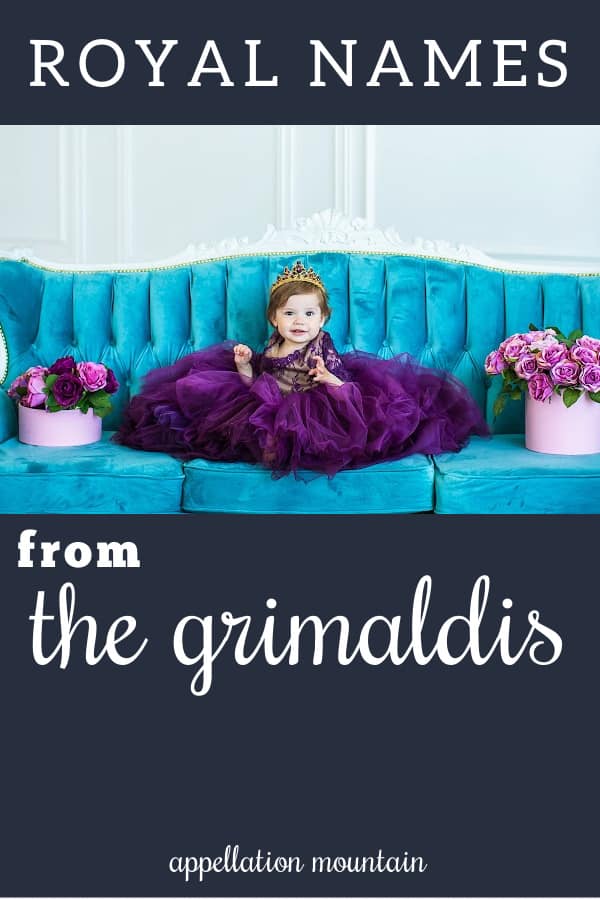 Don't you just love a royal family tree, especially one with elaborate, language-spanning names? The Grimaldi royal family names might be the most intriguing in Europe.
The family originally hails from Genoa, but they're most closely associated with the tiny, prosperous principality of Monaco.
Their roots trace to the twelfth century. The family intermarried with royals from all across the continent – and Hollywood, too. In 1956, Oscar-winning actress Grace Kelly wed Prince Rainier III and left her career behind her to serve as Princess consort.
This list is far from exhaustive, and there's no particular criteria used to determine which make the cut and which were left behind.
GRIMALDI PRINCESSES
ALEXANDRA CHARLOTTE ULRIKE MARYAM VIRGINIA
The daughter of Princess Charlotte and her second husband, Ernst August, Prince of Hanover, was born in the 1990s, but has a name as extravagant as an earlier generation of royals.
There's an air of tragedy surrounding Anastasia. But the name has been reclaimed in recent decades, and the meaning – resurrection – is stunning.
ANNA HIPPOLYTE
Hippolyte was an Amazon queen in Greek myth. It looks like "hippo light," but the correct pronunciation is closer to heh PAHL eh tee.
Two gorgeous French names for girls, together, though Ghislaine Maxwell makes the second name deeply problematic.
ANTOINETTE LOUISE ALBERTE SUZANNE
It's hard to imagine Alberte catching on in the US, but it feels all sorts of gorgeously French.
Golden.
Pomeline belongs to the uniquely Grimaldi royal family names.
CHRISTINE ALIX
It's easy to mistake Alix as a modern borrowed-from-the-boys name, but it comes with history aplenty as a girls' name.
CLAUDINE
All of the Claud- names are out of favor, but this one could be perfection – especially in the middle spot.
ELISABETTA CHARLOTTE
While most of the Grimaldi royal family names favor French forms, here's a good example of Italian influence.
FLORESTINE
A nineteenth century rarity probably inspired by Florestan, another one of those fantastic Grimaldi royal family names.
GABRIELLA
Twin sister to Prince Jacques, the current heir to the Monegasque throne, her full name is Gabriella Thérèse Marie.
GHISLAINE MARIE FRANCOISE
Françoise doesn't seem terribly accessible in English, though several of the Francis names are enjoying a rise in popularity.
HONORADE
A rare French name found among the branch of the family in Antibes, Honorade is likely related to Honorata, meaning distinguished.
IPPOLITA
Hippolyte made it onto the family tree via the even more obscure Italian Ippolita.
Felicity is an American girl, but Félicité sounds like a mademoiselle.
LOUISE HIPPLOYTE
Another lovely combination.
French + French = serious style.
MARIA DEVOTA
The patron saint of Monaco, tales of Devota are woven throughout the country's folklore and cultural practices. The Sainte-Dévote Chapel marks the first turn on the Circuit de Monaco, the course used for the annual Grand Prix race. It's possible that Devota, like Sophia and Philomena, started out as a description, rather than a given name. "Deo Devota" means devoted to God.
MARIA PAOLINA
Another example of Italian influence among Grimaldi royal family names.
A modern member of the family, Pauline Ducruet is Princess Stephanie's daughter. Her middle name honors her legendary grandmother, Grace Kelly. Stephanie has another daughter named Camille Marie Kelly.
POMELLINA
The original form of Pomeline, as imported from Genoa by marriage.
STEPHANIE MARIE ELISABETH
At first glance, Princess Stephanie's name seems like an outlier – an on-trend choice that reflects her 1960s birth, rather than a royal one. But it's worth noting that Stephanie's paternal grandmother was the Mexican-born Susana Mariana Estefanía Francisca de Paula del Corazón de Jesús de la Torre y Mier. Suzanne had also appeared among Grimaldi royal family names afterwards; perhaps both reflect her influence.
TEDISE
This names takes us back to the 1300s. The bride of a younger brother, Tedise is barely a blip in historical records. Is this name a misprint, a fleeting rarity, a once-common name now forgotten? Whichever answer is correct, Tedise makes for an intriguing rarity.
GRIMALDI PRINCES
The name of the current reigning prince, known as Albert II.
ANDREA ALBERT PIERRE
Princess Caroline's son, and a handy reminder that elsewhere in the world, Andrea is a boys' name.
ANTONIO
Several Monégasque rulers clearly used their French and Italian names interchangeably. Antonio I, sovereign prince in the early 1700s, named his (illegitimate) son Antoine, and built a fort called Antoine, too. (It's since been repurposed as an open air theater.)
AUGUSTINE
This serious, saintly name gets a boost in the 21st century thanks to potential nickname Gus.
CATALAN
A masculine form of Catherine? A reference to Spain? Or something else? The fifteenth century name seems surprisingly wearable.
CHARLES HONORE
Honoré belongs with the oft-used Grimaldi royal family names.

FLORESTAN
Possibly related to the Roman name Florus – flower.
GASPARD, GASPARE
The -d ending is French; the -e, Italian. Either way this makes for an exotic spin on Jasper found among the Grimaldi royal family names over the ages.
GIROLAMO
The romantic, dramatic Italian equivalent of Jerome.
JACQUES HONORE RAINIER
The only son of reigning Prince Albert II and his wife Charlene, and the next in line for the throne.
HERCULE, ERCOLE
It might be tough to live up to the name of legendary hero Hercules. And it is tough to hear the French Hercule and not add "Poirot" automatically. The Italian Ercole is more obscure.
HONORE
Like Hippolyte, Honoré has been worn by more than one royal, even if it is rare outside of Monaco.
LANCELOT
At least one member of the family answered to this bold, dramatic name in the fourteenth century.
LANFRANCO
A name all but lost to history, it also appears over the centuries as Lanfranc.
One of the more wearable masculine monikers on this list, Lucien fit in with all of the Luke names we love right now.
PIERRE MARIE XAVIER RAPHAEL ANTOINE MELCHIOR
This extraordinary name belonged to the father of Prince Rainier III and father-in-law of Grace Kelly. Born in France, he married Princess Charlotte, the sovereign of Monaco. Melchior, a name traditionally given to one of the Three Wise Men in the Nativity stories, was a family name inherited from Pierre's father, Count Maxence de Polignac.
RAINIER
A common name for Monegasque men, and once fairly common throughout Medieval Europe.
RAINIER LOUIS HENRI MAXENCE BERTRAND
How's this for an imposing formal name combination? The late Rainier III, husband of Princess Grace, answered to this regal moniker. An obscure saint's name, Maxence might serve as a possible alternative to Maxwell.
RUFFO
Another rarity, possibly related to Rufus.
TANCREDE FLORESTAN ROGER LOUIS
Tancrede is a Germanic name found in Spain as Tancredo, Italy as Tancredi, England as Tancred, and France as Tancrède.
*Every name on this list belongs to a member of the extended Grimaldi family. However, not all of them used the title prince or princess.
What do you think of the Grimaldi royal family names?



First published on March 16, 2012, this post was revised and updated on October 11, 2020, and again on February 4, 2023.