It's time for the Best Celebrity Baby Names 2018!
Best isn't exactly the right word, though.
They're the most intriguing choices of the year, often the ones likely to start trends – or maybe just cement them. Some of the birth announcements made headlines. Others fly under the radar, the names of slightly less famous – or far more private – individuals. But they still may attract enough attention to inspire more parents.
The Awards themselves change every year – though a few repeat. Catch up on prior years' superlatives here:
Now, for the Best Celebrity Baby Names 2018!
Celebrity Baby Names 2018: Keep it Classic Award
"Celebrity baby name" sometimes seems another way of saying "crazy, wacky, what-were-they-thinking name." Except plenty of celebs, from Hollywood A-listers to minor reality television personalities, stick to the most classic of baby names.
This year's Keep it Classic Award goes to Luke Richard, the new son of Oscar-winning actor Eddie Redmayne and wife Hannah Bagshawe. Luke joins sister Iris Mary. Read more about Luke here.
Honorable Mention goes to Oliver Francis, son of musician Nathan Followill of Kings of Leon. He and wife Jessie Baylin are also parents to Violet Marlowe. Read more about Oliver here.

Celebrity Baby Names 2018: Complete the Pattern Award
Parents debate whether to stick with patterns or break them. My advice? Don't stick to any rule too rigidly. That means you shouldn't reject names just because they continue a theme – but that it is equally acceptable to start fresh.
We don't know how seriously Jessica Alba and Cash Warren talked about finding H names for their third child, but we do know that they ultimately decided to name their son Hayes. Hayes joins sisters Honor and Haven at home. While the three names do sound similar – especially Haven and Hayes – I think the different ending sounds make them work well for siblings. Read more about Hayes here.
Celebrity Baby Names 2018: Breaking the Pattern Award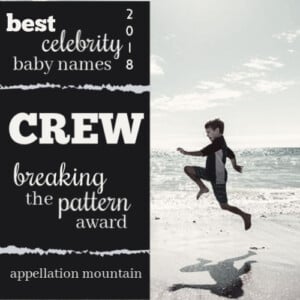 For every family who sticks with an established pattern, there's another that changes it up.
Design mavens Chip and Joanna Gaines, made famous by Fixer Upper, were parents to four children: sons Drake and Duke, and daughters Ella and Emmie Kay. Would they stick with a D/E name for baby five? The famous family opted to break the pattern. And yet, they did so with serious style. Crew sounds like a brother for Drake and Duke, so much that it makes the initial change almost insignificant. Leave it to a pair of veteran problem solvers to make this look effortless. Read more about Crew here.
Celebrity Baby Names 2018: Sweetest Girl Award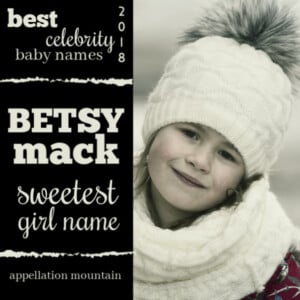 Singer-songwriter Hillary Scott of Lady Antebellum and husband Chris Tyrrell are the parents to three daughters: Eisele Kaye, and new twins Emory JoAnn and Betsy Mack. That last name wins the Sweetest Girl Name award for 2018. Among more than a dozen possible Elizabeth nicknames, there's alluring Liza, preppy Libby, elegant Elle, and sweet Betsy.
A close second in this category? Jack Osborne and Lisa Stelly's youngest, Minnie Theodora. It might be short for Wilhelmina, Minerva, or even Amelia (Minnie Driver's real name). But Minnie, like Molly and Millie, can stand on its own, too. In 2013, Maya Rudolph gave the name to a daughter, too, honoring her mother, the singer Minnie Riperton.
Celebrity Baby Names 2018: Sweetest Boy Award
Sweet names aren't just for girls! John Stamos and Caitlin McHugh named their son Billy. Not William-called-Billy – at least, not as far as we know. Just charming, retro Billy. It sounds like a mid-century storybook child's name. Most Williams of recent years, I think, answer to William or Will.
But that's changing. Late night talk show host Jimmy Kimmel welcomed his son William-called-Billy last year. In England, where nickname names are all the rage, Billy ranked in the Top 100 until just a few years ago. Irish William nickname Liam is the #1 name in the US. Could Billy rival Liam in the next few years?
Celebrity Baby Names 2018: Best Sibset Award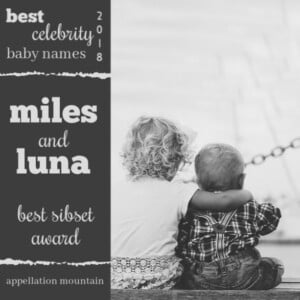 Here's one award that I give nearly every year: Best Sibset! And this year, it was no contest. Chrissy Teigen and John Legend added a son to their family: Miles Theodore joins Luna Simone. Both names carry a touch of musical history, a mix of tradition and modern trends. I think they're great together! Read more about Miles here.
There's also Oskar Michael, a brother for Poppy. They're the children of designers and television hosts Nate Berkus and Jeremiah Brent. They're another great mix of current favorites, names that sound just right when said together, but are also just plain great names on their own. It happens that Oskar honors Nate's late partner, the photographer Fernando Bengoechea. Oskar was his middle name. Read more about Oscar here.
Celebrity Baby Names 2018: 21st Century Girl Name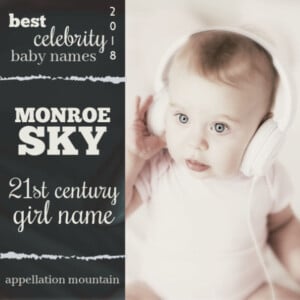 Some celebrity baby names grab headlines because they're dazzlingly daffy. Others, because the parents are just so darn famous. But sometimes a name slips by almost unnoticed – even though it deserves a little bit of spotlight. I'd say that Monroe Sky fits that last description.
She's the daughter of WWE couple The Miz – Mike Mizanin – and wife Maryse, both professional wrestlers. What's noteworthy about the name is how perfectly 21st century it is. A unisex-style surname with a bright 'o' ending and ties to midcentury Hollywood glam; a nature-name middle that points to the heavens. It's a perfectly 21st century girl name, the kind that writers will someday dream up for characters born in 2018. Read more about Monroe here.
Celebrity Baby Names 2018: 21st Century Boy Name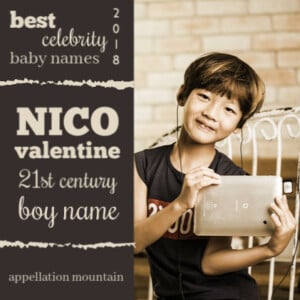 There are 21st century boy names, too, of course. In fact, I came up with three! Nico Valentine, son of designer Rebecca Minkoff and husband Gavin Bellour, takes the top spot. The couple knows how to name for our moment. Nico joins brother Luca Shai and sister Bowie Lou. All of their kids' names balance traditional roots with a modern, brisk, culture-spanning, and almost unisex sound. Read more about Nico here.
Honorable mention goes to buttoned-down nature name Forrest Bradley, son of singer Jessie James Decker and football player Eric Decker. Forrest joins Vivianne and Eric II at home. Read more about Forrest here.
Lastly, the Zac Brown Band's Clay Cook chose another pitch perfect 21st century boy name. Son Theron Maine is equally parts ancient and modern, a rugged, outdoorsy place name with an obscure Greek first that sounds slightly Game of Thrones. (Though that's Theon.) He and wife Brooke are calling their new arrival Teddie for short, which cements yet another 21st century reality: anything goes when it comes to nicknames. (Or does it buck a trend? Because more and more parents are avoiding them entirely …) The pair are also parents to Charlie. Read more about Theron here.
Celebrity Baby Names 2018: Didn't See That Coming Award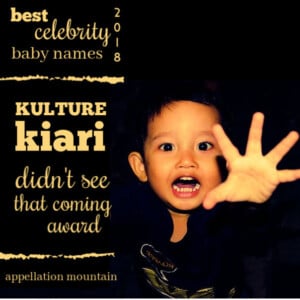 Sometimes we can guess a celebrity baby name. Or at least their general style. Other times? Never in a month of Sundays would I have imagined it. Rappers Cardi B and Offset named their daughter Kulture. Culture and Culture II are the name of two of dad's albums with his group, Migos. Offset's legal name is Kiari Kendall Cephus, so he shares a name with his daughter, as well as initials. It's a bold choice, but it feels like it has meaning for the parents. And the more I say it, the more I like it.
Most years, of course, this prize could easily go to a Kardashian. And Kulture sounds like it could've been right at home with the reality show family. But even Chicago seems less surprising than Kulture, so Kim and Kanye's youngest earns just an Honorable Mention in this category. Read more about Chicago here.
Celebrity Baby Names 2018: Best Reality Show Royalty Name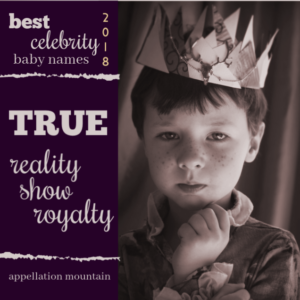 Speaking of Kardashians, this award does go to a member of that oh-so famous family. But it's not Kim! Instead, Khloe Kardashian wins the Best Reality Show Royalty Name of the year, with daughter True. True feels like an obvious Kardashian name choice. It's a word, vaguely virtuous and thoroughly modern. But True seems a little more name-like, even restrained, compared to some of the siblings' picks. Best of all? She found it on her family tree! Read more about True here.
Another reality television family also merits mention. Jinger Duggar Vuolo – the Duggar sister with, arguably, the most outlandish of the 19 J names – welcomed her first child. Jinger and husband Jeremy named their firstborn Felicity Nicole. It's pretty, on-trend, and familiar without being too popular. And it's definitely not as out-there are Jinger with a J. I'd call it the best GrandDuggar name so far. Read more about Felicity here.
Celebrity Baby Names 2018: Best New Word Name
Word names are always evolving, from traditional Grace and Rose to up-and-comers like River and retro revivals like Hazel. I'm not which category to put this one in. Marvel, in turns out, had a good run back in the early part of the twentieth century. But it sounds nothing but 21st century, a thoroughly modern choice. The couple who picked it help make the case for Marvel as a novelty: Pete Wentz, dad to Bronx Mowgli with ex Ashlee Simpson, and son Saint Lazslo with Meagan Camper. Now Pete and Meagan are parents to daughter Marvel Jane, too. Read more about Marvel here.
I'm also intrigued by Hart, the name chosen by Miranda Kerr and Evan Spiegel. Hart pairs well with Flynn, the name of Miranda's son with ex Orlando Bloom. But it's also a word name. A hart is a male deer. And it sounds just like heart, making it something of a virtue choice, too. Plus, Hart often appears as a surname, with multiple origins. As word names go, it's the total package.
Celebrity Baby Names 2018: The Regalest
Here's a twist. You might think that the most delightfully royal baby name of the year would go to Will and Kate's kiddo, regardless of the name they chose.
But I think Pippa Middleton – Kate's non-titled sister – and her husband, James Matthews, made the regalest choice of 2018: Arthur Michael William.
Of course, Arthur is also one of Prince Louis' middle names. He's Louis Arthur Charles. And the Cambridges might have felt that putting the name of a legendary king in the first spot was much too much for the son of a future ruler of England. Regardless, Arthur appears in the name of both Middleton sisters' sons, suggesting that it's a name destined to rule. Read more about Arthur here.
Celebrity Baby Names 2018: Classic With a Twist Award
Actor Brianna Brown and husband Richie Keen went for a classic with a twist name for their son, Charlie Zane. Charles is buttoned-down and timeless, while Charlie is the casual, upbeat cousin, the go-to nickname for the classic favorite. As for Zane, it's sometimes connected to the evergreen John. The world is full of men named Charles John, but Charlie Zane? That's just different enough to earn a superlative for 2018. 

Charlie Zane joins 2016's award winner, still one of my favorite fits-in/stands-out picks, Anne Hathway's son, Jonathan Rosebanks.
Celebrity Baby Names 2018: Winning the Nickname Game Award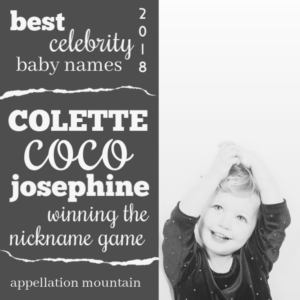 It's no secret that I love nicknames. And if you plan to use one, I think it's worth considering that choice from the start, as important a part of your decision as the first or the middle. This year, English singer Robbie Williams and Ayda Field welcomed their third child. Colette "Coco" Josephine joins sister Theodora "Teddy" and brother Charlton "Charlie." I do like Colette as a formal name for Coco, though options abound.
Overall, Colette "Coco" Josephine is vaguely French, and nicely familiar, while still making for an intriguing – and just plain fun – name. Read more about Coco here.
Celebrity Baby Names 2018: All in the Family Award
Family names are great. Sometimes they work well handed down without alteration. But other times? A little bit of reinvention makes them even better. This year's All in the Family Award goes to Seth Meyers and wife Alexi Ashe's son, Axel Strahl. Their firstborn, Ashe Olsen, is named for his mom and her mother. Now their second son has a family middle. And that first? Sounds an awful lot like it's linked to his mom's name, too. Read more about Axel here.
Runner-up goes to Rani Rose, daughter of Kate Hudson. She's named for her paternal grandfather, Ron. It's a clever feminine spin on a 1940s favorite.
Celebrity Baby Names 2018: Romanza Award
Some names are spare, with no extra syllables or sounds. Others tend towards the elaborate. But romanza baby names? They're way over the top, with all the lush and lovely sounds one might wish. They're gorgeous confections, and yet they're perfectly wearable, too.
The top award this year goes to Smashing Pumpkins frontman Billy Corgan, for his daughter's name, Philomena Clementine with girlfriend Chloe Mendel. The pairing of two long – and both relatively rare – choices works nicely together. It sounds a little bit storybook princess, but perfectly at home today, too. It also matches nicely with the couple's older child, son Augustus Juppiter. Read more about Philomena here.
And then there's Alec Baldwin's youngest, new son Romeo Alejandro. Not only is it a romance language name, but does it get anymore swoon-worthy than Shakespeare's Romeo?
And one more in this category: Giulietta, new daughter of Jessica Chastain and fashion exec Gian Luca Passi de Preposulo.
Celebrity Baby Names 2018: Up Next Award
Why focus on celebrity baby names? Because sometimes the names signal the next wave in trends. And sometimes they're The Very Next Names that we'll all be considering for our own children.
The Up Next Award goes to James van der Beek and wife Kimberly's youngest, Gwendolyn. Gwendolyn joins Olivia, Joshua, Annabel Leah, and Emilia. In other words? The Van Der Beeks are not exactly cutting-edge namers. But they might be slightly ahead of trends. After all, Emilia is now a Top 100 favorite. And Gwendolyn? I think it could be the next big thing. Read more about Gwendolyn here.
Celebrity Baby Names 2018: Very Vibrant V Name Award
If there's one letter that just won't quit, it's V. Olivia, Ava, and Evelyn prove it for girls; Oliver, Everett, and Levi for boys. And so when celebrities choose intriguing V names for their children, it's worth noting.
Two stand out this year: model Coco Rocha's new son with James Conran, Iver Eames. A cousin to the Scandinavian Ivar, Iver seems less Ikea and more at home with Carter and Parker.
Then there's Michael Buble and Luisana Lopilato's youngest, daughter Vida. Related to the Latin vita – life – Vida also seems like a fit with mom's Argentine heritage. Matthew McConaughey and Camila Alves gave the name to their daughter in 2010. It's the Spanish word for life. Read more about Vida here.
Celebrity Baby Names 2018: Reader Favorites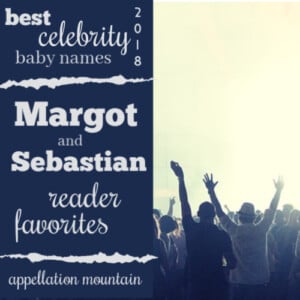 This year, you picked some of the names on this list! I took all of the mainstream favorites for girls here, and boys here.
After three rounds of voting, we have two favorites – but just barely!
First, in the boys' contest, Sebastian clearly triumphed over Louis, 55% to 45%. Sebastian is the son of America Ferrera and Ryan Piers Williams.
But the girls' contest? Oh my! Every time I went to close voting, it was so very close. Tied vote for vote, even! The names? Margot and Genevieve. Ultimately, Genevieve just ever so barely lost out to Margot, by a mere dozen votes or so. But I could have gone either way – easily! Margot is the daughter of Sam Claflin and Laura Haddock.
Those are the Celebrity Baby Names 2018 topping my list – and, at least some of the time, yours, too! Are there any that surprised you? What did I miss?