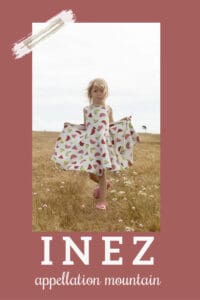 The baby name Inez blends classic roots with global and vintage appeal.
Thanks to Stephanie for suggesting our Baby Name of the Day.
AGNES
Inez is the Spanish form of Agnes.
Well, wait. Inez is the English form of Inés, which is the Spanish form of Agnes.
And Agnes? It has history galore. It comes from the Greek hagnos – chaste. But over the years, this Greek name became associated with the Latin agnus – lamb.
Depending on your faith tradition, that's not just some random piece of trivia. Agnus Dei means lamb of God, and it's mentioned prominently in both the Catholic liturgy and the Anglican and Lutheran services, too.
That means the meaning of the name Inez is the same … though you can choose whether the name meaning lamb or chaste appeals more, and you're free to embrace or overlook the religious significance.
SAINT AGNES
During the 3rd century, Roman emperor Diocletian sent scores of Christians to their deaths. One such Christian martyr was the future Saint Agnes.
Born into the Roman nobility, her family were early converts. She was just twelve or thirteen when the emperor had them arrested.
The tales surrounding her death are fantastic, with multiple attempts to end her life thwarted. (In one case, the wood wouldn't catch fire for her pyre.)
She's been venerated as a saint since at least the 4th century, and her January 21st Feast Day has been celebrated for ages, too.
THE EVE of ST AGNES
In fact, tradition says that a young, unmarried woman may dream of her husband during the night of January 20th – the Eve of St Agnes – if only she observes several rituals.
John Keats wrote a poem about it; Keats' poem is a tale of star-crossed lovers who are ultimately united thanks, in part, to the Eve of St Agnes.
All that means that Agnes – and international forms like Inez – have been used over and over again, thanks to the saint's enduring popularity and association with so many customs.
THE CONTRABANDISTA
But it wasn't just Agnes that was familiar.
Before Arthur Sullivan joined forces with WS Gilbert, he collaborated on a comic opera titled The Contrabandista.
It wasn't a big hit, and is rarely performed today – in contrast to constant revivals of Gilbert and Sullivan productions.
But it did give us a bandit queen named Inez de Roxas. It was performed in the US in 1880. A revamped version, titled The Chieftain, kept the character, and fared slightly better.
It seems unlikely that such a little-known musical would've boosted a baby name, but it might suggest that Inez felt stylish and fashionable in the moment.
The numbers back that up.
BY the NUMBERS
In the US, at least, Agnes was a Top 100 pick from 1880 through 1929, but it's failed to rank in the Top 1000 at all since the 1970s.
During the same era, Ines occasionally ranked in the US Top 1000, teetering on the edges of the rankings from the 1880s into the early 1930s.
The baby name Inez, on the other hand, fared reasonably well. It appeared in the US Top 200 from 1880 into the 1930s, and remained in the Top 1000 – again – into the 1970s. So while this variant of Agnes was never as popular, Inez had a good run, too.
That makes this a surprisingly popular name, and a vintage gem.
INEZ MILHOLLAND
Speaking of vintage, suffragist Inez Milholland lends a certain antique charm to the name.
Born wealthy and beautifully educated, Inez became a leading suffragist of her day. In 1913, it was the beautiful and principled Inez who led the Woman Suffrage Procession on horseback, the day before President Woodrow Wilson's inauguration.
Trained as a lawyer, Milholland epitomized the ideal New Woman of her day – capable, independent, and determined to bring about change.
HAIRSPRAY, FUTURAMA, and CHARLIE BONE
While the name has become obscure, it's remained a pop culture staple.
John Waters' Hairspray gave us L'il Inez Stubbs. She appears in the 2002 musical, as well as both versions of the movie – 1988 and 2007. But the 2007 version gives Inez an even bigger role. (Spoiler alert: in the more recent movie, Inez wins the pageant – and permanently integrates the television show at the heart of the plot.)
Long-running animated series Futurama gives us another character: Inez Wong. She's wealthy – and greedy – and not a great standard-bearer for the name. But the show ran from 1999 through 2013, and a Hulu revival is slated for 2023, so it's kept the name on fans' radar.
And then there's Children of the Red King, the story of Charlie Bone. Charlie is the son of magical parents, who goes to  a school for children with such abilities, and faces all sorts of peril and adventure. Shades of another English book series, of course but Charlie Bone lives in an entirely different world. Inez Branko is a character in the series, along with her twin sister Idith. The character first appears in Charlie Bone and the Castle of Mirrors, published originally in 2005.
There's also long-running PBS Kids' series Cyberchase, featuring Inez as one of their animated heroes. It debuted in January 2002 and is still going strong.
It's occasionally seen as a surname, too, it shares the same roots.
While these all feel a little on the obscure side, it's proof that the baby name Inez is there, waiting on the fringes, ready for rediscovery.
INEZ REYNOLDS
One possible place we're hearing more of Inez?
The three baby girl names chosen by actress Blake Lively and actor Ryan Reynolds – so far! – have each made waves.
The A-list couple rarely shares details about their children, though Blake has revealed each pregnancy during public appearances.
Instead, their children's names have come out through rumor and speculation. More recently, singer – and Blake BFF – Taylor Swift – has incorporated the girls' names into her lyrics.
The coupled welcomed daughter James in 2014. She's named after Ryan's father, who passed away shortly after her birth.
Inez followed in 2016. Because Blake only said her name aloud, speculation stretched on about the spelling. Was it Ines or Inez? (Or Ynes or Ynez?) Blake eventually confirmed the Z spelling.
Baby Betty, who also has a family name, arrived in 2019. Her name was revealed relatively quickly, thanks to that Taylor Swift song.
They're expecting their fourth any day now.
The Lively-Reynolds family is so high profile that it's easy to imagine all of their children's names getting a boost.
In 2015, just 62 girls were named Inez. By 2021, that number had slowly grown to 129 births.
SPARKY and VINTAGE
All of this makes the baby name Inez a sparky, vintage possibility.
The Z spelling is nicely phonetic, though the "I" sound can be eh-nez, ee-nez, or eye-nez, depending on preference and accent.
It's easy to imagine Inez following favorites like chart-topping Isabella into wider use. Or possibly joining Harry Potter favorite Luna in the rankings.
For now, though, the baby name Inez remains under the radar. It's a name with a touch of glam and lots of spirit, a vaguely international favorite heavy on Spanish heritage, but  accessible in English.
If you're after a surprising crossover choice in the spirit of Sofia, Inez is rich with potential.
What do you think of the baby name Inez? 
Originally published on November 15, 2010, this post was revised and re-published on November 23, 2022.