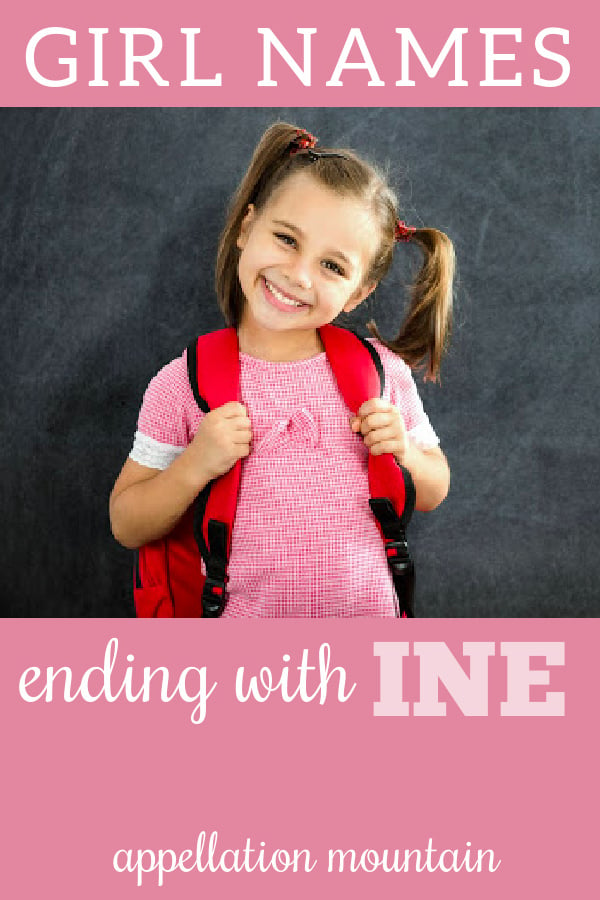 Girl names ending with INE share a few qualities. They're always two syllables or more. They almost always sound feminine, but tailored.
And yet, the differences between them are vast, too. For every Katherine, there's a Tourmaline. Some belong to an earlier generation – think Geraldine and Janine – while others feel like choices we're not quite ready for yet. Zephyrine, anyone?
While it looks like a single category of names, ranging from the familiar to the obscure, girl names ending with ine offer multiple distinct pronunciations:
Rhymes with Lynn and gin, as in Katherine.
Sounds like pine, as in Coraline – and sometimes Caroline, Evangeline, and others.
Or rhymes with queen, as in Josephine, Celine, and others.
The same name might use any or all three of these, depending on the decade, region, and parents' preference.
Plus, a handful of these ine ending girl names really ending with aine. Think of Elaine and Lorraine. So that's yet another possible sound to consider.
Even though it's a broad category, there are some reasons to consider them as a group.
They make great tailored middle names, from the classic Caroline to the out-there Seraphine. Many of them feel vintage and lean slightly French – an appealing combination that could work for many families.
Let's take a look at more than 100 girl names ending with ine.
POPULAR GIRL NAMES ENDING WITH INE
20 girl names ending with ine rank in the US Top 1000 as of 2019.
Sweet Adeline is part of a family of names, ranging to Adelaide to Heidi. Several -lyn and -lynn spellings rank in the current Top 1000, too, making this name more popular than it seems.
Despite a solid and steady Top 100 ranking and a built-in song, classic Caroline never seems quite as common as the numbers suggest.
CELINE (#390)
Songstress Celine Dion comes immediately to mind, but it's a sleek, French possibility with a lovely meaning: heaven.
CHRISTINE (unranked)
A former favorite, this feminine form of Christopher peaked back in the late 1960s. This is the classic spelling, but back at peak Christine, many others caught on, too.
A vintage name with an appealing meaning: gentle.
While this Cora- name was heard before Neil Gaiman's book-turned-movie, the author discovered it by transposing the letters in Caroline.
An older French form of Helen, Elaine appeared in Arthurian legend as the mother of Galahad. Given our love of Ellie names, Elaine could be big now … except it peaked in the middle of the twentieth century, putting Elaine squarely in grandmother territory for now.
It looks like an elaboration of Emma, but Emmeline actually claims slightly different Germanic roots. Still, our appreciation for Emma and Emily paved the way for this vintage name's rediscovery.
Longfellow's epic 1847 poem put Evangeline on parents' lists forevermore.
JACQUELINE (#473)
We mistake it for a feminine form of Jack, but Jacqueline actually comes from Jaques, which is the French form of James. (And Jacob, which is a little easier to follow.)
A lovely nature name, boosted by a Disney princess and that scissory 'z' sound in the middle.
A fast-rising favorite, classic Josephine is both elegant and spirited at once.
An enduring classic regardless of spelling, Katherine's ine ending puts it on this list, though it may have more in common with Mary or Alice than Ombeline or Eglantine.
Madeline has become one of the most popular -ine ending girl names of our time. But it's actually the non-ine spelling Madelyn that ranks highest in the US right now.
A sparky vintage name on the rebound, following so many boy Max names up the popularity charts.
UNCOMMON, RARE & DOWNRIGHT SURPRISING INE NAMES FOR GIRLS
Some of these have previously been Top 1000 names – even Top 100 favorites. But many of the rare girl names ending with ine are a little on the wilder side. This part of the list mixes imports with noun names with borrowings from literature and myth, too.
A feminine form of Albert, made familiar to some thanks to a haunting song from Brooke Fraser.
ALCINE
The masculine Alcinous appears in Greek myth. This may be a feminine form.
ALEXANDRINE
An elaboration of Alexandra, this name has appeared in use across the centuries.
ALEXINE
Yet another of the feminine Alex names.
AMANDINE
It looks like Amanda-plus-ine – and it is – though Amandine can also refer to a dish garnished with sliced almonds.
ANGELINE
A French take on Angela, slightly less dramatic than Angelique.
A Norman French name, Aveline has plenty of history. Today, though, we know it best as a name meaning hazelnut.
BENJAMINE
A feminine form of Top Ten favorite Benjamin.
CAPUCINE
You wouldn't name your baby nasturtium, but possibly the French name for the flower would appeal. There's also the model-turned-actor Capucine, known for 1960s movies like The Pink Panther. 
CATHELINE
A French take on Catherine, and cousin to Kathleen.
CARINE
It could come from cara – beloved.
CELANDINE
The name of a flower, borrowed from the Greek name for a bird – the swallow. That makes it a double nature name, plus a yellow-green color name, too.
CELESTINE
A longer form of Celine and Celeste, with the same celestial meaning: heaven.
CLARINE
An elaborated form of Clare, rare but lovely.
CLAUDINE
Ancient and proud Claudia is rare; Claudine, even rarer.
DAUPHINE
When France still had kings, the Dauphin was the equivalent of the crown prince, next in line for the throne. Dauphine was the title for his wife, the future queen. It's a little more subtle than naming your daughter Princess.
Delphine can refer to dolphins or a pretty blue flower. It's French, sophisticated, and quite lovely and rare, too.
DULCINE
Cervantes invented Dulcinea for Don Quixote, based on the Latin dulcis – sweet. Dulcie is a short form, and Dulcine lands somewhere in between.
EDWINE
Traditional Edwin is relatively rare. Feminine form Edwina is rarer still, and Edwine? Nearly unknown. But it might be the perfect choice for the right family.
Straight out of Chaucer, Eglantine is another name for sweetbrier.
ERNESTINE
In the 1920s, this feminine form of Ernest ranked just inside the US Top 200. It's nearly extinct today, but maybe it's not gone forever.
ETHELINE
It sounds a tiny bit chem lab, but Etheline is an elaboration of Ethel heard a century ago.
EVALINE and EVELINE
Two obvious Ev- names, cousins to Evelyn.
FANTINE
Cosette's beleaguered mother in Les Misérables. Anne Hathaway won an Oscar for playing the beautiful and selfless Fantine in the 2012 movie adaptation.
FAUSTINE
The Roman name Faustus means lucky. While it's not often heard in English, it's preserved in other romance languages as Fausto, Faustino, Faustin, and the feminine Faustine.
FLORENTINE
Maybe it sounds a little like a delicious quiche, but Florentine is the French feminine form of Florentinus – flourishing.
FRANCINE
A lovely Frances name for a daughter, big in the 1940s and delightfully retro today.
GEORGINE
Georgia is popular. Georgina and Georgette have their fans. So why not Georgine, too?
GERALDINE
Coined for a sixteenth century sonnet, this feminine form of Gerald was a Top 100 favorite back in the early twentieth century.
GWENDOLINE
The spelling Gwendolyn is far more popular, but Gwendoline fits with girl names ending with ine. Actor Gwendoline Christie makes it familiar.
HELAINE
A Helen-Elaine variant that's just different enough to feel fresh and surprising.
HONORINE
Virtue name Honor is a straight-up word choice. But Honora and Honorine are elaborations that make it just a little more name-like.
ISABELLINE
A pretty shade of white-yellow-gray, often used to describe horses, Isabelline works for a daughter given our love of Isabella and so many girl names ending with ine.
ISALINE and YSALINE
This might be an Isabelle spin-off, or perhaps a rarity based on stylish sounds.
JACOBINE
A feminine form of Jacob – or James – Jacobine is far rarer than cousin Jacqueline.
JANINE, JEANINE, and JEANNINE
Popular midcentury names, Jeannine caught on first, followed by Jeanine and Janine, slimming down the French original as time passed.
JESSAMINE
Medieval Jessamine – or Jessamy – was a form of Jasmine once used as a given name, but seldom heard today.
JUSTINE
Virtue name Justine long ranked in the US Top 1000, reaching peak popularity in the 1980s. But it still feels under-the-radar, a name that is surprisingly rare today.
LAINE
This single-syllable name isn't quite an -ine ender, but it seems like a stylish possibility for parents seeking something tailored and just a little different.
LAURENTINE
Laurence and Lawrence are classic masculine names in English. In French, Laurence is feminine, as is the more elaborate Laurentine.
LEONTINE
A Leo name for a daughter that roars.
LEOPOLDINE
We love Leo names, so why not the quirky and distinctive Leopold? And if Leopold works, perhaps this feminine form isn't so out-there after all.
LORRAINE
A French place name sometimes found on a menu, Lorraine's heyday was around the same time as Laura and Lori. But it works now, today, thanks to our love of names borrowed from the map.
LUDIVINE
Germanic and Slavic names used the element leut or leud – the people. Ludivine comes from those nearly extinct names.
MARCELINE
An elaborated feminine form of Marcus, Marceline is famous as the Montana hometown of Walt Disney.
A sleek and sophisticated French choice for a daughter.
MAZARINE
This name comes from the oldest public library in France. First used in 1974 by former president François Mitterand for a daughter, it's just right for parents after a literary rarity.
MELUSINE
A mermaid-like creature from European folklore, and potentially a daughter's name, too.
NADINE
The Slavic Nadia means hope; Nadine is a longer version of the name.
NERINE
Borrowed from a family of flowering plants.
NICOLINE
An elaboration of traditional Nicole.
NOELINE
There's Noelle and Noelia, and this Christmas-inspired Noel name, too.
OLIVINE
An olive green gemstone, Olivine strikes a balance between elaborate Olivia and spare Olive.
OMBELINE
Perhaps the rarest of the girl names ending with ine, Ombeline comes from the Germanic Humbert.
ONDINE and UNDINE
A name meaning wave, and long associated with mermaids.
OTTOLINE
A feminine take on Otto.
PAULINE
While Paula feels a little midcentury, Pauline might almost be a vintage revival possibility.
PEARLINE
Pearl + ine for a name that's just a little more shimmery.
POMELINE
From a Roman goddess name, Pomeline refers to apples. It's famous thanks to the Grimaldi royal family of Monaco.
ROSALINE
A rare but very wearable Rose name.
SEVERINE
A Roman family name by way of French, equal parts serious and elegant.
SERAPHINE
A rarer take on fiery Seraphina.
SUNSHINE
A word name with a hippie, summery vibe.
THOMASINE
Add an -ine to classic Thomas.
TOURMALINE
A gemstone name far less expected than Ruby or Pearl.
VALENTINE
Valentina is a Top 100 favorite, but Valentine works, too – and takes this name in a more obviously hearts-and-flowers direction.
VICTORINE
A French take on regal Victoria.
VIOLAINE
A French cousin to Yolanda, perfect for parents who love Violet but want something far less popular.
WILHELMINE
Willow and Willa are more accessible spins on William for a daughter, but Wilhelmine is a more dramatic option.
YGRAINE
A name straight out of Arthurian legend, the mother of the king himself as well as Morgan le Fay, Ygraine's meaning is obscure. But the sound is compelling.
YVELINE
One of many medieval names related to the Germanic element iv – referring to a yew tree.
ZEPHYRINE
Zephyr is the West Wind in Greek mythology, and it could be a name for a son or a daughter. Zephyrine seems more clearly feminine.
Are there more girl names ending with ine that you'd add to this list? Updated on September 13, 2022.