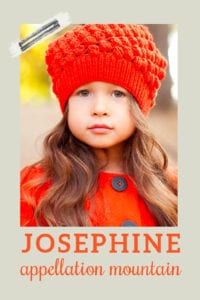 The baby name Josephine feels traditional and elegant, sparky and spirited.
Thanks to Lola for suggesting our Baby Name of the Day.
JOSEPH
The name Joseph has millennia of history. A Biblical-era name, it means "he will add" in Hebrew. The first notable Joseph, of course, married Mary and raised Jesus.
There's also Joseph of Arimathea, the man who gave his burial place for Jesus after the crucifixion. Medieval legend tells that he traveled far and wide, reaching France and Britain, possibly as the caretaker of the Holy Grail.
Little wonder the name spread across the world, eventually heard in every European language. It doesn't get any more classic.
Feminine forms, though, didn't succeed in quite the same way. Josepha occurred in English and German; in French, Josephe. And that's where the baby name Josephine gets its start.
MARIE JOSEPHE ROSE
Born to an aristocratic French family in 1763, Marie Josèphe Rose Tascher de la Pagerie endured an unhappy marriage. It ended during the Reign of Terror. She went to prison; her husband, Alexandre de Beauharnais, to the guillotine.
But she survived, and eventually met military commander Napoleon Bonaparte. He was the first to call her Josephine. They fell madly in love, and while that didn't last, the marriage did – at least long enough for his 1804 election as emperor, and her crowning as his empress.
When they failed to have a child together, Napoleon divorced her – but she retained the title of empress, and it's said he never stopped loving her.
ROYAL NAME
Regardless of its unhappy ending, the tale captured the imagination of many. It would launch the baby name Josephine in two ways. First, simply because of her profile.
But Josephine's daughter from her first marriage, Hortense, married Napoleon's brother, Louis. (So her stepfather became her brother-in-law.) Their son – Josephine's grandson – eventually reigned as Napoleon III.
Her son from her first marriage, Eugene de Beauharnais, named his daughter Josephine. She married the King of Sweden and Norway, and became Queen Josephine.
The baby name Josephine has continued to appear on royal family trees ever since.
IMMORTAL BELOVED
It's not all down to the empress, though. Born in 1779, Hungarian noblewoman Jozefina Brunsvik would eventually meet Ludwig von Beethoven as his music student. They fell passionately in love, but never married. He wrote her several letters, including – maybe – his famous Immortal Beloved letter.
We know that feminine forms of Joseph were heard elsewhere – though, again, none seemed terribly common until after the nineteenth century.
BY THE NUMBERS
Indeed, by the time US data is first collected in 1880, the baby name Josephine ranked in the Top 100. It would remain there into 1941.
It reached its zenith in the 1910s and 20s. Which brings us to our next famous bearer.
BAKER
American by birth, Josephine Baker would find stardom in France.
Born in St. Louis, she decided early on to become an entertainer. Baker would become a Jazz Age sensation – in Paris, as she refused to perform for segregated audiences.
Her life reads like fiction. She kept a pet cheetah, who performed with it on stage. Her dances were scandalous and innovative, in equal measure. Baker's friends included Picasso and Hemingway. She performed on stage and in film. During World War II, she used her fame to get close to the powerful – and share their information with the Resistance. Her efforts earned her several honors from the French government.
Later in life, she was active with the American Civil Rights movement.
MORE JOSEPHINES
History also gives us:
Nineteenth century reformer Josephine Shaw Lowell.
Suffragette and civil rights activist Josephine Ruffin.
Mystery writers Josephine Bell and Josephine Tey.
Poet Josephine Preston Peabody.
The list goes on and on.
JO MARCH
The second March sister, Josephine-called-Jo, might be one of literature's most beloved figures.
Louisa May Alcott's Little Women has been a beloved novel since its original publication in 1868/1869. Countless movie adaptations have followed. Jo has been played by everyone from Katharine Hepburn to Winona Ryder. Saoirse Ronan was the most recent to step into Jo's shoes.
MUSIC & LYRICS
Bo Diddley recorded "Ride on Josephine" in 1960.  The song has been much-covered since then. At least a half dozen more songs include the name in the title.
SAINT JOSEPHINE
Born in Darfur in 1869, Josephine Bakhita was sold into slavery. She endured torture. After many long and perilous years, she found herself in Italy, where she earned her freedom – an Italian court ruled in her favor – and joined a religious order.
As Sister Josephine, she was known not only for her personal story, but for an extraordinarily positive and loving attitude.
She was canonized in 2000. There's a slight uptick in the use of the baby name Josephine in that era, but it was likely already underway.
REVIVAL
It's hard to pin down any one factor to explain the baby name Josephine's revival.
In many ways, it was simply time – a century had passed since the name last peaked, and that's usually about the number of years required for a name to come back into vogue.
Or maybe it's the wealth of Josephine nicknames: Josie, Joey, Posy, Jo, and more. From television series Dawson's Creek to super-sized reality show family the Duggars to Drew Barrymore movie Never Been Kissed, Josephine nicknames took center stage.
And it continues to stay there. The name returned to the US Top 100 in 2018, and seems likely to climb higher still.
With classic style, bountiful nickname options, and subtly French appeal, the baby name Josephine is a winning choice. Elegant and sparky, this name feels classic and versatile, but far less expected than Elizabeth.
What do you think of the baby name Josephine? Do you like it best in full, or prefer one of the many nickname options?
This post was originally published on October 11, 2008. It was substantially revised and re-posted on June 10, 2013 and again on September 28, 2020.