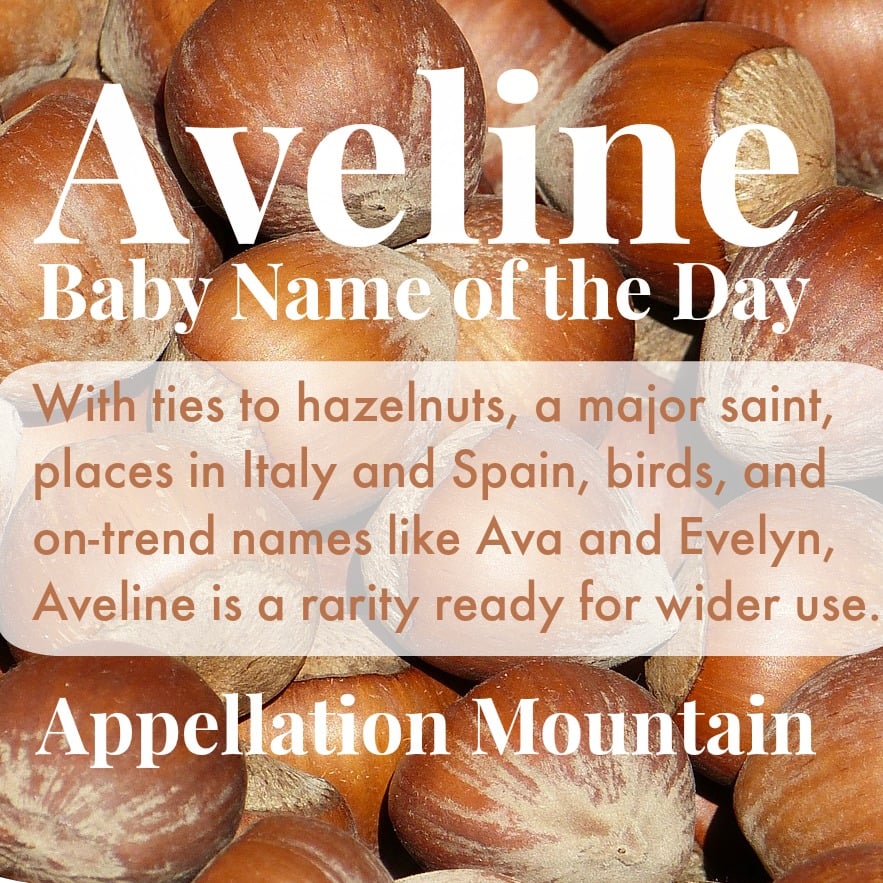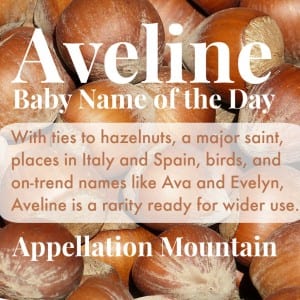 This post was originally published on July 13, 2011. It was substantially revised and re-posted on June 22, 2015.
Today's feature is either a new spin on current favorites, or a medieval rarity ready for a comeback.
Thanks to Kayleigh for suggesting Aveline as our Baby Name of the Day.
Aveline: Ava & Adeline's Cousin
If Aveline didn't exist, someone would have invented the name by now. We just plain love the sound!
Ava ranked #5 in 2014, with Avery at #13.
Ends-in-line options include the Top 100 Madeline and Caroline, as well as up-and-comers like Adeline and Evangeline.
Don't forget Ev- choices like Evelyn, Eva, and Everly.
Smoosh name Avalynn debuted in the US Top 1000 in 2014 at #947.
58 girls were named Aveline in 2014 – a new high, but still a far cry from the 262 required to break into the charts.
Aveline: History Galore
Let's step into our time machine and visit medieval England.
Avice was a given name. It could come from the Germanic Aveza, or possibly the Latin word avis – bird. In our age of Lark and Wren, it is likely that some parents will find those fine-feathered associations pleasing. Daniel Baldwin has a little Avis Ann.
Aveline could be a diminutive form of any of the Av- names.
Then there's Saint Teresa of Ávila, a sixteenth-century mystic.
Ávila is a day trip from Madrid. Back in Teresa's day – the sixteenth century – it was an imposing fortress, a walled medieval city. Ávila was established by the Vettones, a Celtic tribe, probably by the fifth century BC. They called the place Obila – high mountain.
The pronunciation isn't intuitive for an American English speaker. It's AH vee lah. Odds are that you'd hear ah VEE lah in the US.
It's easy to imagine Aveline being chosen as an honor name for the saint, too.
Aveline: Edible
There's one more possible origin for Aveline: the French word for hazelnut.
This puts her in the company of other edible appellations, like Pomeline and Clementine.
But the word typically used in French for hazelnut is noisette. A nineteenth century French-English dictionary lists avellana as the English word, and aveline and noisette as the French.
It's a bit tangled, but it makes sense: corylus avellana is the scientific name of the common hazel, derived from avellana nux sylvestris – wild nut of Avella – a term used to describe hazelnuts dating to a sixteenth century botanical guide, and referenced by writers as far back as Virgil.
Avella, if you're wondering, is located in Italy, near Naples. That's the city's seal in the illustration above. The Roman name was Abella, of uncertain origin. Over the years, the region and it's most important crop came to share the same name.
The Spanish word for hazelnut? Avellana.
Aveline: Circa 2015
The challenge: it's easy to imagine an Aveline today being mistaken for Adeline and Evelyn and so on.
And yet, this name is undeniably attractive. It's culture-spanning and meaning-rich. I love the story of this family who named their daughter Avalene, after a great-aunt Avallina. There's a lovely Aveline on this blog, written by a globe-trotting mama.
If you don't mind repeating your child's name, Aveline might be the perfect just-a-little-different option.
What do you think of Aveline? Is it a fresh spin on current trends, or likely to be confused with Ava and Evelyn?