This post was originally posted on July 6, 2012. It was substantially revised and re-posted on October 2, 2015 with a very happy seventh birthday to my daughter, Claire Caroline Wren – usually known as Clio, and sometimes Wren Bird.
Amateur ornithologists of the world, unite!
There are dozens of bird names for girls.  Some are mainstream favorites, while others are bold – maybe even too bold to be given names. But every one of the bird names for girls on this list could work, if only in the middle spot.
Bird Names for Girls: The Mainstream
Ava – Is she or isn't she? This Top Ten favorite doesn't really fit with bird names for girls. Except that the Latin avis means bird, and is similarish to Ava. The name ranked #4 in the US in 2014.
Phoebe – Phoebe means bright, and it was the name of a moon goddess in Greek mythology. But it's also the everyday name for a type of bird, native to the Americas. Currently ranked #298.
Raven – Raven was big in the 1990s, when young actress Raven-Symoné was first in the spotlight. She went on to star on the Disney Channel's That's So Raven from 2003 to 2007, but the name faded. It's made a little bit of a comeback in recent years, possibly because of our affection for bird names for girls, and maybe because of other pop culture uses. Charlize Theron wore the name in 2012's Snow White and the Huntsman, and since 2013, Mattel's Ever After High series has included a character named Raven Queen. The Edgar Allan Poe poem takes Raven in a darker, almost gothic direction.
Robin – As a masculine nickname for Robert, this name is traditional rather than from-the-trees. But it became a Top 100 pick for girls from the 1950s into the 1970s, the age of Susan, Karen, and Sharon. In recent years, Robin has trended upwards for boys and girls alike. While it's on the list of bird names for girls, I think Robin might feel fresher for a boy.
Tori – Tori is often considered a nickname for the regal Victoria. But in Japanese, tori can mean bird. Though, as with many Japanese names, the meaning ultimately depends on the kanji used to write the name, and several other meanings are possible.
Bird Names for Girls: The Unexpected
Birdie – Busy Phillips – born Elizabeth Jean – welcomed Birdie Leigh in 2008. Birdie can be short for Elizabeth, Bernadette, Barbara, or another traditional name with a strong B sound. But it works independently, too. I've also come across Bird – just Bird – especially in the middle spot.
Lark – Mia Farrow and Andre Previn gave this name to a daughter back in 1973, but it was the 2011 arrival of Agnes Lark, daughter of Jennifer Connelly and Paul Bettany, that helped put Lark in the spotlight.
Mavis – After years in fashion limbo, but Mavis is making a quiet comeback.  The bird is better known as the song thrush in English; in Old French, the word was mauvis.  A late nineteenth century novel introduced the idea of Mavis as a given name, and it was a popular choice in the 1920s and 30s.
Merle – The gender-neutral Merle was in favor in the 1910s and 20s.  Merle is almost certainly derived from Muriel via a surname, but it is also the Old French word for blackbird, from the Latin merula.
Paloma – Actor and pacifist Pablo Picasso was the first.  Now David Caruso and Ana Ortiz both have daughters named Paloma.  Salma Hayek's little girl is Valentina Paloma.  The Spanish word for dove has found favor with American parents in recent years, but remains nicely under-used at #869 in 2014.
Phoenix – While Phoenix is more popular for boys, it has also charted in the US Top 1000 for girls every year since 2003. While there's no real life bird called the phoenix, it's been a powerful symbol of rebirth for millennia, and many cultures have a phoenix-like bird in their traditional stories.
Rhea – A rhea is a large, flightless bird, cousin to the ostrich. That's not necessarily an inspiring image for a daughter's name, but Rhea is also a goddess, mother of Zeus himself. The bird was named after the goddess in the 1750s and stuck. Rhea refers to the ground, and as the bird doesn't fly, it seemed fitting.
Wren – The only avian name I've ever written on a birth certificate, and one that is undeniably on the upswing. Wren entered the US Top 1000 in 2013, and climbed to #703 this year.
Bird Names for Girls: The Truly Daring
Aderyn – One of my favorites!  This modern Welsh name literally means bird.  Emphasis is on the middle syllable, but you could certainly shorten this one to Addie, too.
Alouette – The French word for skylark, familiar to many thanks to the children's song. A word of warning: "Alouette" is no lullaby. The lyrics are all about catching the lark and plucking its feathers, the better to roast the bird. Still, I think it would make a pretty and unexpected name for a girl, or a great, bold middle name choice.
Avis – Like Ava, this name probably isn't originally among the bird names for girls. Instead, Avis is likely Germanic in origin. But because of the Latin avis meaning bird, it's long been associated with avian names. Actor Daniel Baldwin gave this name to a daughter in 2008.
Branwen – Another Welsh import, and one of the more subtle avian names for girls.  Bran means raven, and the -wen comes from gwen – fair. There's a Branwen in Welsh myth.
Celandine – She's a two-for-one nature name. A celandine is a flower, but it derives from the Greek word for a swallow.
Circe – Circe was a sorceress who tangled with Odysseus on his wanderings, so that's probably what comes to mind for many. But Circe probably comes from the Greek kirke – which might have meant bird.
Columba – The name developed in Late Latin, and was worn by men and women – we've got the saints to prove it.  Columba comes from the Latin for dove.
Derora – The Hebrew masculine name Dror means sparrow, and Drora or Derora is a feminine form.
Dove – A very literal bird name with peaceful overtones.
Jemima – Yet another dove name, from Hebrew via the Old Testament this time – she's one of Job's daughters.  Jemima found favor with Puritan parents, but in the US today, she's mostly syrup.
Kestrel – Another literal bird name, this time a type of falcon.  Kestrel isn't common, but her sound is intriguing.
Laraline – Laraline is a Latin word meaning seagull. It doesn't have much history as a given name, but like many of the other rarities on this list, it could wear well.
Linnet – A linnet is a type of finch. Linnet might also be a form of Lynette, which could be a form of Welsh myth's Eluned, or possibly a nickname for Lynne.
Loa – In English, the bird is called a golden plover – and I'd guess that Plover is a non-starter as a given name. Loa is the bird's name in Icelandic. Sound-wise, it falls somewhere between Lola and Noa, and could wear surprisingly well.
Luscinia – A nightingale name that fits right in with our affection for Lucy and company. Technically, Luscinia is the genus that includes the nightingale, as well as several related birds.
Philomela – In a gory Greek myth, Philomela was turned into a nightingale, and that's what her name means. It comes from the Greek words for "love" and "song." You could also use Nightingale, especially in the middle spot.
Sarika – From the Sanskrit for myna bird – a thoroughly exotic, and yet completely accessible choice.
Sephora – A major chain of cosmetics stores found in nearly every mall in America, and yet she's also an Old Testament appellation.  Sephora is a simplified form of Tzipporah, the wife of Moses.  It comes from a Hebrew word meaning bird.
Sparrow – Intrepid namers Nicole Richie and Joel Madden chose this name for their son, Sparrow James Midnight, but I think it works just as well for a girl.
Starling – Borrowed directly from the bird, a creature found in nearly every corner of the Earth.  Clarice Starling was the FBI agent from the Silence of the Lambs, a role for which Jodi Foster scored a Best Actress Oscar.  It lends some backbone to a fanciful name.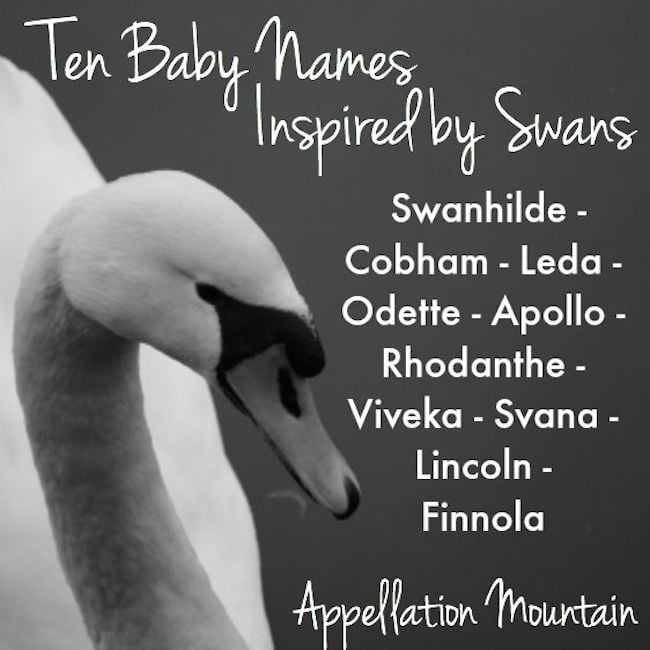 Swan – It's a surname worn by two famous fictional heroines – Twilight's Bella and Pirates' Elizabeth.  Swans are also lovely birds with a fierce reputation – not a bad combination for a daughter's name. Not into Swan? There are plenty of related names to consider.
Swift – This sounds like an active name, and indeed, the 100 or so species of swifts are among the fastest-flying birds in the world. The adjective came first – it's from Old English. It could be an intriguing middle name possibility.
Teal – It's a greenish-blue color, but the color came from a duck. The Eurasian teal has distinctive bluish-green markings. As a girl's name, there's no reason Teal couldn't share the same playground as Scarlett and Ivy.
Zipporah – Another form of Sephora, one that skews closer to the Biblical original.
Which bird names for girls are missing from this list?  Would you consider any of these names for a daughter?