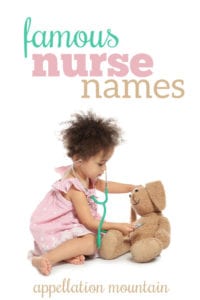 We're talking about famous nurse names today.
If there's a lesson out of 2020, it's that we've defined hero far too narrowly. Capes are nifty. But healthcare workers? They're the ones that can leap tall buildings in a single bound.
Inspired by a dedicated nurse I'm honored to call a friend, this list rounds up the many nurses in our history books. Not only do they offer gorgeous, traditional names, but they come with a built-in role model, too.
One note: I recognize that men regularly serve as nurses. But the profession's history is female, and so this list focuses on famous nurse names suitable for a daughter.
Born Clarissa, Clara Barton worked first as a teacher, then as a patent clerk in Washington DC. She was working in the city when the American Civil War broke out; Clara went to the train station and nursed the men being brought in. She organized supplies, and eventually graduated to nursing in – and then managing – field hospitals. Her work earned her the nickname "Angel of the Battlefield," but her legacy is far greater. Following the war, she established the American Red Cross, modeled on the international organization.
Author and educator Dorothea Dix was inspired by a trip to England to advocate for better treatment for mental illness in the US. She traveled the country, helping to establish some of the very first mental hospitals and asylums. When the Civil War broke out, Dorothea was appointed Superintendent of Army Nurses for the Union Army, recruiting and training volunteers to serve the wounded.
British citizen Edith Cavell trained as a nurse, working during the typhoid outbreak in England in the late 1890s. During World War I, she worked in Brussels, as matron at a hospital. The Germans invaded and occupied Brussels in November of 1914. Edith and her staff continued to treat all, regardless of nationality. But she also worked to shelter British and French soldiers, helping them escape when they were able to travel. The Germans arrested and executed her, despite international protest. She's famous for declaring, "I realize that patriotism is not enough. I must have no hatred or bitterness towards anyone" the night before her death.
Mary Eliza Mahoney grew up in Boston, and went to work at the New England Hospital for Women and Children in a variety of roles – janitor, cook, unofficial nurse's aid. In 1879, she successfully completed the hospital's rigorous 16-month nursing program. Thus, Eliza became the first African American woman to earn a professional nursing license. Over her long career, she worked tirelessly in her profession, and as a champion of equal rights for all.
Ask someone to name a famous nurse, and odds are Florence Nightingale comes to mind. Born to a wealthy British family living abroad in Tuscany, her name reflects the city of her birth. Widely-traveled and well educated, Florence rebelled against social expectations for women of her class. She felt called to nursing, completing a training course in Germany. When the Crimean War came, Florence led a group of volunteers to set up nursing the wounded near the front lines. Later in life, she established a nursing school and authored an introduction to nursing.
Fun fact: the first female African American general in the US Army was a nurse. Hazel Johnson-Brown. Hazel always wanted to be a nurse. She enlisted in 1955, completed her training and served across the world. She eventually led the Army Nurse Corps, a body of 7,000 nurses. We tend to imagine pioneering nurses as part of the nineteenth century, but Hazel reminds us that world-changing women have filled this role across the generations.
We know her best as Calamity Jane, an American frontierswoman and part of Buffalo Bill's Wild West Show. But there's so much more to her story. Born Martha Jane Canary, her daring ways became the stuff of legend. Less well known was her compassionate nature. During a smallpox outbreak in Deadwood during the 1870s, Jane nursed the sick. While it's a small part of her story, it's a good example of nursing in the era before organized hospitals – and it earns her a place on this list.
Inspired by the experiencing of caring for an ailing parent, Linda Richards became the first professionally-trained American nurse. The year was 1872, and the very concept of professional training was in its infancy. She eventually went to England, to train under Florence Nightingale. Linda returned to the US to establish a network of nursing schools, and would later do the same in Japan. But her most significant accomplishment was creating a modern system hospitals used to keep patient medical records.
MARTHA
Martha Ballard worked as a midwife, delivering 816 babies over 27 years. How do we know? She kept a careful diary of her life and work in late seventeenth/early eighteenth century in Maine. It's extraordinary that she compiled the record; it's equally astonishing that it survived. In 1990, author Laurel Thatcher Ulrich published the Pulitzer Prize-winner work A Midwife's Tale, making Martha's story familiar to a wider audience.
Mary Seacole also served in the Crimea, at the same time as Florence Nightingale. Born in Jamaica, she married traditional knowledge of herbal medicine with emerging standards of care. Her attempts to volunteer as a nurse during the Crimean War were rebuffed, perhaps because of her race. She eventually made her way to the front and established a "hotel" for soldiers. She served meals and distributed supplies, while also tending to the wounded.
Doubtless I've left dozens – and dozens! – of noteworthy famous nurse names off this list! Please let me know who should be included for future revisions.