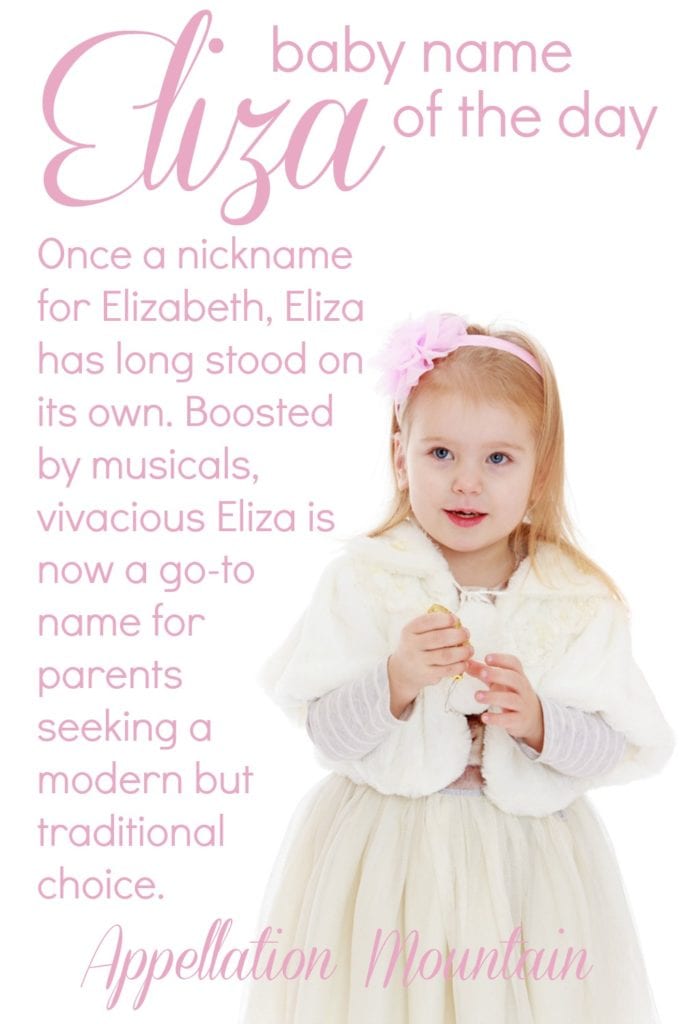 Eliza 
evolved as a
stylish short form of Elizabeth
. Today it's leaping up the charts.
Thanks to Lemon and Inbal for suggesting our Baby Name of the Day.
Eliza: Musical Moniker
Eliza Schuyler Hamilton grew up privileged and determined. She married Founding Father Alexander Hamilton, and played a pivotal role in his career and ensuring his legacy.
Hamilton: An American Musical shows her in the company of Angelica and Peggy – the Schuyler Sisters. They get their own introduction song.
It's not the first time the name has been part of a celebrated musical.
When My Fair Lady opens, Professor Henry Higgins is bragging that he can teach any person to speak the most elegant English. His friend calls him on his boast, and soon Higgins is charged with transforming the churchmouse-poor, Cockney-accented flower seller Eliza Doolittle into a lady. And not just a born aristocrat, but one who can fool Professor Higgins' rival linguistics expert into believing she's the real deal.
At least the Hollywood version, starring Rex Harrison and Audrey Hepburn, ends that way. George Bernard Shaw penned the original, Pygmalion, in 1913. It debuted on Broadway in 1956. Shaw argued against such a happy ending.
Eliza: History
Despite being in the spotlight for much of the twentieth century, this name belongs to an earlier age.
It appears in the historical record as a variation of Elizabeth by the 1500s.
Legend tells of a pair of conjoined twins, said to be born in Biddenden, Kent in the year 1100. The Biddenden Maids probably evolved as a folk tale, and their names – Mary and Eliza – weren't attached until many years later. But the story makes the name feel even older.
A patriotic opera about Queen Elizabeth I of England bears the name; written by Thomas Arne, it dates to the 1750s. In the 1790s, an unrelated French opera set in the Swiss Alps also used the name as its title.
Jane Austen used the nickname for one of the Bennet sisters in her 1813 masterpiece, Pride and Prejudice, though she's also known as Lizzie.
Harriet Beecher Stowe gives the name to a character in her 1852 novel, Uncle Tom's Cabin. She flees rather than see her young son sold to another owner.
No surprise, then, that this name ranked in the US Top 100 in the 1880s.
It all tracks with Mrs. Hamilton's story. She was born in 1757.
Eliza: On the Rise
By the 1960s, the name left the US Top 1000 entirely. It didn't stay gone for long, but it wasn't until the 1990s that Eliza's revival began.
It currently stands at Number 175.
Along the way, boosts came from:
The daughter on The Wild Thornberrys, which ran from 1998 through 2004. She can talk to the animals, which brings to mind another Rex Harrison role: Doctor Dolittle.
A handful of actresses, like Buffy the Vampire Slayer alum Dushku, Scrubs' Coupe, and The 100's Taylor and pop singer Doolittle (born Caird).
In 2004, a young Lindsay Lohan starred in Confessions of a Teenage Drama Queen. She plays Lola, who is cast as Eliza in an updated version of My Fair Lady.
The numbers follow along. In 1995, the name returned to the US Top 500.
As of 2015, it stands at #175.
Eliza: Perfect Pick
Classic and vivacious, Eliza offers a winning mix of elements. The z sound feels modern, but the name boasts plenty of history. There's every reason to expect Eliza will continue to climb.
Originally published on May 10, 2010, this post was revised and republished on January 11, 2017.