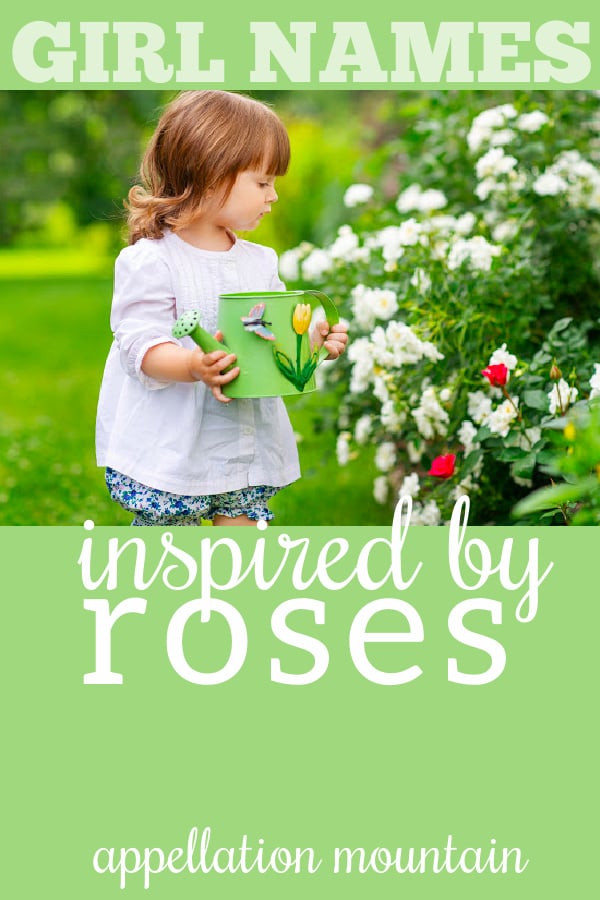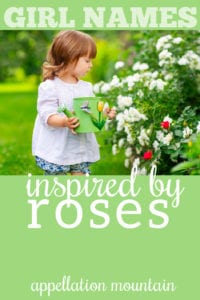 Rose names range from the spare and elegant Rose, a classic with history galore, to elaborate and fanciful confections, from Harry Potter's Rosmerta to Hunger Games' Primrose.
Of course, Rose reigns as the middle name of the moment. From celebrities to the family next door, plenty of parents have embraced it as a go-to middle.
But not so long ago, Rose stood proud as a first name favorite. A century ago, it regularly ranked in the US Top 20. Up until 1960, it appeared in the Top 100. As of 2020, the name had climbed to a respectable #113. But there's still plenty of room for this lovely botanical choice to grow – and bring lots of other Rose names along for the ride.
In the botanical world, roses abound – there are well over 100 varieties. Rose names are equally plentiful, with at least two dozen possibilities. Some feel timeless; others lean literary; but every one of these Rose names has potential for a daughter born today.
THE CLASSICS
Rose – The timeless original. Like Jane or Grace, it's a single-syllable choice that feels feminine, traditional, elegant, and strong. Equally suitable for a ballerina or a district attorney, Rose seems open to reinvention, a name that can suit nearly any child, and grow with any woman. With so many girls named Ava Rose, Mia Rose, and Olivia Rose these days, it's often heard – though not often enough as a given name. Rose ranked #113 in 2020.
Rosa – The Latin version of the classic, Rosa seems at home in the Spanish- and Italian-speaking worlds, but it's also heard throughout Europe. Civil rights icon Rosa Parks makes it a hero name. At #639 in 2020, it's uncommon – but plenty familiar.
TRADITIONAL ROSE NAMES
Rosanna – A Rose-Anna mash-up, Rosanna was the title of a smash hit song for Toto back in 1982. Not surprisingly, the name peaked in the 80s, too. Today it's outside of the US Top 1000, along with Roseanna and Roseanne, as in Barr. That last one is almost certainly going to hibernate for a while. But Rosanna feels every bit as romantic and traditional as Isabella or Olivia. Besides Rosie, there's also spunky nickname option Roxy.
Rosemary – Hamlet's Ophelia told us that Rosemary is for remembrance. It's a softly vintage name, both a Rose-Mary smoosh and a borrowing from the herb, which was named from the Latin rosmarinus – dew of the sea. Plenty of songs feature the name. (This is my personal favorite, from Interpol in 2005. Yes, it's about a twisted serial killer, but I've managed to mostly overlook that tiny hiccup.) Romy is the German nickname, a fresh and vivacious spin on a gentle antique. As of 2020, Rosemary ranked #445. Rosemarie is another, similar option.
Rosamond, Rosamund – In use since at least the 12th century, and probably a few hundred years prior, this name has more in common with the equestrian-tinged Rosalind than the botanical Roses. Still, it's tempting to translate this as "rose of the world" – in fact, the 12th century mistress of England's King Henry II was named Rosamund Clifford and nicknamed precisely that. These Roses last appeared in the US Top 1000 in the 1930s, making them true throwbacks.
THE IMPORTS
Rosalba – Used mainly in Italian, this one means "white rose." It has the romantic feel of Arabella, but remains far less expected. The name has never cracked the US Top 1000, and doesn't seem especially common in Italy today, either. I've also found Rosalva listed on Spanish language name sites.
Rosaura – A combination of Rose and the Latin word for golden, Rosaura was first used in a seventeenth century Spanish novel.
Rosario, Rosaria – The term "rosary" literally translates to rose garden, but refers to a Catholic devotional prayer practice counted out on beads. Rosario is feminine in Spanish and masculine in Italian; Rosaria is the Italian feminine. Despite the success of actress Rosario Dawson and the lively sound of this name, neither version has recently charted in the US Top 1000.
Rosetta – An Italian pet form of Rose, Rosetta is often followed by Stone – the ancient stele that provided the key to reading Egyptian hieroglyphics, as well as a widely-known language learning program. It was discovered in 1799 by the French, who had conquered Egypt under Napoleon the year before. The port city was called Rashid, but the French referred to it as Rosetta. It's been out of the Top 1000 since the 1970s, but never say never to a comeback.
Rosetti – A surname inspired by Rosetta that takes Rose names in the general direction of Harper and Avery. Poet Christina Rosetti makes this feel particularly wearable.
Roswitha – Not a Rose name at all, but a Germanic name that starts with the right sound.
Róisín – Pronounced ro sheen, this Irish name means "little rose." Róis – rosh – is the literal translation for the flower. With authentically Gaelic names like Niamh and Saoirse on more parents' shortlists, maybe Roisin's moment is coming. So far, it's never made the US Top 1000. A bonus? The name has patriotic and poetic associations, making it a worthy Irish heritage pick. It's sometimes translated Rosaleen, which feels like it's waiting with Darlene and Arlene for a future wave of revival.
LITERARY ROSES
Rosalie – In the 1920s, Rosalie was a princess in disguise in a Gershwin musical.  In 1937, the musical became a movie and propelled Rosalie into the US Top 100.  After several years out of favor, Rosalie is back again, thanks to another story adapted for the big screen – she's Bella's vampire sister-in-law in the Twilight franchise. Today the name stands at #198, a stylish sound that feels vintage and modern at once. (We do love a good three-syllable, ends-in-y name for a girl, don't we? There's also Rosalia, an ancient festival and the name of a twelfth century saint. But it's Rosalie that clearly comes out on top today.
Rosalind – Shakespeare used Rosalind for a character in As You Like It. Romeo's love interest before he met his Juliet answered to the similar Rosaline. Besides Rosie, Rosalind offers the nickname option Lindy, and might be a graceful way to honor women named Rose and Linda. It's tempting to translate Rosalind as "beautiful rose," but it comes from Germanic elements for horse – hros and soft – linde – meaning that the name suggests a biddable horse. Last big in the 1940s, Rosalind remains outside of the current Top 1000.
Rosmerta – The Harry Potter name was borrowed from an ancient fertility goddess. JK Rowling made her the proprietress of The Three Broomsticks, Hogsmeade's favorite watering hole.
Primrose – Without the heroic Everdeen sister of Hunger Games fame, Primrose might feel too prim for a real girl. But the character transforms it from a botanical rarity to a more mainstream botanical option. It continues to gain steadily since the movie came out in 2012, though it's yet to arrive in the Top 1000.
SMOOSHES & ELABORATIONS
Rosalina, Rosalita – Add -lina and -lita to Rosa, and you'll have lovely elaborations of the original.
Rosalynn, Rosalyn, Roslyn, Roselyn: These might be a spin on Rosalind, or maybe they're a Rose-Lynn smoosh. With Evelyn rising fast, these Rose names feel like options, too. One note: you might hear some of these pronounced Roz-lyn. In fact, Rosslyn, Virginia is part of metropolitan Washington DC. None of these choices made the Top 1000 in 2007, but as of 2020, Roselyn ranks #723 and Rosalyn #843.
Rosina, Rosena, Rosella, Roselle, Rosalita: Like Rosetta, these all started out as pet forms of Rose and Rosa, elaborations sometimes used as given names. Rosina appears in the Rossini opera The Barber of Seville. Bruce Springsteen scored a hit with Rosalita in 1973. While none of them are trending, any of them might wear well today.
Rosabel, Rosabelle, Rosabella: Heard in romance languages, but nearly unknown in English, these are -bel names that fit right in with Annabelle and friends, but remain far less familiar. None of them appear in the current Top 1000.
Anna Rose, Mary Rose, Ella Rose – You might smoosh these together into Annarose, Maryrose, or Ellarose. (I think Ellarose works especially well.) But they work as double names, too, and that makes it tough to tell how common they've been over the years.
TYPES & VARIETIES of ROSES
Adelaide – Named for Adelaide d'Orleans, a French princess who spent many years in exile during the Revolution.
Albertine – An award-winning rambling rose.
Amber – A 1980s era hybrid, it's full name is Amber Queen.
Anneliese – Also called the Oregold, this rose got its name from German opera singer Anneliese Rothenberger.
Antigone – The Antigone is a hybrid tea rose first grown in France.
Antonia – A light pink rose that's been around since at least the early 1800s, originally from France.
Arthur – Several types of roses are named Arthur, including a 1960s cultivar, named for whisky manufacturer Arthur Bell.
Astrid – Several roses are named Astrid, including one honoring Swedish author Astrid Lindgren.
Athena – A popular rose, it's white with pink edges.
Audrey – Actress Audrey Hepburn was a life-long garden enthusiast, so it's only natural that there's a rose named for her.
Barbara – Several roses are named Barbara, including ones honoring former First Lady Barbara Bush and legendary singer Barbara Streisand.
Benjamin – The Benjamin Britten rose honors the twentieth century composer and conductor by the name.
Betty – Once again, multiple roses answer to Betty, including one named for the late comedienne Betty White.
Catherine – This saintly, royal name appears in many a garden.
Cecile – A pink climbing rose, this flower was named after Cecile Brunner, daughter of Swiss grower Ulrich Brunner.
Celeste – It's also sometimes called the Celestial.
Charles – Multiple men by the name have been honored roses, including Charles Dickens and Charles de Gaulle.
Charlotte – Several roses bear this name, including one inspired by Armstrong Nurseries owner, John Armstrong. The Charlotte Armstrong was introduced in 1940.
Christian – A French rose was named for design icon Christian Dior.
Clarissa – A lovely miniature rose with an apricot color, one of many introduced by the UK's Harkness & Co.
Clio – No surprise that there's a Cleopatra rose. But there's also one named for this Greek Muse.
Constance – A light pink rose, the Constance Spry was named for a gardening educator and author from the mid-1900s.
Coralie – A coral-red rose from the early 1900s.
Cornelia – An ancient Roman name for a vibrant pink rose.
Cosimo – A mauve rose from 1840s France, this one is named for Cosimo Ridolfi – an influential nineteenth century Italian.
Daisy – Of course, the daisy is a flower – but it's also a given name. And the Daisy Hill is a rose dating to around the year 1900.
Darcey – An English rose named for retired ballerina Darcy Bussell.
Diana – Among many roses named for royals is the Diana, Princess of Wales rose.
Dolly – A showy, orange-red flower, this rose is named for legendary singer Dolly Parton.
Dorothy – There's more than one rose bearing this traditional name, including the Dorothy Perkins, named for the granddaughter of famous rose-grower Charles Perkins.
Eden – A popular name for a rose, used more than once across the years.
Edith – There's more than one Edith rose, including one named for legendary singer Edith Piaf.
Eliane – Inspired by the French Eliane Gillet.
Elina – A 1970s and 80s cultivar, Elina was developed by the Dickson family of Northern Ireland.
Elisabeth – Another spelling of classic Elizabeth, and popular with the roses, too.
Elizabeth – Often inspired by the long-serving monarch, the late Queen Elizabeth II.
Elvis – First introduced in France in 2008.
Emma – Named for Lady Emma Hamilton, a fascinating figure from late 1700s Britain.
Ferdinand – The award-winning rose we know as the American Beauty started out as the Madame Ferdinand Jamin. There's also the Ferdinand Pichard, which has been around since the 1920s. (The latter is found in Martha Stewart's rose garden.)
Florence – Florence sounds like a natural name for a rose. One famous variety honors world-changing nurse Florence NIghtingale.
Frances, Francis – There's a rose named the Francis Meilland after a legendary French horticulturalist, and another named Sweet Frances, apparently named in a contest.
Freddie, Frederic – Roses have been named after musicians as diverse as Queen's Freddie Mercury and the composer Frederic Chopin.
Fritz – A handful of roses have been named after this Friedrich nickname, all originating in Germany.
George – At least one rose is named George, as in the George Best, inspired by the legendary Irish footballer.
Ginger – There's a hybrid tea rose named for dancer Ginger Rogers, an Oscar winner during Hollywood's Golden Age.
Grace – More than one rose is called Grace, including one also called the Princesse de Monaco, for the late Grace Kelly.
Harlow – A new variety of English rose is known as the Harlow Carr. It's named for a public garden operated by the Royal Horticultural Society in the UK.
Heidi – Supermodel and entrepreneur Heidi Klum has this German variety of rose named for her.
Helen, Helene – Roses are named both Helen and Helene, including one named after actress Helen Hayes, the "First Lady of American Theater."
Henri, Henry – French artist Henri Matisse has a bloom named for him; so does explorer Henry Hudson.
Honorine – A lovely striped rose, apparently named for a noblewoman.
Ingrid – As in actress Ingrid Bergman.
Laura – The name of a classic, bright pink rose, or there's the Laura Ford, a yellow climbing rose.
Louise – The Princess Louise rose dates to the early 1800s.
Lucy – The Blushing Lucy rose puts this name on the list.
Marina – Developed in the 1970s, the Marina rose comes from Germany.
Penelope – There's an English rose called the Penny Lane and another named Penelope.
Prudence – The "Dear Prudence" rose is clearly a callback to the Beatles' song.
Sally – Another Hall of Fame rose, the Sally Holmes was named for the wife of creator Robert Holmes.
There you have it – plenty of reasons to rescue Rose from the middle spot and promote it to first, along with some rare, Rose-inspired picks.
Have I missed any Rose names? What are your favorites?
Originally published on July 30, 2008; this post was revised on May 7, 2012; January 17, 2014; June 4, 2018 and again on June 5, 2020, October 22, 2020, May 21, 2021, and February 9. 2023.