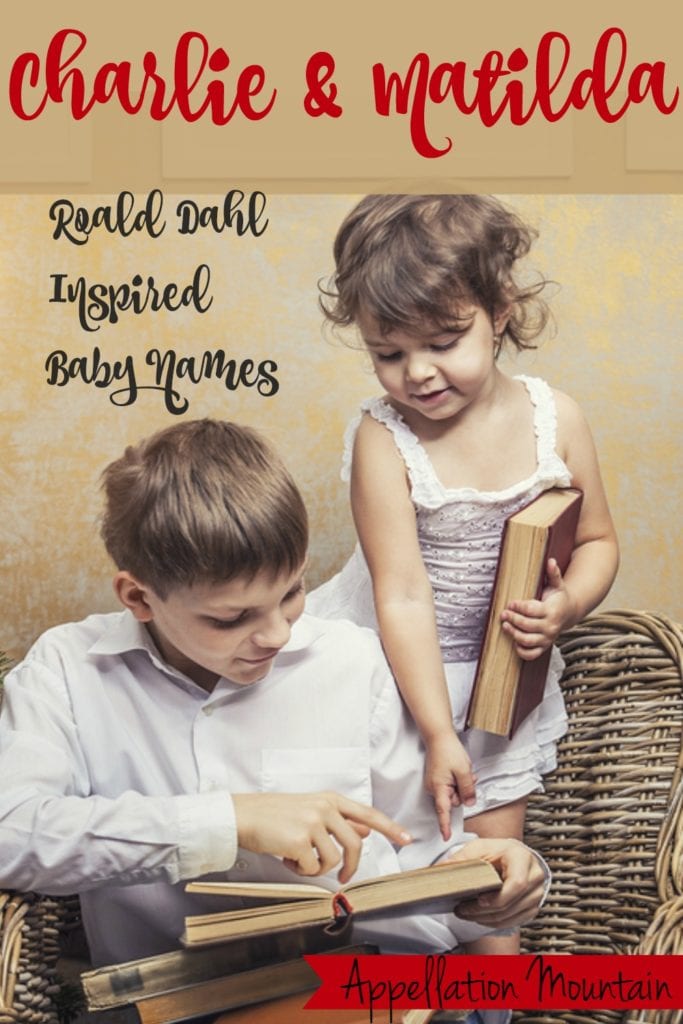 I have a secret name crush, a name so unusable – maybe even unthinkable – that I generally don't mention it.
But lately, my daughter and I have been reading our way through Roald Dahl stories.  They hit the sweet spot – his books are fantastic and dramatic, with big ideas, so I find them engaging.  But they're still light enough to hold her attention, and not so long that we can't get through them in a week or two.
And the names.  Did I mention the names?
My name crush is Veruca, one of the children who snags a Golden Ticket in Willy Wonka and the Chocolate Factory.  She's a spoiled brat, a child as stylish as Suri Cruise, but as relentless as Attila the Hun.  The refrain from her signature song says it all: Don't care how, I want it now!
The name's meaning is appropriately repellent.  Verruca is Latin for wart, and used in British English to refer to warts.  Trace it back far enough and the root word more generally refers to a flaw or failing.
A widely-known, intentionally obnoxious child, plus an unpleasant meaning doesn't necessarily make for a great name, and there have been few other Verucas.  There's one who makes the briefest of cameos in the Buffy the Vampire Slayer series, and a 1990s indie band who took their name from the character.
It turns out that Dahl was just a great namer – of his fictional characters, and his own children, too.
Let's take a look at all of the Roald Dahl names.
Roald Dahl Names in Real Life
Dahl was of British descent.  He and American actress Patricia Neal married in 1953, and named five children together.  (That's the couple, pictured above.)  Most of the names Dahl and Neal chose were ahead of their time, and some were downright quirky.
Olivia Twenty – Born in 1955, the couple's first child was named Olivia Twenty.  Olivia was rare in the 1950s, and Twenty, well … Harper Seven still raises eyebrows. It's said that they named her for Patricia's favorite Shakespearean heroine, and for the date of her birth – April 20th – plus the fact that Dahl had $20 in his pocket when he walked into the hospital.
Chantal Sophia – Two years later, Chantal Sophia arrived.  Her French first name would have a good run in the 1990s, but was rarer than even Olivia in the 1950s.  Her middle was rare, too, though better known.  She later became a writer, too, though instead of Chantal, she prefers to be known as Tessa.  Roald Dahl's mom was named Sofie Magdalene.
Theo Matthew – The couple's first son was born in 1960.  Today Theo is gaining as an independent name, but back then, most boys would have been named Theodore instead.
Ophelia Magdalena – The Dahls chose another Shakespearean name for baby girl #3, who was born in 1964.  They did a spectacular job with dramatic middles, too, didn't they?  Twenty, Sophia, Magdalena … Like Sophia, Magdalena honors Roald's mom.
Lucy Neal – A year later, their youngest daughter arrived.  Her middle is clearly a tribute to mom.  She's followed in her father's footsteps as a writer.
Roald Dahl Names for Girls
Elvira – In Charlie and the Great Glass Elevator, Elvira Tibbs is Vice President of the United States.
Felicity – The name of Mrs. Fox, in The Fantastic Mr. Fox, and also the name of Roald Dahl's second wife – though they married some years after the book was published, so I'm not sure if that's a coincidence.
Georgina – One of the grandmothers from Willy Wonka and the Chocolate Factory, and a thoroughly English name.  She probably feels more vintage, glamorous Duchess of Devonshire than grandmama nowadays.
Josephine – Like Georgina, Josephine was one of the aged grandmothers to little Charlie, and, also like Georgina, a name very much at home in 2014.
Lavender – She's a friend of Matilda in the novel, and also a name from the Harry Potter series.
Matilda – One of the best of the Roald Dahl names, worn by a whipsmart little girl.  Matilda has been adapted for the big screen, and now for Broadway.  When the novel was published in 1988, Matilda was a clunky choice, long faded from use in the US.  But now she's back, charting at #644 and climbing in 2013.
Sophie – The BFG is about a Big Friendly Giant – hence the name.  Sophie is the little girl who discovers the lone good-hearted giant.  She's named after Roald's granddaughter, Tessa's daughter, Sophie.
Veruca – My unworkable name crush, borrowed from the greedy Golden Ticket holder of Charlie and the Chocolate Factory fame.
Violet – Another Golden Ticket holder, a compulsive gum-chewing girl who meets her comeuppance in the Inventing Room room, where she chomps on some experimental gum and turns into a giant blueberry.  It also brings to mind Downton Abbey's delightfully acidic Dowager Countess and the eldest Garner-Affleck kid.
Boys Names from Roald Dahl
Ash – Another one from The Fantastic Mr. Fox, this one worn by Mr. Fox's son.  Pokemon also gives us a young Ash.  It's an interesting possibility now that Ashley is in mom-name territory, and Ashton is fading.
Augustus – He's getting a lot of press thanks to The Fault in Our Stars.  But in Charlie and the Chocolate Factory, Augustus Gloop was a gluttonous boy – and the first Golden Ticket holder to meet an unpleasant fate.
Charlie – The humble, good-hearted Charlie Bucket managed to avoid the fates of the other children on the Chocolate Factory tour, and he ends by winning the grand prize – a chance to inherit Willy Wonka's legacy.  He's never referred to as Charles, and plenty of parents today are naming their children just Charlie – like David Arquette, who recently welcomed Charlie West.  It's also used for girls, but not in Dahl's writing.
Fox – Strictly speaking, this isn't a given name in Dahl's work.  Besides being fantastic, Mr. Fox is very much a fox, so his surname isn't a stretch.  But today, thanks to The X-Files and our affection for boys' names ending with x, Fox seems like a given name possibility.
George – This name is used twice by Dahl, first for one of Charlie Bucket's grandparents.  It's also the name of the title character in 1981's George's Marvellous Medicine.  Now that the little prince is called George, can we expect to see all forms oft he name rise?
James Henry – Of Giant Peach fame, an orphan who goes on an incredible adventure  in a magically enhanced giant peach.
Joe – Charlie's beloved Grandpa Joe is the one who takes him on the Chocolate Factory tour.
Lancelot – In Charlie and the Great Glass Elevator, it's the given name of the President of the United States.
What's your favorite name from Roald Dahl's stories?  Are there any that I've missed?  And is Veruca absolutely a non-starter?
Related articles