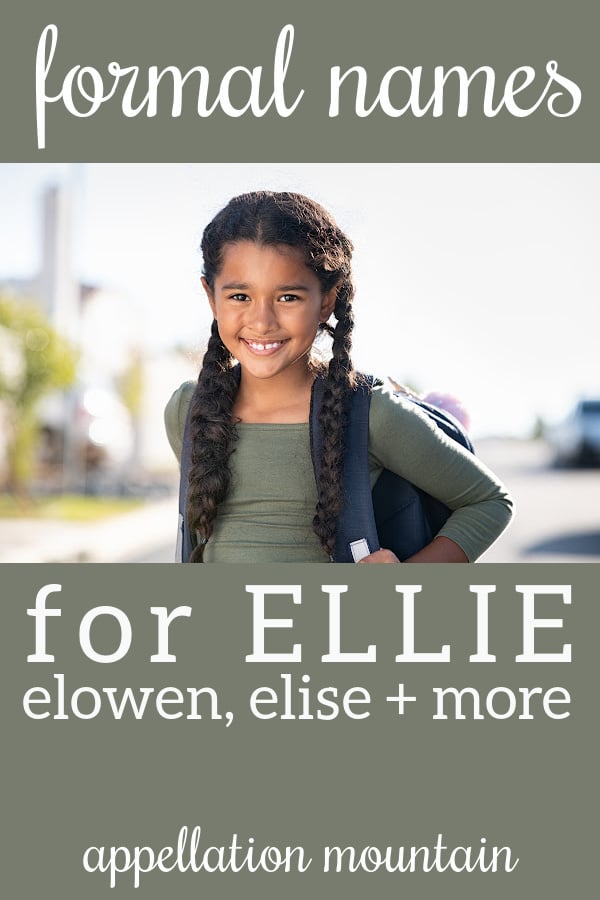 What is Ellie short for? The nickname Ellie works for dozens and dozens of names, from traditional favorites to fresh possibilities.
Of course, Ellie is popular as a stand-alone name, too. Sparky and sweet, it's surprisingly versatile, the kind of name so familiar that we're never surprised to hear it.
And yet it does feel casual. Plenty of parents might prefer to give Ellie a formal name option.
It's equally true that the meaning of Ellie can shift depending on which formal name is referenced.
If you're considering inking Ellie on your daughter's birth certificate but would like something a little longer for formal occasions, read on.
CLASSIC & TRADITIONAL
ELAINE
A cousin to Helen, kept alive in the tales of King Arthur, the baby name Elaine peaked in the US from the 1920s through the 1950s. An earlier generation hears Elaine and thinks Seinfeld, but that's not top-of-mind for anyone under the age of twenty today. So yes, it's a name in your grandmother's generation, but with nickname Ellie or Lainey, don't count it out.
ELEANOR and ELINOR
These days, Ellie is quote often a pet form of the female name Eleanor. And regal Eleanor now ranks in the US Top 100. Variant spelling Elinor brings to mind Jane Austen's heroine in Sense and Sensibility. Eleonore is yet another variation, as is Elanor, invented by JRR Tolkien. On long-running White House drama The West Wing, fictional president Josiah Bartlet was dad to three daughters: Elizabeth, Eleanor, and Zoey. The middle daughter answered to Ellie.
Instead of Elaine, many modern parents favor the globe-spanning Elena. You might spell it Elaina or Alaina, but it's the straightforward Elena that ranks in the current US Top 100. It's even more popular elsewhere in the world. No question that Ellie is a logical short form of this elegant name. English singer Ellie Goulding was born Elena.
ELISA
Heard in Italian, Spanish, and German, as well as English and other languages, Elisa is another Elizabeth spin-off that leads to the nickname Ellie.
ELISE
"Für Elise" might be Beethoven's famous piece for piano, which makes this name feel traditional and musical, too. (For what it's worth, the Elise for whom the piece was composed? She's lost to history.) It's tough to peg this name to a particular decade, making it timeless, just like Elizabeth, from which it is derived.
Another Elizabeth name, Eliza crackles with energy. It boasts plenty of history, from Hamilton! to My Fair Lady, and notable bearers galore. Plus the emphasis on the 'z' sound makes this feel thoroughly modern.
ELIZABETH and ELISABETH
Worn by queens and saints, it's impossible to argue with the enduring appeal of this name. It is also possible, of course, to choose another nickname, from Liz to Lily to Betsy to a dozen more. But Ellie works nicely.
ELLA
Wildly popular among baby girl names in recent years, Ella requires no nickname. And yet, it's easy to imagine an Ella sometimes answering to Ellie.
ELLE
You probably wouldn't meet an Elle in France. It's simply the French word for she. But it sounds like a given name in the US, particularly after a generation of women grew up with Legally Blonde hero Elle Woods.
ELLEN
Looking for a no-nonsense name for a daughter? Ellen fits the bill.
Kay Thompson's enduring children's book character made Eloise a household name in the United States, but it's only recently that it's started climbing the popularity charts again.
IMPORTS
ELIANA, ELIANNA, ELLIANA, ELLIANNA
They look like elaborate ways to get to the nickname Ellie, cousins to Liliana. But this name has roots in Hebrew, as well as an ancient Roman family name, by way of Greek. If it didn't exist, we would've invented it.
A thoroughly French option, Elodie fits with so many three-syllable, ends-with-y or -ie girl names. Elodia is an even rarer form of the name.
So close to Ella, but with an extra sound, Elsa ought to be on the rise. Except it's so tied to the ice queen of Frozen fame that parents have steered clear – at least for now.
A Scottish twist on Elizabeth. Elsbeth is sometimes seen, too.
ELVIRA
Long associated with a popular song by the Oak Ridge Boys, as well as a campy actress known for hosting horror movies on television, Elvira felt unwearable for some time. But how 'bout Mozart's piano concerto, known as the "Theme from Elvira Madigan," a 1967 movie? Based on the true story of a circus performer and military officer who fall in love, run off together, and end tragically, it's a haunting tale. As the other pop culture references fade, perhaps the piano piece makes the name worth considering.
SURNAMES
Journalist Campbell Brown helped put this surname on the list of possibilities for girls, complete with nickname options Cam, Cammie, Bell, Bella, and Ellie.
ELLERY
Long an under-used masculine choice, Ellery could join Avery and Emery as a girls' name.
ELLINGTON
Jazzy.
ELLIOT, ELLIOTT
Both spellings are popular for boys, and sometimes heard for girls, too. Author George Eliot – the pen name of Mary Ann Evans, adds to this perception, as do names like the French Eliette.
ELLIS
Awfully close to Alice, but perfectly plausible as a given name.
ELLISON
With Allison in mom name territory, maybe Ellison is the logical heir. It fits with Madison, Emerson, and so many other surname-style girl names we've embraced in recent decades. And it easily reduces to Ellie.
ELLIE at the END
ANNABEL, ANNABELLE, ARABELLA
Any of these could possibly work, though they tend to be called Bella or Belle instead.
ARIEL, ARIELLE, ARIELLA
A name with history aplenty, Disney launched Ariel for girls with The Little Mermaid. Today, the names succeed on their own merits, including that stylish -elle sound.
BRIELLE
Originally short for Gabrielle, Brielle also inspired spin-offs like Abrielle. Any of them could shorten even more.
Rarely heard in the US, Emmanuelle is long enough to encourage shortening, and Ellie is nearly as likely as Emmie.
Another long-used name ending with the right sounds.
ISABELLA, ISABELLE, ISOBEL
The most popular of the ends with -ella names, though I rarely hear them shortened to Ellie.
GABRIELLA, GABRIELLE, GABRIELA
Long-time favorites, all of the Gabrielle names have faded slightly in recent years, but they still lend themselves to Ellie.
A romantic French name with a tragic ballet to match.
MARIEL, MARIELLE, MARIELLA
A rarity in any form, Mariel and company seem like overlooked gems.
UNCONVENTIONAL NICKNAME ELLIE NAMES
So many Amelias answer to short forms. Mia, maybe, or Amy or Millie. But Ellie? It feels like a stretch, but maybe it works.
A Cornish name with ties to a saint, and the correct sound found in the middle.
A modern Cornish name meaning elm tree, easy to reduce to Ellie. Elowyn recently debuted in the US Top 1000.
A place name from Shakespeare, Elsinore makes for a literary twist on Eleanor.
ELUNED
An early Welsh saint.
A gorgeous neglected gem, though Everild more obviously shortens to Evie.
A true rarity, but perhaps worth consideration.
MARCELLINE
Elle is tucked in the middle of many a name – Penelope, Cornelia. In most cases, Ellie feels non-intuitive, but somehow I can hear Ellie coming from Marcelline.
In your opinion, what is Ellie short for? 

This post was originally published on May 25, 2008. It was revised and republished on November 26, 2012; September 15, 2019; October 7, 2021; and October 24, 2023.