What were the best Pinterest baby names 2017? It's a tricky question to answer. After all, Pinterest contains a seemingly infinite amount of content. The Baby Name of the Day board holds 485 Pins alone – and that's not counting the thousands of other images pinned elsewhere. (You can follow me here!)
But these ten names came up over and over again, making them the best Pinterest baby names 2017 from the Appellation Mountain site. It's an intriguing bunch – a few rank in the current US Top 250. Others are so rare they don't even crack the Top 2000.
And yet they're all great names, with history and meaning behind them. Another point: unlike some of the most popular boy and girl names on the site, every one of these seems perfectly wearable for a child born today.
In fact, one of these might be just right for your new addition.
Best Pinterest Baby Names 2017: Adriana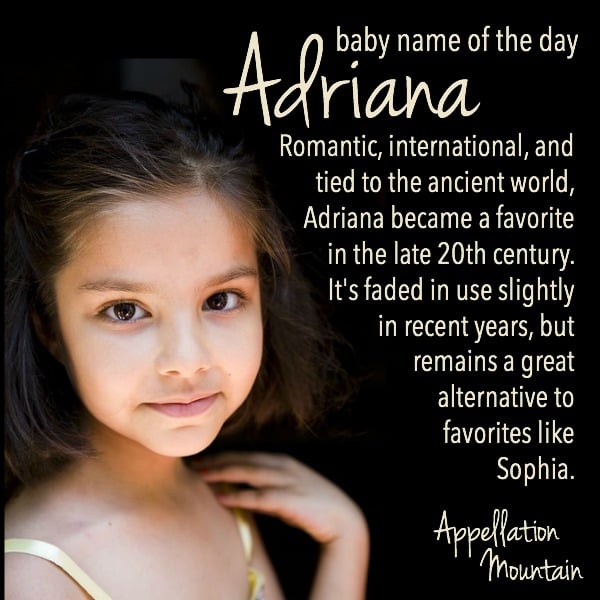 Romantic, extravagant Adriana took off in the second half of the twentieth century, and remains a favorite among parents today. It's been eclipsed by Ariana, but remains just outside the current Top 200. (Though if you added in Adrianna, it would be even more popular.) Shakespeare used it for a character in The Comedy of Errors. More recently, it belonged to characters on The Sopranos, One Life to Live, and Switched at Birth. It's feels Italian, and it's big throughout the Spanish-speaking world, too.
Best Pinterest Baby Names 2017: Aspen
File Aspen with names that are quickly becoming mainstream, even though they seem really fresh and new. Aspen picks up on lots of trends. It's a nature name, another tree like Willow or Rowan. But it's also a place name, like Brooklyn. We do love our A- names, and tailored names for girls always have their place. Factor in the ski resort's growing popularity in recent decades, and a reality star (Sister Wives' Aspyn Brown, the second of the Kody Brown's eighteen kids) and a handful of social media stars, and this name is going places.
Best Pinterest Baby Names 2017: Cambria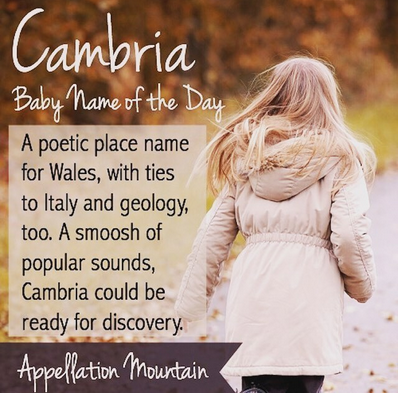 A poetic place name sometimes used for Wales, Cambria picks up on multiple trends, too. Sophia and Olivia proved that we love our -ia ending names for girls, and the link to the map is powerful, too. We love the bri- sound of Briana and Gabrielle, and Camila ranks in the current girls' Top 50. It also refers to a geological time period. All together, that makes for a rare name teetering right on the edge of the current Top 1000. Cambria might be ready for discovery, a distinctive name with multiple intriguing associations and a stylish sound.
Best Pinterest Baby Names 2017: Emmerich
Frederick counts as a classic, and Emmett as a current favorite with a homespun vibe. So is Emmerich a creative smoosh of the two? Not at all! Instead, Emmerich comes from Germanic roots, just like Frederick, but is far less common. It could be a cousin – and a forerunner – for Emery. It might also relate to other common names – like the chart-topping Emma. If you're drawn to longer boy names, like Sebastian and Benjamin, but want something underused, Emmerich could be the forgotten traditional boy name you're after.
Read more about Emmerich here.
Best Pinterest Baby Names 2017: Isla
Isla belongs with the liquid names that so dominate this generation. It's a simple, straightforward name that's all vowel sounds. There's also a strong nature name tie – a Scottish island is named Isla, and it's the Spanish word for island. (Though with a different pronunciation.) Still, that's enough to give this pretty, straightforward name a romantic image. Australian actor Isla Fisher, the daughter of Scottish parents, put her name on our radar in the early 2000s. It's quadrupled in use in the last eight years alone, and sits just outside of the current US Top 100.
Best Pinterest Baby Names 2017: Loxley
Robin Hood gives us the next entry on our list. English folklore tells us that the famous outlaw was born in Loxley, Sheffield – or maybe Locksley, Sheffield. (Or some other place. Stories abound!) It appears in popular culture through the years. Kevin Costner was Robin of Locksley; in the 1980s, British television series Robin of Sherwood used the 'x' spelling. Given our affection for the letter 'x' in boys' names, it's easy to imagine Loxley joining choices like Hendrix and Axel. It's among the quirky boy names that have become favorites here on the site.
Best Pinterest Baby Names 2017: Mabel
Mabel strikes a nice balance. It's a feminine, vintage choice, but it's far less elaborate than many popular names for girls. It comes from amabilis, the Latin word for lovable, and children of the 1990s might remember it as an acronym for Mothers Always Bring Extra Love, thanks to Mad About You. Bruce Willis gave the name to his daughter in 2012. That's just one year before Mabel returned to the US Top 1000. Since then, the name has nearly doubled in use. Of course, the name still has far to go. Up until the 1920s, Mabel was a Top 100 staple in the US.
Best Pinterest Baby Names 2017: Mirabelle
Gabrielle and Isabella, Annabelle and Arabella – girls' names ending in that specific -elle/-ella sound have dominated the popularity lists in recent years. So how about Mirabelle? It comes from the Latin mirabilis – meaning wonderful, marvelous, or even miracle. The phrase annus mirabilis has long been used to an extraordinary year when lots of good things happened. It's an auspicious meaning, and a stylish sound. Despite these qualities, just 81 girls were given the name in 2016. Of course, that might also be a stroke of good fortune for parents seeking a name both stylish and rare.
Read more about Mirabelle here.
Best Pinterest Baby Names 2017: Ophelia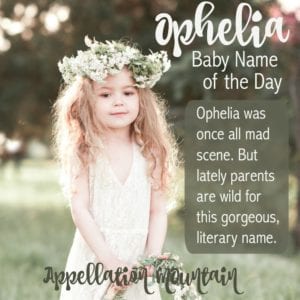 For too many years, Ophelia has been nothing but mad scene, a gorgeous Shakespearean name parents seemed reluctant to use. But then came Ofelia of Pan's Labyrinth in 2006, and you could hear parents start to reconsider. E! series The Royals gave us another Ophelia, one who loved the prince but ended happily (so far) and The Lumineers recorded a surprisingly upbeat take on the story, telling us "Heaven help the fool who falls in love." With a generation of Jessicas naming their daughters Juliet and and Olivia, why not Ophelia?
Best Pinterest Baby Names 2017: Torin
Aidan and company are fading, but two-syllable, ends-in-n names are going strong, and several appealing Irish names are poised to succeed those former chart-toppers. Count Torin among them. It means "chief" in Gaelic, a big name – but not so grand in an age of boys called Messiah and King. The sound is unexpected; indeed, remains just outside the current Top 1000. It also brings to mind Thor, as in the Norse god, and Sir Tor, of the Knights of the Round Table. A strong, distinctive name that would be right at home in 2018.
That's it for the best Pinterest baby names 2017. Are any of your favorites on this list?