The year flew by with a whoosh!
Time to look back at the ten most popular baby name lists of 2019. To make this countdown, the post had to be published (or re-published) in the last twelve months.
Curious about the most popular name posts? I'll share those soon, and you'll see them come back for March Madness 2020 in just a few months.
And if you're wondering, posts about girl names? Yup, they're often more popular than lists of boy names. But not always … and there are some great round-ups of boy names that make this list, too.
Now, on to the most popular of the baby name lists from the year that was! These go from #10 all the way up to #1.
10. SADIE'S SISTERS: OLD-FASHIONED NICKNAME NAMES FOR GIRLS
Sadie rocketed into the US Top 100 six years ago, and it's held a spot there ever since. Plenty of other sweetly retro girl names have followed. This list rounds up lots and lots of possibilities. I do have a few favorites. My eye is on Edie, as well as Billie. Long-time AppMtn reader favorite Sylvie could also have a big year. And how 'bout Millie –  might it make the US Top 100 in another year or three? If you want something really different, my pick is Zazie, an old-school nickname for Isabel.
9. FASTEST RISING GIRL NAMES: 2019 UPDATE
When the new US popularity data comes out in May, one of my favorite lists to compile is the fastest-rising names of the year. Spoiler alert from the most recent release: Mila, Luna, Nova, Everly, and Everleigh were the top of the top. Yes, that's right – two spellings of Everly both shot up the charts. Also of note: Mila, Luna, and Nova all ranked in the Top Five for the prior year, too. It's fun to guess which names will be hot in the future, but this list? It feels like it actually captures what's catching on in real time.
Read the full post here.  And for the boys' list, see here.
8. HAZEL, ALICE, RUBY: 1930s NAMES WE LOVE
Roughly speaking, names come in and out of fashion every century or so. It's sometimes called the one hundred year rule. If that holds, it means that the names of the 1930s should feel fashionable as we approach the year 2020. Turns out that's already true for a great many 1930s girls' names. The first version of this post was published way back in 2014. It was updated this year to reflect the gains of a great many 1930s favorites. I also wrote a second post, packed with 1930s favorites poised to rise in the coming decade.
7. SPRING BABY NAMES: THE ULTIMATE LIST OF LISTS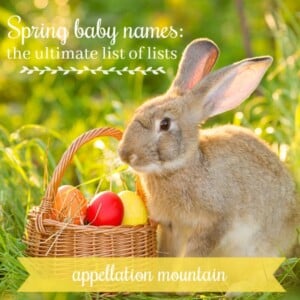 I'm working on adding Ultimate Lists for lots of categories of names, but Spring was an obvious one to cover. Not only are there names inspired by the Easter holiday, but it's a season rich with nature name inspiration – bold botanical choices, ecovintage finds, and modern adoptions. On a whimsical note, names inspired by rabbits! The first version of this post was published Spring 2018, but the March 2019 refresh has proved wildly popular. (My favorite spring-inspired name? It has to be Persephone.)
6. 73 SPUNKY GIRL NAMES: PIPPA, ROMY, AND MORE
Spunky girl names can be tough to pin down. They mix a handful of styles – they feel retro, adventurous, and casual. Sometimes they're chart-toppers; others are downright rare. A few are borrowed from the boys, but plenty feel impeccably feminine. Bree and June, Maisie and Rory – they're all bold, daring names with a lot of spirit. I hesitated to write this list because it seemed a little too cute – there's no such thing as spunky boy names. And yet, there's no question we love this category of names for our daughters.
5. HOTTEST BOY NAMES 2019
Noticed something about this list so far? Posts about girls' names tend to be more commonly read. Except not always. And this was fun: the list of hottest boy names 2019 was more popular than the girls' list. Maybe it's because the names are just so darn good: Wilder and Beau, Caspian and Kai, Theo and Hayes. Anyone who says boys' names are dull is simply not paying attention! Better still: I'm hearing more + more of these names on real kids, especially Arlo and Jasper and Brooks. We've known plenty of Theos in recent years, too.
4. LEO NAMES: FROM LEONARD TO LEOVANNI
This makes another old post that was thoroughly revised and re-posted in 2019. It's also the second all-boy list on this list. I've been mildly obsessed with Leovanni ever since I wrote this update. (It's a Leo-Giovanni mash-up, unheard of until the twenty-first century.) But there are plenty of great finds on this list. Leofric remains one of my favorites, and I'm glad to hear more boys wearing the grand and swaggering Leonidas, too. Though, of course, many of them will simply answer to friendly, upbeat Leo – a happy outcome.
3. NEW GIRL NAMES 2019: ADALEE, PROMISE, SCOUT
One of my favorite parts of every May's new name data is checking out the debuts and returns – names that had been absent, or never previously seen, in the US Top 1000 that have now joined the rankings. It matters because a great many of us only ever read the Top 1000, or read articles and lists based on the widely-reported Top 1000. So a name that ranks #994 is more likely to be talked about than a name given to just a few less children at #1014. Strange, but true. And the reason this list is so very compelling!
2. 100+ COOL SHORT BOY NAMES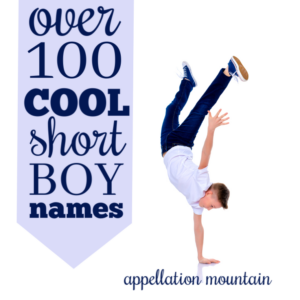 In many ways, the cool, short boy names are brothers to the spunky girl names. They span every style, from classic Max + Luke to modern Gage + globetrotter Keir, Ridge + Bear, Link + Trace, Ike + Floyd … it's a long list! These make great middles or firsts, and they can appeal to parents from nearly any background. It's also a good jumping off point to find a longer name you'll love … just start with Mac or Pax or Ray and look around for a formal name option that shortens to the sound you prefer.
1. 125 ONE-SYLLABLE MIDDLE NAMES FOR GIRLS: BESIDES GRACE AND ROSE
The list that beat all the other lists, the one everyone was reading. (And still is!) It's an exhaustive listing of short, one-syllable girl names, suitable for the middle spot – or possibly the first. From classics like Jane to the completely unexpected – Vail, Teal, Lille, Swift, and many more – this list has something for everyone. There's no need to fall back on time-tested favorites like Grace and Rose. (Though you certainly might have good reason for doing so.) But if you're eager to break out of that pattern, this list is the perfect place to start.
There you have it – the ten lists everyone loved in 2019! Any requests for the coming year?