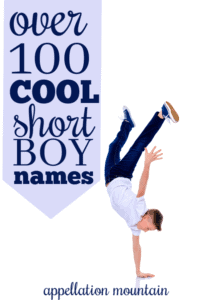 Looking for cool short boy names?
They're perfect with a longer surname. They work wonderfully well in the middle spot. And if you're keen to avoid nicknames, then keeping it simple can help – a lot!
These short boy names range from classic cool to names you've probably never considered before. But there's something on this list for nearly every family.
I've skipped some of the most tried-and-true of the classic boy names, even while others made the cut.
Many of these could fit into more than one category, too, so if you're after a short, cool globetrotter, nature name? You'll find something here.
And while short doesn't necessarily mean one-syllable, I've kept this list to single-syllable names.
Classic Cool
Drew – Andrew is classic, but Drew is the Super Bowl-winning quarterback.
Jack – Maybe the ultimate classic, cool, one-syllable boy name. So much so that I had to write a list of substitutes if you're crushed that you can't use Jack – or need to name his brother!
Luke – One of the apostles in the Bible, and also the given name of the heroic Luke Skywalker makes this name classic and oh-so-cool.
Max – A mini name with a big sound – and meaning!
Tom – I like traditional Thomas, but there's something nicely minimalist about editing the name to just Tom.
Mainstream Cool
Cole – It even sounds like cool.
Finn – A hero from Irish legend, and the unforgettable Finn Hudson this generation grew up with on Glee.
Jake – Longtime #1 name Jacob feels traditional. But just Jake has a very different vibe, more Blues Brothers than Biblical boy.
Jude – The Beatles made it musical, and anything but obscure.
Nate – Often short for Nathan or Nathaniel, this rhymes-with-great name stands on its own nicely.
Modern Cool
Ace – A winning serve, an important card, and a celebrated fighter pilot all put Ace on top.
Cade – It might be short for modern Caden – pick your spelling – but Cade has independent history, too.
Crew – Preppy and sporty, and now the name of Chip and Joanna Gaines' youngest son.
Gage – Spelled Gauge, it's a measuring device. But Stephen King opted for the slimmed-down Gage, and made it a hit.
Gray – As a color, gray reads soft and retiring color. But as a name? It's a new, even vibrant, possibility. Grey, the typical British spelling, works every bit as well.
Ty – Tyrone, Tyrell, Tyson, and Tyler are all out there, but Ty on its own feels modern and cooler than any of the long forms.
Globetrotter Cool
Bram – Dracula author Stoker makes it literary and cool.
Cruz – The Spanish word for cross, Cruz combines a spiritual meaning with a high energy sound.
Dev – A Sanskrit name short on letters, big on sound.
Dov – A Hebrew name meaning bear, making this a globetrotting nature name with a high-value Scrabble x.
Kai – A Hawaiian name meaning ocean, also heard in Chinese, Swedish, Dutch, and many more languages.
Keir – Keir rhymes with peer. If Keira + company are white hot for girls, Keir outta be cool for boys.
Leif – A Scandi name made famous by Norse explorer Leif Erikson, it rhymes with Rafe – not leaf. But it's easy to imagine either pronunciation wearing well today.
Rafe – Raphael is an English-language name, too, but Rafe trends European, or maybe English, since they pronounce Ralph like this.
Zev – A Hebrew name meaning wolf, a cousin for Dov.
Nature Cool
Bay – A bright sound that brings to mind larger bodies of water, and ships heading out to the open sea.
Bear – Cuddly and fierce.
Cove – Cousin to Bay, though a Cove tends to be sheltered.
Dune – An extensive fantasy novel series, but also a beachy nature name.
Elm – Rarely heard as a given name, but every bit as accessible as Oak or Hawk.
Fox – Bold, with a big sound, Fox packs plenty of style into just three letters.
Frost – Chilly cool.
Hawk – Many bird names are for the girls, but Hawk leans masculine.
Heath – Ages before Rowan and River were big, parents embraced Heath. Credit goes to a cowboy on popular television series The Big Valley. Today it's a little unexpected, but very much on-trend.
Oak – A mighty tree name. With Oakley trending for boys and girls alike, Oak – and maybe Oakes – belong on this list.
Reef – The ultimate name for an avid snorkeler's son, with a call to environmental activism, too.
Ridge – An outdoorsy word that brings to mind mountains.
Sky and Skye – A straight-up word name, Sky feels like a nature name, as well as a spin on Ty and Kai.
Wolf – The Germans made this one of the more traditional nature names. Just ask Amadeus.
Active Cool
Chase – A mainstream active verb boy name, Chase feels preppy and buttoned-down. (It's the name of a major bank, after all.) But no question Chase is an exciting name, too, one that implies pursuit.
Dash – Dashiell feels literary and sophisticated, but Dash is pure energy. Popular Incredibles character Dashiell "Dash" Parr boasts super-speed as his power.
Dodge – An iconic American automobile brand, a nod to Dickens' Artful Dodger, and an old-school nickname for Roger, too.
Link – A video game hero, a short form of Lincoln, and a great sound for a son's name, too.
Trace – Bright and upbeat, Trace brings to mind country singer Trace Adkins – born Tracy.
Track – A logical name for a runner, or maybe an outdoorsman.
Rise – It brings to mind mountains and the sky, all powerful images.
Vintage Cool
Abe – A little bit Biblical patriarch, but in a very twenty-first century way.
Beau – A gentlemanly name that mixes European and Old West sensibilities.
Clark – A little bit Superman, a little bit Gable, and ready for revival today.
Dean – James.
Floyd – So out it's in.
Frank – Sinatra lends this name some enduring style, but it's just plain been so long since Frank was in the spotlight that it feels fresh once more.
Gus – A cozy, homespun name with a different vibe than grand August and even grander Augustus.
Ike – A throwback to the 1950s, with a strong, distinct sound.
Jeb – A spin on Jed that's led to long form Jebediah.
Jed – Short for Biblical boy name Jedidiah, but reached lots of different ways today, including initials.
Kit – Once a Christopher nickname, in the spotlight today thanks to British actor Kit Harrington.
Mac – Another surname element, today Mac and Mack feel like cousins to Jack.
Ned – Short for Edward, vintage Ned feels fresher than Eddie. Plus it's the name of the steadfast Game of Thrones patriarch of House Stark.
Roy – A staple until the 60s, Roy feels daring today.
Zeke – Zeke feels straight out of a story about the California Gold Rush, right at home in the 1840s. But it's gaining in popular today, along with longer formal name Ezekiel.
Americana Cool
Boone – It's a surname, and almost a virtue name, too, since Boone comes from the French bon – good. But the most powerful image is probably frontiersman Daniel Boone, making this all Americana.
Ford – An iconic American brand that brings to mind the open road.
Knox – A surname name boosted by the letter X, Fort Knox – long the fabled depository for all the gold in the US – puts this one on the Americana cool list.
Tex – Because Texas carries a certain swagger.
Twain – Mark is a dad name, but the Americana author's adopted surname has potential.
Surname Cool
Ames – A masculine spin on 70s favorite Amy, with a great meaning – friend.
Fitz – A familiar suffix in many a surname, Fitz might make an intriguing name possibility. Fitz and the Tantrums frontman was born Michael Fitzpatrick.
Flynn – It's been ages since Errol Flynn dominated Hollywood, but Flynn still sounds dashing.
Gale – A surname name that sounds like weather. Romance language choice Gael works, too, though it sometimes sounds like more than one syllable.
Hayes – Hayes sounds preppy and buttoned-down, but it carries an edge, too. It's on my list of preppy hellraiser names.
Holt – A surname with a strong, distinctive sound.
Hoyt – Just plain fun to say.
Lane – Shorter than Journey, but with a similar vibe.
Mills – One of many s-ending surnames that feels fresh today.
Nash – Television's Nash Bridges put this one on our radar in 1990s.
Pierce – A sharper spin on classic Peter.
Quinn – An Irish surname boosted by the ever-cool initial Q.
Tate – Slightly less expected than Nate.
Teague – Another promising Irish option, this one meaning poet.
Vaughn – A Welsh surname boosted by that letter V.
Scrabble Cool
Dax – An invention for a Harold Robbins novel, made famous by actor Dax Shepard.
Dex – Dexter reads very vintage – or maybe serial killer. But Dex feels free of all that.
Jax – A Jack for the twenty-first century and beyond.
Lex – Superman's frenemy, but also an appealing short form of Alexander.
Van – A mini name, often found in Dutch surnames meaning "of" or "from." Think Rembrandt van Rijn.
Von – The same idea as van, only in German, and often considered aristocratic.
Xan – It might be an unexpected nickname for Alexander, or, spell it Zan and it's one of the Wonder Twins' names.
Zane – Less traditional than John, not quite as modern as Jax.
Zeb – The logical nickname for Zebulon, or a really cool mini name.
Place Name Cool
Dane – As in Denmark.
Penn – As in Pennsylvania, and actor Penn Badgley.
Rome – The eternal city makes a very wearable boy name, probably because Roman (and Rowan and Ronan) have become such fast favorites in recent years.
West – Not a place, but a direction long associated with finding one's fortune.
Latin Cool
Lux – It can be pronounced like luxe or Luke, but either way, a name meaning light has serious appeal.
Pax – Once a goddess name, peaceful Pax is now all-boy cool.
Rex – King works, but Rex takes the subtle route to regal style.
Literary Cool
Graham – Celebrated twentieth century author Graham Greene helps this gentle choice sound quite smart.
Huck – As in Finn, Mark Twain's enduring adventurer.
Poe – As in Edgar Allan. And the most recent generation of Star Wars heroes, too.
A Galaxy Far, Far Away Cool
Han – A space age spin on John, made effortlessly cool by Harrison Ford. Or Alden Ehrenreich, if you're under 20.
Hux – A bad guy in the newest trilogy, but a cool name.
Jace – Worn by more than one character in the extended universe.
Mace – Because it doesn't get any cooler than Samuel L. Jackson as a Jedi.
Meaningful Cool
Blaise – Blaise is a fourth century saint and a seventeenth century mathematician, but Blaze makes it fiery.
Chance – A name that conveys good fortune – or maybe the ability to thrive no matter how your luck turns out.
Creed – A statement of belief, or a boxer set to succeed the legendary Rocky Balboa.
Hale – A greeting, and another word for healthy.
Hart – Another word for a stag, and a cognate with heart, too.
Kin – Ken belongs to another generation, but Kin might make a meaning-rich mini name for a boy today.
North – A direction, but also an ideal – think true north.
True – Speaking of true north, this makes an obvious virtue name option.
Zen – Relaxed cool.
Musical Cool
Beck – As in the celebrated musician.
Bix – From jazz legend Leon Bismark "Bix" Beiderbecke.
Chord – A musical term that feels all-boy.
Ray – A sunny option that brings to mind Ray Charles.
What are your favorite cool short boy names?