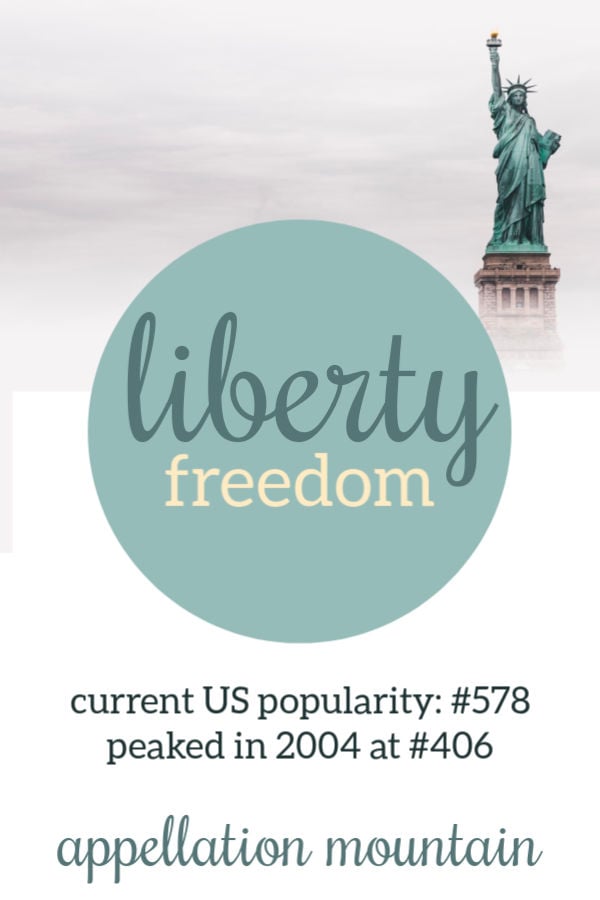 The baby name Liberty feels strong, patriotic, and unexpected, too.
LIBERTAS
Liberty means freedom, from the Latin libertas via the Old French liberté.
While it's a weighty concept, names like Serenity and Trinity rank have topped the charts. Parents love a great meaning.
But libertas was more than a Latin word. A minor goddess known as Libertas appears in the ancient world, often depicted on coins during the later years of empire. In some ways, she's the forerunner of Lady Liberty in the US, as well as other figures, like France's Marianne.
SURNAME NAME
Liberty is very occasionally heard as a surname name. Laliberté seems to feature in French Canadian history, so it's not only an English language thing. But Arthur Liberty opened up the shop that would become a famous London department store bearing his name. Liberty's sells designer goods, but is also known for their flamboyant fabrics.
While surnames filter into use as first name, that doesn't seem to be a significant factor in this case.
LADY LIBERTY
It's been part of American symbolism since early days. The Liberty Bell was commissioned in 1752 for use in the Pennsylvania State House, back when ringing bells served as a form of mass communication. The inscription reads:
Proclaim LIBERTY Throughout all the Land unto all the Inhabitants Thereof
It comes from from Leviticus – it's spiritual, not revolutionary – at least at first. It's believed this bell was one of several rung following the Second Continental Congress' vote for independence in July of 1776. But it would take decades before we saw it as a national symbol. Beginning in 1885, the City of Philadelphia lent it out for tours and exhibitions around the country.
Visit New York City, and you'll almost certainly see Liberty Enlightening the World – the Statue of Liberty, gifted from France to the United States in 1886.
Lady Liberty stands on her own island in New York Harbor. Frederic Auguste Bartholdi sculpted it; Gustave Eiffel created the framework. The sculpture is modeled on the goddess Libertas, welcoming immigrants arriving by ship. But a broken shackle and chain at her feet suggest another kind of freedom: the abolition of slavery.
It's become a powerful symbol of the US, among the most widely recognized in the world.
The bell and the statue combine make Liberty an Americana kind of name.
GO WEST
Despite the monuments, Hollywood gets credit for the name's initial use. Silent film star Marie Walcamp played the part of Liberty Horton in a 20-chapter Western film serial. While the film is presumed lost, Liberty, A Daughter of the USA was a smash hit. No surprise that there's a rise in girls named Liberty in the few years following.
The name remains big in Western circles. In 1962, John Ford made The Man Who Shot Liberty Valance – but this time the character bearing the name was a villain.
PATRIOTIC PICK
It's impossible to credit Marie Walcamp with the name's entry in the US Top 1000 in 1918, though. In 1917, the US declared war on Germany, joining in the fray. Armistice Day came on November 11, 1918.
An upsurge in national fervor during the war seems to explain the name's sharp rise. In 1918, 150 girls and 14 boys received the name.
It didn't last, but a second spike occurred in 1976 – the bicentennial. With patriotic fervor at a peak, over 300 girls were named Liberty.
And then came 2001, the year of 9/11. As the US – and especially New York City – reeled, another 300-plus parents named their daughters Liberty.
MODERN WORD NAMES
That early twenty-first century uptick in Libertys wasn't necessarily a response to world events, though.
Genesis, Serenity, Trinity, and Summer all gained in use in 2001. Journey entered the US Top 1000 for girls; River rose for boys. We were entering a golden age for word names.
BABY NAME LIBERTY: TOP 1000 STAPLE
Like several popular word names, Liberty benefits from its status as a three-syllable, ends-in-y name, making it a sister to surnames like Delaney and Kennedy, as well as more conventional choices like Dorothy and Emily.
Since 2001, baby name Liberty has appeared in the rankings annually. As of 2018, it stood at #578 – a pretty steady spot. So while many of the 2001/2002 girls may have been name in response to 9/11, it's since become a relatively mainstream name for a girl.
A handful of high profile uses might come to mind:
One of the charter WNBA franchises is the New York Liberty.
In 2001, Canadian television series Degrassi: The Next Generation gave us the intelligent, ambitious Liberty Van Zandt.
Indie hit Juno included a little sister called Liberty Bell.
Actor Joey Lawrence gave the name to a daughter in 2010.
Most recently, Netflix original series GLOW gave us pro wrestler Liberty Belle, based on a real-life 1980s wrestler, Americana.
Liberty shares the nickname Libby with evergreen Elizabeth, increasing the name's wearability factor.
THE CASE FOR THE BABY NAME LIBERTY
File Liberty with modern virtue names. While it can read deeply patriotic, freedom isn't specific to any country or time. It's easy to imagine parents with divergent worldviews finding Liberty appealing.
It fits in nicely with modern word names, but with a history of use stretching back into the early twentieth century, it's far less revolutionary than some word names under consideration today.
What do you think of the baby name Liberty?
First published on July 4, 2008, this post was revised on May 28, 2012 and again on May 21, 2020.