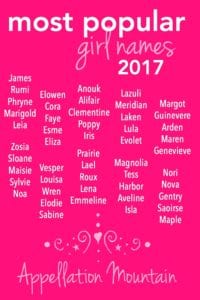 What were the most popular girl names 2017? In the United States overall, that honor belongs to Emma, Olivia, and Ava. Check other websites, and names like Sophia and Amelia join the top of the top.
But Appellation Mountain is a very different place, and the most read posts here? They rarely look anything like the rest of the universe.
Maybe that's because many unusual names gets lots of ink here. And so if you really want to learn about Phryne or Pomeline, odds are that you'll eventually find my posts on the rarer-than-rare names. Or maybe it's because Appellation Mountain readers seek out the obscure and the seldom discussed. I like to think it's a bit of both.
And so here's a list of the 50 Most Popular Girls Names 2017 that's quite unlike anything you've seen before. Enjoy!
Most Popular Girls Names 2017: 50 – 46
Maple – A tree name that sounds almost exactly like vintage Mabel, but could replace the very popular Rowan.
Saoirse – An authentic Irish choice with a great meaning – freedom – made accessible by actor Saoirse Ronan.
Gentry – Less exalted than Contessa or King, Gentry succeeds on meaning and sound.
Nova – Sometimes heard a century or so ago, the Latin word for new feels like a fresh discovery. The celestial tie-in and links to the long-running science series are bonuses.
Nori – Kim and Kanye sent jaws dropping everywhere when they named their daughter North West in 2013. Word was that they'd call her Nori. I'm not sure if it has stuck, but it has definitely attracted attention here.
Most Popular Girl Names 2017: 45 – 41
Genevieve – Impeccably French, Genevieve lags behind the similar Madeleine, but that's a good thing for parents after a name that stands out ever so slightly.
Maren – Tailored and modern, but still feminine, Maren recently entered the US Top 1000.
Arden – A surname with Shakespearean ties, Arden makes a great substitute for Harper.
Guinevere – Every bit as medieval and legendary as Arthur, slightly more wearable than Lancelot, and yet Guinevere has never cracked the US Top 1000.
Margot – A sophisticated Margaret spin-off more popular today than ever before.
Most Popular Girl Names 2017: 40 – 36
Isla – Short and vowel-heavy, Isla is poised to enter the US Top 100.
Aveline – It looks like an Ava-Adeline mash-up, but Aveline claims roots of its own, and a flavorful meaning: hazelnut.
Harbor – A gentle nature name, Harbor would be a striking and unusual pick today.
Tess – Long short for Theresa, spare, literary Tess now often stands in for Tessa.
Magnolia – A gorgeous botanical name with a Southern vibe, and nicknames galore.
Most Popular Girl Names 2017: 35 – 31
Evolet – An invention for a movie, Evolet combines the appealing Ev- sound with a stylish -et ending.
Lula – Retro and swingy, Lula could be short for Louise, or an alternative to Luna and Lola.
Laken – Credit soap operas for this name's establishment, but it has a fresh, modern sound.
Meridian – An intriguing word name made familiar by an Alice Walker novel.
Lazuli – Yet another color name, and a reference to the deep blue color of the gemstone lapis lazuli.
Most Popular Girl Names 2017: 30 – 26
Emmeline – An elaboration of chart-topping favorites like Emma and Emily, but also a name with plenty of independent history.
Lena – Sleek and modern, Lena could be short for a dozen longer names, but feels nicely independent today.
Roux – A French surname name related to the color red, and a culinary term, too.
Lael – Masculine in the Old Testament, but feminine in use.
Prairie – If Meadow ranks, why not Prairie?
Most Popular Girl Names 2017: 25 – 21
Iris – A floral name every bit as straightforward as Daisy, but with the elegance of Rose.
Poppy – Upbeat, friendly Poppy is huge in the UK, and slowly catching on in the US, too.
Clementine – Darling Clementine sounds musical and edible, but also has a great meaning: merciful.
Alifair – A rarity all but lost to the history books.
Anouk – A French form of Anne, an appealing mix of the casual and the sophisticated.
Most Popular Girl Names 2017: 20 – 16
Sabine – The Germans pronounce this one like Sabina; the French keep it simple at two syllables. Either way, it feels like what it is – a wearable European import.
Elodie – With built-in nickname Ellie and a fresh, three-syllable sound, Elodie ought to be heard more often.
Wren – Among the most popular of the bird names, often stuck in the middle spot, but every bit as appealing as a first.
Louisa – Literary and traditional, Louisa is slowly climbing back into favor.
Vesper – Another night sky name, this time with ties to an evening prayer service – and James Bond.
Most Popular Girl Names 2017: 15 – 11
Eliza – Lady-like and vivacious, this Elizabeth spin-off stands on its own.
Esme – Long a favorite of name enthusiasts, this named used by JD Salinger – and Twilight – is slowly catching on.
Faye – A sweet and simple name with a pair of mystical possible meanings – fairy or fate.
Cora – A vintage charmer boosted by the gracious American-born Lady Grantham of Downton Abbey.
Elowen – A Cornish nature name with a lovely sound.
Most Popular Girl Names 2017: 10 – 6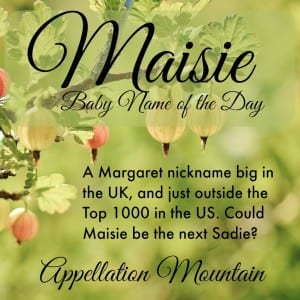 Noa – It looks like a creative spin on boy name Noah, but Noa has a separate – and feminine – history dating back to the Old Testament.
Sylvie – A perpetual favorite on name blogs, now slowly coming into wider use.
Maisie – A swingy, retro short form of Margaret originally used in Scotland, but now rising in use in the US, too.
Sloane – A sleek surname name for a girl, one that brings to mind fictional girls, from Ferris Bueller to Entourage, but is increasingly popular in real life.
Zosia – A Polish spin on Sophia, made familiar by actor Zosia Mamet. Mamet rhymes her name with Sasha.
Most Popular Girl Names 2017: 5 – 1
Leia – Oh, Leia! A combination of the resurgence of Star Wars and the passing of Carrie Fisher pushed this one back into the spotlight. The fact that it sounds like current chart-toppers Layla, Lila, Lily, and Leah? Total bonus.
Marigold – Downton Abbey helped put Marigold on our radar, but it's continued to garner attention long after the drama left the air.
Phryne – The name of the heroine of Miss Fisher's Murder Mysteries, this is one of those posts that shines a light on a rare gem – meaning AppMtn is one of the few places you'll find in-depth coverage of Phryne.
Rumi – This name is my pick for the most influential girls' name of 2017, thanks to the arrival of Beyonce's daughter, twin to Sir and little sister to Blue Ivy. The page views suggest it's attracting plenty of attention.
James – I know, I know. It's not a girl's name. Except that it is, very occasionally, used for girls. And this post about the phenomenon? The most read on the site, for all of 2017. Most parents seem to be cautiously considering it as a middle, but 65 girls were named James last year. That's nothing compared to the nearly 15,000 boys receiving the name. But it's enough to put this post at the tip-top of the list.
Readers, did any of your favorites make this list?