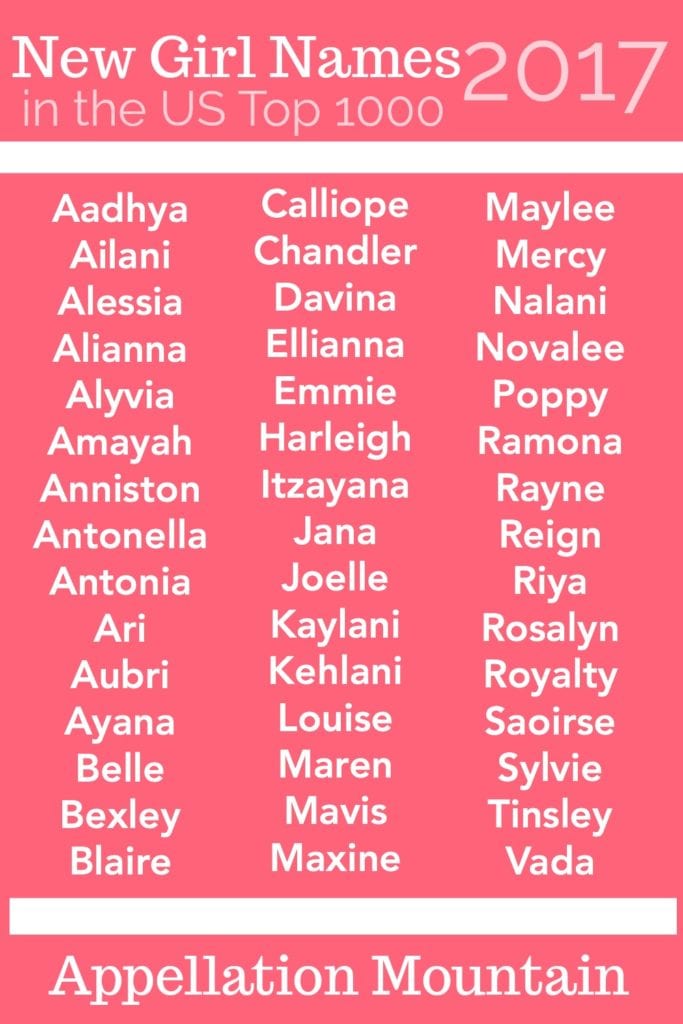 New girl names 2017 range from retro revivals to modern inventions, with plenty of others in between. Sprinkled throughout the list, you'll also spot a handful of names expected to make the Top 1000.
Last month, the US Social Security Administration released the new popularity data. 45 girls' names ranked in the US Top 1000 that did not appear in the prior year.
The list published in 2016 included 47 new names. In May 2015, that number was 38, and for 2014, it stood at 45.
New Girl Names 2017: The List
These 45 girl names returned or debuted to the US Top 1000 for the calendar year January 1 through December 31, 2016:
Aadhya
Ailani
Alessia
Alianna
Alyvia
Amayah
Anniston
Antonella
Antonia
Ari
Aubri
Ayana
Belle
Bexley
Blaire
Calliope
Chandler
Davina
Ellianna
Emmie
Harleigh
Itzayana
Jana
Joelle
Kaylani
Kehlani
Louise
Maren
Mavis
Maxine
Maylee
Mercy
Nalani
Novalee
Poppy
Ramona
Rayne
Reign
Riya
Rosalyn
Royalty
Saoirse
Sylvie
Tinsley
Vada
New Girl Names 2017: The Trends
More of the Same – Tinsley made this year's list; last year, it was Tinley. Royalty arrived this year; look back, and Royal appeared on last year's list.
Aloha-ish – Hawaiian names have been trending for a while – think of Kai on the boy's side. But now a list of authentically Hawaiian and Hawaiian-ish names are on the rise. Welcome to the Top 1000 Kaylani, Kehlani, Ailani, and Nalani.
Delayed Friends Response – We never tire of fresh surname names for girls. This year brings two Friends-inspired surnames to the list: Anniston, as in actor Jennifer Aniston, and Chandler, as in character Chandler Bing, both of the iconic 1990s series.
Mix and Match – Bexley, Tinsley, and Maylee all pick up on popular name elements and remix for something slightly different. Also in full force: adding an 'l' or dropping an 'n'. See new arrivals Ellianna and Alianna. Emmie and Jana seem to fit here, too.
Respellings Galore – Always a major factor on the girls' list, respellings drove many a debut. I'm looking at Alyvia, Rayne, Blaire, Harleigh, and Aubri. Add an 'h' and you'll have Amayah instead of Amaya.
Vintage Revivals – Always a favorite category, parents have embraced Mavis, Mercy, Maxine, Vada, Louise, Belle, Ramona, Rosalyn, Antonia, and Antonella.
Just Like That Top 100 Name, But Different – Calliope could substitute for Penelope. Davina replaces Olivia. Vada comes close to Ava. And Maren could step in for any number of tailored girls' names, from Madison to Morgan to Lauren.
Imports – Itzayana looks cobbled together, but it's actually an elaboration of Mayan goddess name Ixchel. Saoirse comes from Ireland. Riya comes from India; so does Aadhya. Italian Alessia was boosted by a Canadian pop singer.
At Last – Former March Madness baby names winner Sylvie finally made the Top 1000! So did British favorite Poppy.
Mini Names are Still Big – Mini name Ari joined Ivy, Ava, Lia, Mia, and company on the most popular list.
They Rule – Royalty and Reign both debuted on the new girls' list.
Catch All – Novalee comes from a 1995 novel turned 2000 movie starring Natalie Portman. Does the rise of Nova explain why Novalee is finding favor today? Joelle fared well in the 1960s, but has only spent a few years in obscurity. Could it be ready for revival already? And Ayana, a nicely pan-global choice, slipped out of the rankings two years ago, only to edge back in this year.
Your turn, readers! What are your favorite new girl names 2017? Do you think any of these will catch on? And what explains that Hawaiian girl name trend?