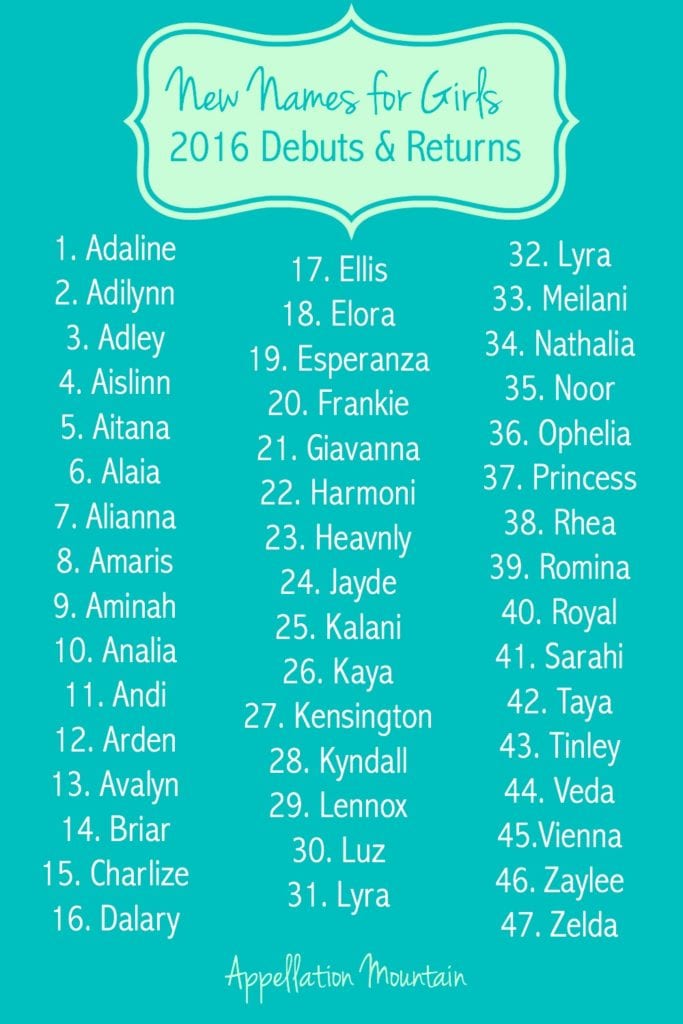 New girl names 2016 make for a fascinating list!
On May 6, 2016, the US Social Security Administration released the new popularity data. A total of 47 new baby names for girls made the Top 1000 in calendar year 2015. (In 2014, that number was 49. In 2013, that number was 51. so that's pretty consistent.)
Read on for the complete list, and my analysis of what's driving the new names!
New Girl Names 2016: The List
The 47 names returning to or debuting in the US Top 1000 for 2015 are as follows:
Adaline
Adilynn
Adley
Aislinn
Aitana
Alaia
Alianna
Amaris
Aminah
Analia
Andi
Arden
Avalyn
Briar
Charlize
Dalary
Ellis
Elora
Esperanza
Frankie
Giavanna
Harmoni
Heavenly
Jayde
Kalani
Kaya
Kensington
Kyndall
Lennox
Luz
Lyra
Meilani
Nathalia
Noor
Ophelia
Princess
Rhea
Romina
Royal
Sarahi
Sariyah
Taya
Tinley
Veda
Vienna
Zaylee
Zelda
New Girl Names 2016: What's behind the rise of these 47 names?
The Age of Ad – Variant spellings almost always account for a big chunk of the list, and new names for girls 2016 is no exception. Adaline, fueled by Blake Lively's April 2015 movie, The Age of Adaline, returned for the first time since 1924. At #364, that's a pretty serious debut! Adilynn also cracked the Top 1000. For this spelling, that's a debut, at #805. Now I'm wondering if Adaline will eclipse Adeline? Adalynn is actually the most popular spelling of this name, at #123. Add them all up, and it's a popular name, indeed.
Spelling Counts – While we're talking about variant spellings, parents added an 'h' to the Arabic Amina – though it looks like Aminah might be the more authentic option. Harmoni is a spin on long-time favorite word name Harmony. Nathalia and Giavanna are also just one-letter-different spellings. I'm intrigued by Giavanna, though – is that a bid to make sure the name is pronounced a certain way, or motivated by the desire to use Gia as a nickname? As for Kyndall, is that about the continuing influence of Kendall Jenner – or does the spelling indicate parents' attempt to distance their daughters' names from the reality star?
With a Twist – Adley is somewhere between Hadley and all those Addie names. Avalyn is a smoosh of Ava and lyn, possibly influenced by Avalon. Jayde is the spelling Maci Bookout chose for her daughter in May 2015. Zaylee is a new take on fading favorites Kaylee and Hailey. And Kaya and Taya belong to that family, too. I'm not sure how to pin down Sariyah – it seems like a spin on a Biblical name, or possibly an Arabic one.
More Celebrity Influence – Other celebrity baby names embraced by parents everywhere include Meilani – daughter of Jersey Shore alum Jenni Farley, Larry Hernandez's daughter Dalary – older daughter Daleyza's name sparked a trend, too, and Drew Barrymore's daughter Frankie. Jack Osborne named his daughter Andy Rose in June 2015. Does that explain Andi's arrival on the new girl names 2016 list?
Hello, Hawaii – Or is the rise of Meilani about our growing interest in Hawaiian names? Kai is huge for boys, and another debut on this year's list is Kalani.
Big Names Aren't Just for Boys Anymore – Parents have been choosing bold, braggadocio names for sons in recent years, like Messiah, Saint, and anything starting with King. With Princess and Royal on this year's list for girls, it's a sure sign that the trend is equal opportunity.
New Names on the Map – Place names continue to attract attention. Brooklyn and London were joined by Kensington – as in the London neighborhood that's home to Kensington Palace, the address of Will, Kate, and their two adorable children, Vienna, and Arden. Arden is a real forest, of course, but it's heavily used by Shakespeare, so maybe this is more of a literary pick. Aitana is the name of a Spanish mountain range, meaning it fits in this category, as well as the next one.
Melting Pot – Gone are the days when new immigrants Americanized their names. Now we're going back to our grandparents' roots – or farther – to embrace names specific to our roots, looking for crossover names, or, for newer arrivals, simply sticking with names that work on our native tongue. New girls names 2016 include the Irish Aislinn; the Spanish Analia – originally a smoosh of Ana and another name, like Lucia – as well as Esperanza, Sarahi, and Luz; and the Arabic Noor.
Romina may be a feminine form of Roman, but it's mostly used in Spanish-speaking countries. Amaris also seems to be boosted by bilingual English/Spanish families.
Sci fi goes mainstream – Anakin entered the boys' Top 1000 in 2014. New girl names 2016 include Lyra and Elora, both names boosted by science fiction of the last few decades.
Borrowing from the boys – Lennox and Ellis are surname names that were already in use for boys. Now they've debuted on the new girl names 2016 list, too. Briar has made the boys' list before, but this nature name seems as clearly unisex as Rowan – after all, Briar Rose is a fairytale character. Rachel Bilson and Hayden Christensen used the name for their daughter in late 2014.
Meaning matters – Esperanza is the Spanish word for hope, and Alaia comes from a Basque word meaning happy. Heavenly also seems like a name chosen for its spiritual meaning. Veda means knowledge in Sanskrit, making it another of the new girl names 2016 rich with meaning.
Names I've been watching – Ophelia and Zelda have been on various lists of names I've been watching in recent years. Excited to seem them both make the new girls names 2016!
A catch-all – Charlize Theron finally pushed her intriguing given name into the rankings. Alianna seems like another pretty elaboration or smoosh name, but it's tough to pin down an origin. Rhea is part-nature name, part-Mia successor, part-mythological moniker. And surname Tinley has teetered on the edge of the Top 1000 for the last few years.
Which of the new girls names 2016 is your favorite?