In May 2016, the US Social Security Administration will release the official data on the most popular baby names given to children born in 2015. Let's take a look back at the names that made their mark on the current list!
First, the numbers: in 2014, 49 girls' names and 38 boys' names charted in the US Top 1000 that had not ranked in 2013. (In 2013, those numbers were 51 for girls and 45 for boys.)
Some of the names have been here before, of course. We're saying welcome back to Cordelia and Thea, Antonia and even Collins.
But a great number of the names are brand new. Read on for the full list of the 49 new names for girls 2014, and a look at the trends these 49 names represent.
New Names for Girls 2014: 49 Names Debuting or Returning
Aanya
Addilynn
Alisa
Anniston
Antonia
Aranza
Ariadne
Aubriella
Avalynn
Aya
Ayva
Azariah
Bonnie
Cambria
Clementine
Collins
Cordelia
Dalia
Emmeline
Faye
Frida
Hadleigh
Holland
Jessa
Julieta
Kaelynn
Karter
Khaleesi
Kinslee
Landry
Louisa
Magdalena
Maisie
Mattie
Milani
Monserrat
Montserrat
Nala
Naya
Noa
Pyper
Reina
Remington
Remy
Riya
Rosalyn
Stevie
Thea
Zendaya
New Names for Girls 2014: Trends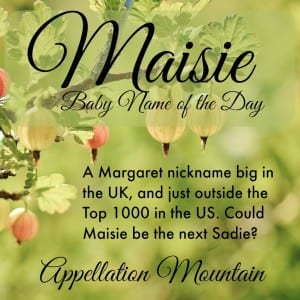 A Still Carries the Day: A is the most popular first letter for girls' names in the US, and it isn't just about Ava and Amelia. Nearly one-quarter of the new names for girls 2014 started with the letter A.
Comeback Kids: Every year, there are a few vintage picks that re-enter the US Top 1000. 2014's highlights included a trio lovely, literary names – Cordelia, Antonia and Louisa, as well as sassy nickname names like Thea, Bonnie and Maisie.
Respelling Rules the Fringes: The edges of the US Top 1000 tend to be packed with respellings of more popular names. The list of new names for girls 2014 is no exception. Debuts included Addilynn (well behind the most popular spelling, Adalynn), Karter, Pyper, Ayva, Hadleigh, and Kinslee.
Pop Culture Won't Quit: There tends to be some hand-wringing about the influence of pop culture on baby names, but it isn't new. (Nancy's Baby Names is chock full of stories that prove the point, like this one about Ramona.) This year, Game of Thrones' Khaleesi was big, along with young actress Zendaya, and Girls' Jessa, which is
also the name of reality television star Jessa Duggar Seewald, whose 2014 wedding was televised.
Spanish 101: Spanish pop culture, and Spanish language influence in general, is a major factor driving new names for girls 2014. Aranza and Monserrat/Montserrat are the obvious standouts here, but there's also Reina, which means queen; Julieta, the Spanish form of Juliet; and Magdalena, an international name that's used in Spanish, and might be a new crossover name along the lines of Sophia and Isabella. Pop culture and Spanish language influence meet with Naya, as in actress and Glee alum, Naya Rivera.
Last Names First: Just when you feel like every girl is named Madison or Harper, a new batch of surnames catches on. New names for girls 2014 included Collins, Remington, and Landry.
Just a Little Different: Creativity carries the day for many parents, and they choose names that are just slightly different from current chart-toppers. There's Aubriella, a mix of Aubrey and Gabriella; Kaelynn, a mash of popular sounds from recent years; and Emmeline, a sweetly vintage choice that's part comeback kid, part twist on modern staples like Emma and Emil
y. Last year, Avalyn debuted in the US Top 1000 for the first time. New names for girls 2014 turns it up a notch with Avalynn.
Great Names on the Rise: Some of the names that crack the Top 1000 every year just plain make me smile – darling Clementine, ancient Ariadne, international import Noa.
Which of the new names for girls 2014 is your personal favorite? Are there any that you think will catch on?