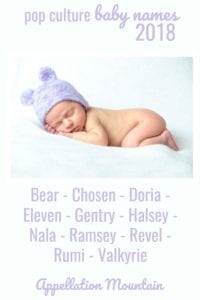 Let's talk pop culture baby names 2018!
These are baby names borrowed from the headlines. Thanks to singers or actors or celebrity babies; fictional characters or real-life news-makers they're more familiar today than ever before. And it might just lead to an uptick in the number of actual children receiving the names next year, and in the years to come.
Few of these names chart in the current US Top 1000, and they're all fairly new in general.
Some of these are out-there picks, the kind that would raise an eyebrow. But others blend in with the names we're already choosing for our children seamlessly, as if they've always been around. And exactly which is which? That might depend on your perspective!
Pop Culture Baby Names 2018: Bear
Number of births in 2016: 186 boys
Animal names have gone mainstream in recent years; after all, Fox broke into the US Top 1000 last year. Now Bear seems poised to do the same. Several celebrities have chosen it: Jamie Oliver is dad to Buddy Bear; Alicia Silverstone has Bear Blu; and Kate Winslet named her youngest Bear Blaze. But it's One Direction alum Liam Payne who puts this name on the 2018 list. He and partner Cheryl welcomed son Bear in March 2017. A little bit cuddly, a little bit fierce, Bear might be the next big thing.
Pop Culture Baby Names 2018: Chosen
Number of births in 2016: 31 boys and 6 girls
Bold, spiritual names appeal to many parents. Just look at the success of Bodhi, Messiah, and Phoenix. Young actor Chosen Jacobs put the name in the spotlight this year. He joined the cast of Hawaii 5-0 in 2016, but this summer took center stage as part of the cast of Stephen King's horror classic It. In late 2015, quarterback Cam Newton named his firstborn Chosen. That raises the name's profile just enough to make more parents consider this meaningful possibility.
I've yet to write about Chosen, but check back and I'll update when I do.

Pop Culture Baby Names 2018: Doria
Number of births in 2016: 5 girls
Doria is the name of Meghan Markle's mom. Or should that be mum, now that the American actress is set to join the British royal family? That makes me think that Doria is set to be the next Pippa – a name rarely heard in the US, until non-stop royal wedding fever put it squarely in the spotlight. More reasons to embrace Doria: it shares the 'or sound of Top 100 favorites Nora, Cora, and Eleanor, plus the -ia ending of Sophia, Olivia, and Mia. Another bonus? If you assume Doria comes from the -dor of Dorothea, it means gift.
I've yet to write about Doria, but check back and I'll update when I do.
Pop Culture Baby Names 2018: Gentry
Number of births in 2016: 110 girls and 96 boys
We know that losing a favorite musician or actor can spark an uptick in honor names – especially when the name fits with current trends. David Bowie's surname more than doubled in use following his January 2016 passing, joining Lennon and Hendrix on the list of possibilities for boys. In September 2017, Troy Gentry passed away in a helicopter crash. The singer-songwriter was one half of popular duo Montgomery Gentry. The Grand Ole Opry inductees scored a string of hits in the early 2000s, and remains widely popular. Factor in Gentry's on-trend sound and steady rise in use, and this name could boom. Other names to watch in this category: Chester, as in the late Chester Bennington of Linkin Park, and Strummer, as in Joe, recently chosen by Julia Stiles for her new son.
Pop Culture Baby Names 2018: Halsey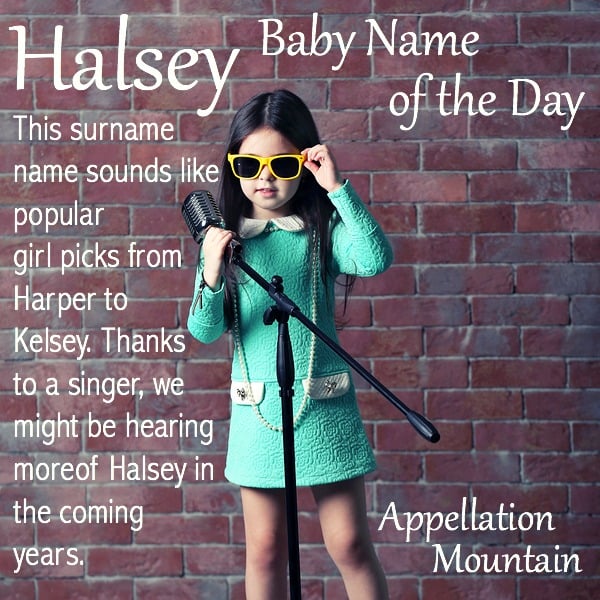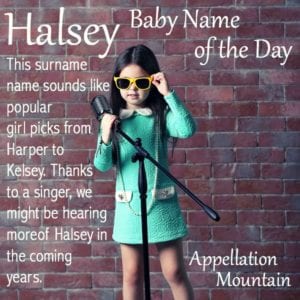 Number of births in 2016: 12 girls
Singer Halsey took her stage name from two things: an anagram of her birth name, Ashley, and a New York City subway station. With a string of hits over the last two years, a generation of future parents is hearing Halsey – her music and her name. An H surname name that ends with -ley? Everly, Riley, Harper, Harlow, and especially Henley and Hadley say that this one has serious potential. Speaking of singer names on the rise, Alessia is another one to watch – for the same reasons as Halsey and Doria, and I'm also waiting to spot my first birth announcement for a Cardi.
Pop Culture Baby Names 2018: Nala
Number of births in 2016: 361 girls
Disney movies can sway what parents name their children. Want proof? Look no further than Belle, a name that finally made the US Top 1000 only after the release of the live action, box office-dominating Beauty and the Beast. That's why I'm banking on Nala, the name of Simba's future wife in The Lion King. Nala came into use following the 1994 release of the original animated movie. With Beyonce voicing the lioness for the 2019 live action version? Even though we won't see the movie for another eighteen months, I think it deserves a spot here. Another candidate? Coco, except that the latest Disney-Pixar movie is actually about a boy named Miguel, which makes me wonder if the appealing name will get a boost or not.
I've yet to write about Nala, but check back and I'll update when I do.
Pop Culture Baby Names 2018: Ramsay or Ramsey
Number of births in 2016: 7 boys (Ramsay), plus 115 girls and 150 boys (Ramsey)
Ramsay Bolton is one of many Game of Thrones characters with an appealing – and very wearable – given name. It's an English surname borrowed from a place name that's enjoyed some use in the US over the years. The 'e' spelling occurs more often, but the 'a' version is heard, too, as in celebrity chef Gordon Ramsay. Long-time personal finance expert and talk radio host Dave Ramsey is yet another notable. A combination of the fantasy television series, our love of bold surname names, and a handful of high-profile associations makes this one to watch.
I've yet to write about Ramsey, but check back and I'll update when I do.
Pop Culture Baby Names 2018: Revel
Number of births in 2016: 9 girls and 12 boys
Revel ranked on my best celebrity baby names 2017 list, and I think it deserves a place on this list, too. Combining a cool sound and an uplifting meaning, Revel occupies a space somewhere between bad boy names like Rebel and Rogue and gentle nature names like River and Rowan. One thing all of those word names have in common? They're unisex in use, along with Remy and a bunch of other R names. That also makes me think Revel could catch on.
Pop Culture Baby Names 2018: Rumi
Number of births in 2016: 26 girls and 24 boys
Yes, it's my second Beyonce reference of the list. But hey, we're talking pop culture circa 2018, so that feels perfectly reasonable, right? Earlier this year, Bey and Jay welcomed twins, a son named Sir and a daughter called Rumi. They borrowed Rumi from the (male) poet, but it also has history as a feminine given name in Japanese. I've named it the most influential celebrity baby name of 2017: cultural-spanning, literary, short, unisex, on-trend. It could almost have succeeded even if royalty hadn't chosen it.
Pop Culture Baby Names 2018: Valkyrie
Number of births in 2016: 48 girls
Tough guy names tend to go to, well, guys. Or at least newborn boys. But that's changing. Stryker is still a boy, but Rogue might well be a girl, and Arrow is anybody's guess. File Valkyrie among the new generation of superhero-inspired names for tough girls. In Norse myth, valkyries are spirits, something like the Greek Fates. By the time Richard Wagner imagined them in his nineteenth century operas, they were warrior maidens. Marvel Comics made it a name for a single hero, one who debuted on the big screen in this fall's Thor: Ragnarock. Three-syllable, ends-in-y girl names have always been in use, so could Valkyrie follow Khaleesi up the popularity charts?
I've yet to write about Valkyrie, but check back and I'll update when I do.
Pop Culture Baby Names 2018: Eleven
Number of births in 2016: unlisted
Stranger Things puts Eleven on the list of possible pop culture baby names 2018. Number names aren't completely novel, and Eleven sounds like Evelyn and a whole list of stylish choices. Plus, nickname Elle – used in the show – is very much at home in 2018. It's a stretch, I suppose, but one that I expect at least a few parents to take. Honorable mention goes to Veronica, of Riverdale fame, and Miriam, from The Marvelous Mrs. Maisel, both names that might prove influential in 2018 and beyond.
So those are my picks for pop culture baby names 2018. Are there any I missed? Any you think will surely catch on? And, of course, would you consider any of these names for your own children? I can't wait to see what the year has in store …