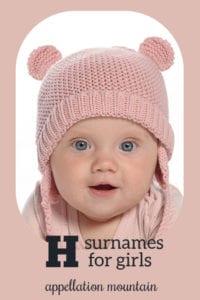 The story of H surnames for girls starts more than fifty years ago.
First there was Hayley, as in Mills.
The year was 1960, and Miss Mills had just nabbed an Oscar as the star of Pollyanna.  She'd go on to headline in The Parent Trap a year later. From her big screen debut well into the twenty-first century, Hayley became a favorite name for many parents. For the child star, it was her mother's middle, a family name in use for at least three generations.

By American standards, Hayley was novel, but not completely different.  Kimberly, Julie, Nancy, Tracy, and Leslie all ranked in the Top 100. No surprise that Hayley followed.
We often credit Hayley for kick-starting a generation of mix-and-match names. Think Rylie, Kaylee, and Kyla.
But there's a second trendlet Hayley sparked: H surnames for girls.
FAVORITE H SURNAMES FOR GIRLS
Harper (#9) – Long before the Beckhams welcomed Harper Seven, this literary name swept up the popularity charts. Borrowed from the author of To Kill a Mockingbird – born Nelle Harper Lee – it went from unknown to the US Top Ten in less than two decades.
Hailey (#79) – Over the years, our favorite spelling of this name has morphed from Hayley to Hailey. Hailee and Haylee rank in the current US Top 1000, too, but it's Hailey that occupies the Top 100. The most famous bearer of the name is no longer actor Mills, but actors Atwell and Steinfeld – the first is a Hayley, while the latter spells it Hailee.
Hadley (#104) – Bestselling novel The Paris Wife tells the (fictionalized) story of Hadley Hemingway, the famous author's first wife. Born Elizabeth Hadley Richardson, she was known by her middle.  If Harlow is pure Hollywood, Hadley leans a little more literary.
Harley (#225) – The iconic motorcycle company has inspired fans to give the name to boys and girls. Harlee appears in the girls' Top 1000, too.
Hayden (#261) – Hayden Panettiere graduated from soap operas to prime time in late 2006, as Claire – the cheerleader – in Heroes. It was the height of the -aiden craze, and Panettiere gave her name a boost for girls. It remains in use, just like all of the rhymes-with-Aiden picks.
Haven (#311) – More virtue name than surname, Haven just sneaks onto this list.  Like Harper and Harlow, it was boosted by a high profile birth announcement – Jessica Alba's second daughter, born in 2011.
Harlow (#366) – Reality star and daring namer Nicole Richie put Harlow on the map when she chose the Hollywood surname for her daughter in 2008. Richie borrowed it from Jean Harlow, the 1930s blonde bombshell who remains an icon of classic cinema. The name has gained in use steadily since Richie chose it, a little more modern than Margot, not nearly as common as Harper.
Henley (#563) – Isla Fisher played Henley in 2013's Now You See Me. It put this name on parents' radar for girls, yet another alternative to Hailey and company.
Holland (#836) – A place name at home in the surname spot, Holland has multiple origins besides the geographic one.  With the potential nickname Holly, it seems like an obvious pick for a daughter.
BIGGER FOR THE BOYS
Hayes – Hayes has yet to tip into the girls' Top 1000, but it could happen in the coming year.  Short-lived legal television drama Conviction gave us a female Hayes … played by Hayley Atwell. (You probably know her as Agent Peggy Carter, of the Marvel Universe.)
Holden – The literary Caulfield put this surname name on the map for boys, and As the World Turns gave us another masculine character. But it's not unheard of for girls in the US, either.
Houston – Savannah feels obviously feminine. Dallas strikes me as unisex. But how 'bout Houston? I'd say boy – and maybe cowboy – but a small number of girls are given the name, too. After all, the Texas city was named for former governor Sam Houston, making this an H surname name, too.
Hunter (#822) – While this camouflage-colored name is a Top 100 pick for boys, it also ranks in the girls' Top 1000. Maybe that's thanks to Harper, or possibly model-turned-actor Hunter Tylo gets credit.
RARE H SURNAMES FOR GIRLS
Haisley (#765) – English surname Heasley came from the phrase hazel wood, but Haisley? Odds are it's a spin on Hailey and Paisley. Either way, it's a recent arrival to the US Top 1000 that we might hear more of in the coming years.
Halsey – Re-arrange the letters in Ashley, and you'll arrive at Halsey – which is exactly what the popular singer did. She was also inspired by Halsey Street in Brooklyn.
Halston – It's a little like Armani or Chanel, but with a retro vibe. The designer dominated the 1960s and 70s, from Jackie Kennedy's pillbox hat to airline stewardess uniforms. Born Roy Frowick in Des Moines, Iowa, he turned his middle name into a glittering, global brand.
Haviland, Havilland – Hollywood legend Olivia de spells it with two Ls, but the surname is often spelled with just one. It's a place name, with a sophisticated sound.
Hennessey, Hennessy – Hennessy is a cognac, true. But this Irish surname name fits right in with Kennedy and Finley.
Holiday, Holliday –  Holly, Holly Golightly of Breakfast at Tiffany's fame was actually Holiday, though we only learn that fact in the novel. It might make a gorgeous Christmas name.
Hollis – Related to the holly tree, and somehow just feminine enough in sound, Hollis could be an update to 1970s favorite Holly.
Hutton – Take the up-and-coming Sutton, add a dash of the glamorous Lauren Hutton, and this becomes of the most glamorous of H surnames for girls.
What do you think of H surnames for girls?  Are there others that you would add to this list?  Are there any that you would consider?
First published on June 14, 2013, this post was revised substantially and re-posted on February 10, 2020.