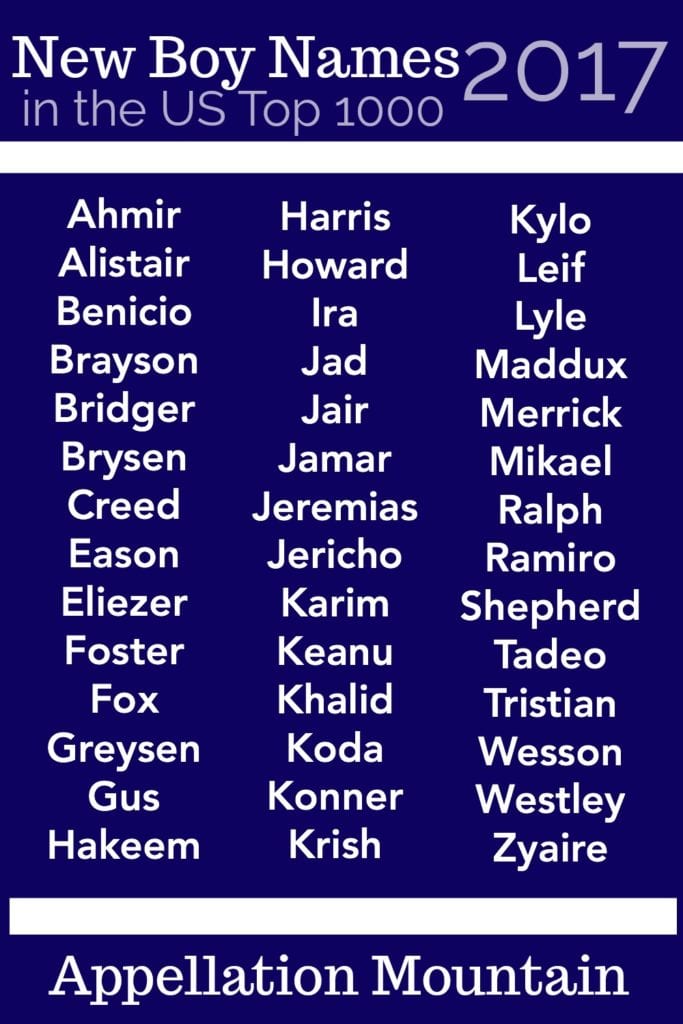 New boy names 2017 include comeback kids, the freshly invented, and a few we've been waiting for.
Last month, the US Social Security Administration released the new popularity data. 42 boys' names ranked in the Top 1000 that did not appear in the prior year.
The list published in 2016 worked out to 39 new names. In May 2015, that number was 38, and in the May 2014 data gave us 45. So the figure remains fairly steady.
A handful of these are returning to the rankings after some years' absence. Others have reached new heights of popularity in the last year or two.
Read on for the complete list, and my analysis of some of the trends behind the names.
New Boy Names 2017: The List
Ahmir
Alistair
Benicio
Brayson
Bridger
Brysen
Creed
Eason
Eliezer
Foster
Fox
Greysen
Gus
Hakeem
Harris
Howard
Ira
Jad
Jair
Jamar
Jeremias
Jericho
Karim
Keanu
Khalid
Koda
Konner
Krish
Kylo
Leif
Lyle
Maddux
Merrick
Mikael
Ralph
Ramiro
Shepherd
Tadeo
Tristian
Wesson
Westley
Zyaire
New Boy Names 2017: The Trends
Oh, boy! – Parents have embraced o ending names for boys. Some of the new favorites on the list come from Spanish: Ramiro, Tadeo, and Benicio. That last one owes something to actor-director Benicio del Toro, too. Jericho is borrowed from the Biblical place name, while Kylo comes from a galaxy far, far away. While this trend isn't new, it continues to influence the names we choose. Mainstream o-enders like Leo, Theo, Milo, and Arlo all gained, too.
Vowels rule – It's not all about o. Koda and Keanu also broke into the Top 1000. With Noah still holding on to the top spot, we know that parents love those vowel-ending names for boys. Of course, there's more to both of these new boy names 2017.
Keanu, of course, caught everyone's attention when actor Keanu Reeves became a star at the end of the 1980s; the name briefly made the Top 1000, then faded. Now, it's back. Why? While Reeves remains in the spotlight, chances are that's thanks to fellow Hawaiian favorite Kai, and, of course, the vowel sounds.
As for Koda, young baseball player Koda Glover probably gets credit for the name's rise. According to Glover, the name reflects his Cherokee heritage, and means bear. I'm having a hard time confirming that, but it's an oft-repeated statement. While the challenges with Native American names might make this a problematic choice, it succeeds on sound alone.
Add a letter, change a name – Just like every year, a big chunk of the new boy names 2017 represent variants and respellings of established favorites. There's Westley and Tristian, Zyaire, Konner, Maddux, Brysen, Brayson, Mikael, Greysen, and Jeremias. Some of them have history and roots of their own. Others, like Zyaire, clearly wouldn't be here without their more familiar form.
Where's the T? On that note, Wesson and Eason pick up from the far more popular Weston and Easton. Smith & Wesson makes guns, which might explain the rise of the first t-less name. One possible reason for Eason's rise is Cantopop singer Eason Chan – or maybe this one succeeds merely on sound.
Comeback kids – Do Howard, Lyle, Ira, Ralph, Gus bring to mind a bunch of 80-somethings, or a nursery school class? Names cycle in and out of use constantly; these five look like they're on the upswing.
Imports – Alistair, Leif, and Krish all have roots far outside of the US, but that's true of nearly every name, right? And yet, these feel more fresh and more foreign than all of those imports with decades of use.
Could Arabic be the new Spanish? – Not so long ago, Juan and Diego made the US Top 100 because a great many Spanish-speaking American families preferred to use traditional names from their first language. Or maybe they were handing down grandpa's name, unAmericanized, even though their family had been in the US for a generation or two. But today, many names popular with Spanish-speaking Americans blend in. Think of Sebastian and Sofia. Lucas, Dylan, and Liam make the Baby Center Español list.
Hakeem, Karim, Khalid, Ahmir, Jad, and Jamar all arrived in the US Top 1000 this year. While other forces boosted the names' popularity – think of Empire's youngest son Hakeem. Jamar isn't Arabic, strictly speaking, but it developed as a form of Jamal. And take away the 'h' and Ahmir becomes the far more popular Amir.
R is the new N – For years, nearly any two-syllable, ends-in-n name for boys felt wearable. That's increasingly true for two-syllable, ends-in-r names for boys, with Bridger, Jair, and Foster all entering the US Top 1000, and bringing along the longer Eliezer, too.
Ripped from the headlines – Many of the stories about popular baby names focus on names ripped from the headlines. Kylo, mentioned in the o-enders section, dominated stories, thanks to the Star Wars tie-in.
Creed combines rich spiritual significance and a virtue vibe with another Hollywood blockbuster: November 2015's Creed, the latest installment in the Rocky franchise.
By comparison, Merrick generated little attention, but it clearly came from the news. The nomination of Merrick Garland to the US Supreme Court led to countless stories, from March 2016 onwards.
We've been waiting for you – A handful of names always arrive with fanfare, simply because we've been expecting them. We'd pulled out a chair for Shepherd, Fox, and Harris some time ago. Their ascent to the Top 1000 is welcome – and was very much on time.
Okay, readers – what do you think of the new boy names 2017? Any stories behind the names that I've overlooked? And what is going on with those Arabic names at the fringes?