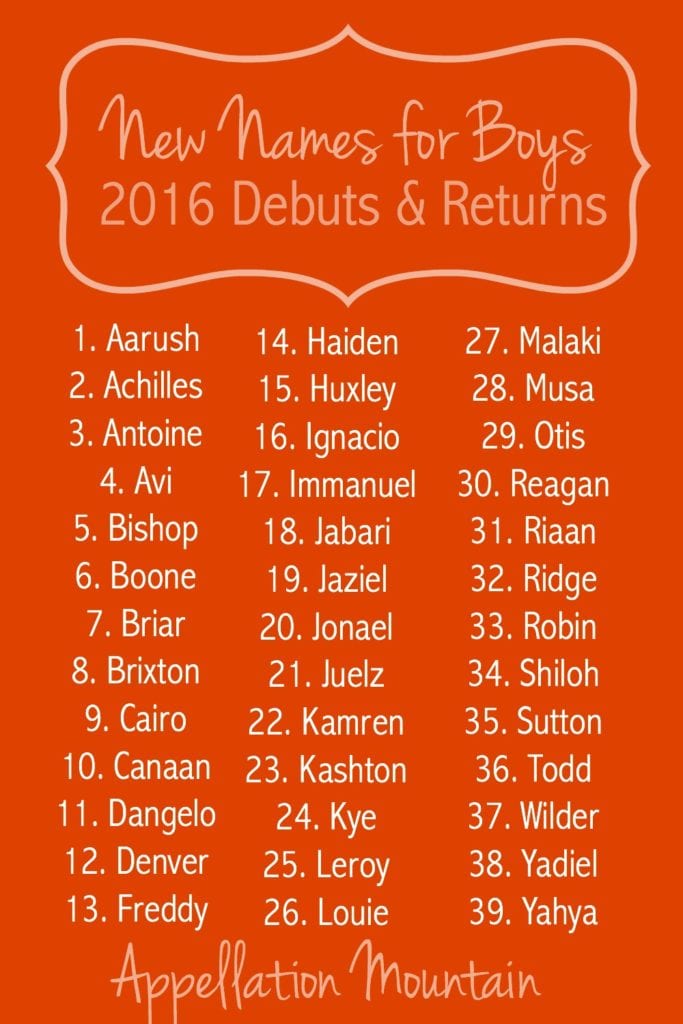 New boy names 2016 range from the traditional to the totally new.
On May 6, 2016 the US Social Security Administration released the new popularity data. A total of 39 new names for boys made the Top 1000 in calendar year 2015. (In 2014, that number was 38, and in 2013, that number was 45, so that's pretty consistent.)
Read on for the complete list, and my analysis of what's driving the trends!
New Boy Names 2016: The List
Aarush
Achilles
Antoine
Avi
Bishop
Boone
Briar
Brixton
Cairo
Canaan
Dangelo
Denver
Freddy
Haiden
Huxley
Ignacio
Immanuel
Jabari
Jaziel
Jonael
Juelz
Kamren
Kashton
Kye
Leroy
Louie
Malaki
Musa
Otis
Reagan
Riaan
Ridge
Robin
Shiloh
Sutton
Todd
Wilder
Yadiel
Yahya
New Boy Names 2016: The Trends
Boy Names Ending with o – Oh, we love our boy names ending with o, don't we? Ignacio has been gone for a few years, but recently returned. The same is true for Dangelo, which has been on and off the charts in recent years. Biblical place name Shiloh and Egyptian city Cairo both debuted in the US Top 1000 for boys for the first time in 2016.
On the Map – Speaking of Shiloh and Cairo, new place names continue to catch on – though it's not all about the location. Canaan is an Old Testament name, but it is big now because Oprah Winfrey revealed in an interview that Canaan was the name she gave to the son she lost as a young woman. This is the name's debut year in the US Top 1000. Denver, on the other hand, is a return. With a middle 'v' and that -er ending, plus ties to the Rocky Mountain State? No surprise it's returned to the rankings.
Preppy Hellraisers – One of my favorite categories of names is the Preppy Hellraiser. They're almost buttoned-down surnames like Carter, but they have a little bit of edge. Wilder has long been my poster child for the style, but I think Boone and Ridge fit, too.
X Marks the Name – We love the letter X for boys' names. Just ask all those kiddos answering to Alex and Felix and Jax, plus all of the Axtons. Now literary and scientific surname name Huxley has cracked the Top 1000, along with Axton cousin Brixton.
Imports are Strong – Gone are the days when parents looked for American names for their children. Indian influence helped put Aarush and Riaan on the charts. Musa, the Arabic form of Moses, is another debut. Jabari has Swahili roots. It's been in and out of the Top 1000 since the 1970s. Antoine is the French form of Anthony, but has been popular with African American parents – in fact, Antoine was huge in the 1980s and is just holding on to the list now. Could that be thanks to lots of Antoine Jrs? Yahya is a new one to me, but apparently it's an Arabic form of John, also used in Turkey.
Spelling Counts – Plenty of names on the fringes are re-spellings or spins on popular names. This year's list of debuts and returns includes Haiden, Kamren, Kashton, Malaki, Kye, and Juelz. Juelz got its initial boost thanks to a rapper a few years ago, and spent a few years in the rankings. Now the name is back, though the rapper seems to be out of the spotlight. Anyone have a guess as to what's driving the return of Juelz?
Going to L – Gabriel and Nathaniel have been big for boys in recent years, pulling up a new crop of ends-with-L names for boys. Some of them are traditional, like Immanuel. Some are new discoveries, like the Biblical rarity Jaziel and the Spanish Yadiel. And then there's Jonael. While it's not a complete invention, it was scarcely used prior to last year, when Jonael Santiago won Telemundo's La Voz Kids. The eleven year old landed a record contract – and propelled his distinctive first name into much wider use.
Nickname names – Nickname names for girls, like Sadie and Maisie, have been stylish in the US. The trend applies for boys, too, in the UK. No surprise, then, to see Freddy and Louie catching on for boys in the US.
Last names first – Reagan and Sutton both debuted for boys, ever more two-syllable, ends-with-n names for boys. The surprising part about these names? They've been far more popular for girls in recent years.
Nature names and the new gender neutral – Briar debuted on the boys' list, and Robin returned after many years' absence.
Ancients – Ancient names for boys have been having a good run, and Achilles is the latest borrowed from way back in time name to join the club of new boy names 2016.
Comebacks – Leroy, Todd, and Otis are all older names, but they're not at all from the same generation! Leroy ruled in the 1930s, Todd was a 1960s surfer boy, and Otis was big at the turn of the twentieth century. Otis was boosted by a celebrity birth announcement – Jason Sudeikis and Olivia Wilde's son. Leroy and Todd have been teetering on the edge of the rankings for the last few years.
Meaningful – Bishop is a surname with religious overtones, a similar name to Shepherd or Deacon. It's appeared in the Top 1000 before, most recently in 1998. Now it makes the list of new boy names 2016.
Edgy and short – Let's end with my favorite debut! Avi is a Hebrew name meaning father. It can be short for other Av- names, but Avi stands on its own. Newberry Medal-winning writer Avi makes the name literary, and the sound makes it cool. If Ava is a Top Ten go-to for girls, why not Avi for boys?
That's the rundown. Any pop culture influences or reasons names are catching on that I missed? What are your favorites?