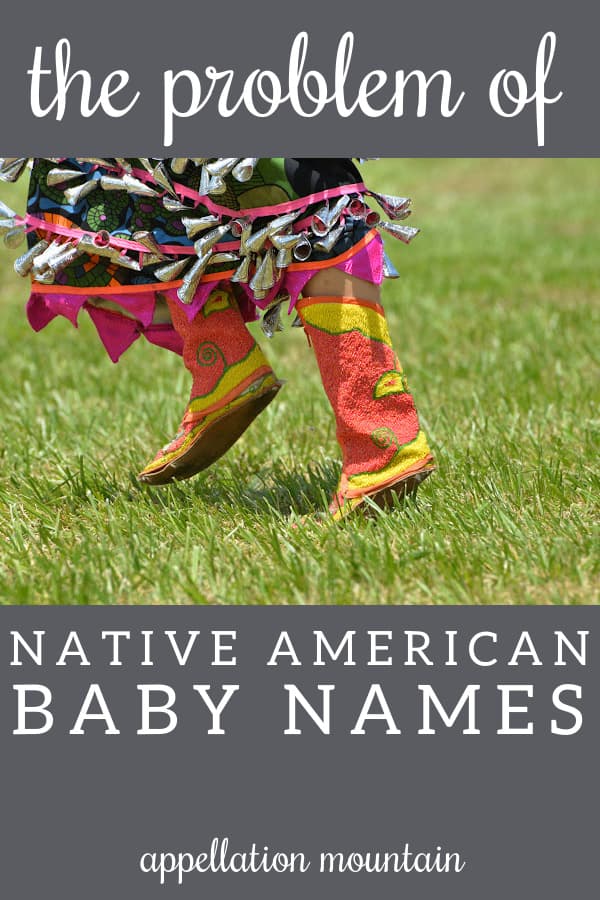 Kara challenged me to write about Native American baby names.
And why not?  Couples who honeymoon in Paris return to name their daughter Genevieve, and someone whose great-great-grandmother came from Italy in the late 1800s might decide to name his sons Luca and Matteo.
American English is eclectic, and our naming conventions reflect that.
We borrow, and we discover and invent, too.
Sometimes we have to recover.
Oppressed peoples often struggle to hold on to their language and culture.  Generations later, as their descendants attempt to reclaim that heritage, finding authentic names can prove elusive, especially when their ties to the culture are several generations removed.
What does this have to do with Native American names?
There are nearly 600 federally recognized tribes, and possibly more – some estimates suggest as many as 200 additional groups that do not appear on any official lists.
They were here first, and they were everywhere first – there's not a part of the United States that does not have a tie to an indigenous culture.
We can see it in place names, in rivers and towns, and sometimes it isn't clear if a name is European in origin, or indigenous – and some names, like Sonora and Tallulah might have roots in both. Many of us have heard that our great-grandmother was half Cherokee, or maybe our grandfather talked about having Powhatan cousins.
But what about personal names?  We can all rattle off famous Native Americans: Hiawatha, Black Elk, Geronimo, Kateri Tekawitha, Pocahontas, Sacajawea. But few of those names have filtered into regular American English use as given names for our children.
Tribal names have been popular:
Cheyenne was a Top 100 name for girls in the 1990s.
Dakota charted for both genders, also reaching the boys' Top 100 at the same time Cheyenne was most in vogue.
Tia Mowry named her son Cree.
It's not just English, either. Names like Nayeli, Millaray, Nahuel, Citlali and more all have roots in indigenous languages, and have become mainstream in Spanish.  This means that many of them are heard in the US, too.
Can English-speaking American parents do the same?  Lists of Native American baby names are easy to find, but it turns out that they're not necessarily authentic.
So instead, here are some approaches that might feel comfortable for parents with an interest in Native American baby names – without insulting the cultures we intend to honor.
First, a warning: the number of less-than-authentic lists of Native American baby names is startling.  Some, like the gorgeous Adsila, seem to be legit.
And yet, traditional Native American names often relate to the circumstances of a child's birth.  While customs vary widely, it appears that names were not typically chosen by the child's parents in private.
Today, these stories are unusual – the child born in the blizzard who receives the middle name Snow can earn a spot on the local news.
But for some cultures, the equivalent of Snow as a given name was the norm.
This helps explain why a list of Native American baby names is so elusive.  When a name is the outcome of deliberate choice among many possible options, then there's a need for lists.
If a name is determined by outside events? Then there's no need for a reference.
It also seems to be true that many indigenous peoples went to great lengths to separate their traditional names and official record.  A mainstream name went on the child's birth certificate, but a tribal name was in everyday use.  In some ways, this is reminiscent of immigrant families using Catherine for their daughter's legal name, but reverting to Caterina at home.
In other ways, it reminds us of a very ugly history of oppression and maltreatment.
If you do have Native American heritage, chances are that you are aware of other possibilities – family names, names traditional to your specific tribe, naming customs that could inform choosing a name.  If you are aware of your heritage, but don't know anyone fluent in the language, there are a tremendous number of resources, like this one, available to fill in the blanks.
Now, on to some possible approaches to choosing a Native American baby name.
APPROACHES TO CONSIDER
Choose an English-language noun name consistent with Native American customs.
Noun names borrowed from nature are popular, and many would have been familiar in Native American culture. In Choctaw, Nita means bear, and today, Bear is a reasonable name for a child.
Not every nature name would have been used by every culture, and you'll need to add your own layers of meaning.  Tecumesh's name translates to "panther across the sky," but it would inaccurate to say that his name means panther. Instead, legend has it that Tecumesh was born just a few days after a meteorite streaked across the sky. In Shawnee culture, this was interpreted as the spirit of the panther.
While the limitations remain, there are no shortage of possibilities in this category: Fox, Wolf, Willow, Leaf, and plenty of botanical names, or even pan-botanical choices work.
Choose the Native American version of a European name.
This might feel unsatisfying, and yet, it is consistent with how some Native Americans have assimilated into mainstream culture. Saint Kateri Tekawitha almost certainly had another name in her native Mohawk language, but we know her by the Mohawk form of Catherine.
It's also consistent with how many of us choose to honor European heritage. There are kids who are one-quarter Irish answering to choices like Maeve and Ronan. It's just as common to choose Liam instead of William, Caitlin instead of Catherine.
In many cases, like Hawaiian names, these have one foot in both cultures: Malia is a cousin to Mary, but also related to a native name meaning calm.
The only stumbling block here is that there's no reliable list of possible equivalents. They would vary from language to language, and some of the origins would be French, rather than English – so Stephen becomes Etienne becomes Atian in Abenaki.  Challenges remain, but it is a path worth considering – especially because Atian is more accessible than mamy authentic choices, like Ahtahkakoop.
Choose from the very small list of Native American names that are verified.
A few names are unambiguous, and an even smaller number of those names are now mainstream.
Perhaps the most popular of the crossover names is Winona. Legend tells us that she leapt to her death rather than marry a man she did not love. The daughter of a Sioux chief, her name simply meant "firstborn daughter." Now it is a reasonable choice for a child, popularized by the legend, as well as actress Winona Ryder.
There's also Liseli, the name usually associated with the Zuni girl in a traditional, Cinderella-like tale. Liseli might also be a Zuni form of Isabella or Elizabeth – meaning that it really belongs in the previous category.
A few others include:
Isi, a Choctaw name meaning deer.
Sequoia, from the inventor of the Cherokee alphabet – though he answered to George for business purposes, and now mostly brings to mind the tree.
Sacheen, possibly meaning little bear, from a 1960s-era Native American activist.
Metea, a nineteenth century chief of the Potawatomi in Indiana.
Choose a Native American language, and find a noun name from that language.
This suggestion came directly from this site, and it might be the best option available for English-speaking parents with minimal knowledge about their roots.
While lists of given names are elusive, dictionaries are widely available for most languages. Finding a noun with a suitable meaning, one that will work when pronounced in English, seems like an interesting path to a meaningful name.
If authenticity is important, you might want to seek out a native speaker.  Have you mangled the word when it is pronounced in English?  Or changed the meaning entirely?  But if you're looking for something inspired by Native American culture, starting with the dictionary seems a reasonable approach.
Would you ever consider using Native American baby names?