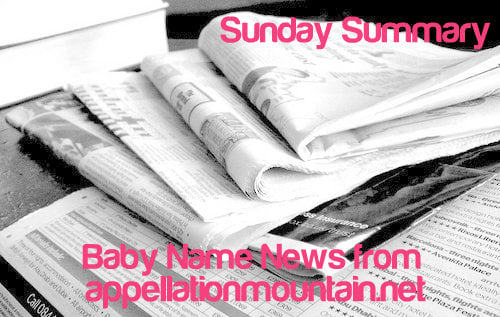 So the big baby name news is that Beyonce and Jay-Z are going to make Blue Ivy a big sister!  Or so rumor has it.  Speculation about possible names for Bey-Z II is already in full swing.  I turned to the Bey Bey Name Generator for inspiration this morning.  Periwinkle Pine, Cerulean Palm, or Cobalt Lily, anyone?
Something tells me that the famous couple won't follow the pattern they set with Blue's name.  But there's no way it will be Jacob or Sophia, right?
Elsewhere in baby name news:
Did you see the birth announcement at For Real for Czarina Maria?  And I thought Messiah was over the top!
Houston Press blogger Jef With One F went on a rant about crazy kid names last week.  I just re-read it and realized that while the names he's criticizing are easy to hate on – Nevaeh, of course – he actually has some pretty funny lines.  My favorite?  By the tick-filled pelt of Peter Rabbit, Cayn. Cayn. I have been obsessed with vampire fiction for two decades and even the most batty of goths never hung Cayn on a fictional character, let alone someone that had to stand in line at the DMV.
I really like the name Catarina.  But only Catarina, not Katerina.
From the wayback machine: back in 2008, I was writing about Orion.  In 2009, it was Tizoc.  2010 brought us Andrea.  2011 was all about Rayna.  And last year, the 19th fell on a Saturday, but the week before, the spotlight went to Sapphire.
Another spotting of Shalom in the middle spot, this time for a boy.  I'm not saying Shalom is the next Marie, but it could be bigger than, say, Danger.
I am completely okay with kids named Katniss and Lisbeth, Blue, Hugo, Niall, and Jubilee.  But I'll admit that Nancy's Pop Culture Baby Name Game results had me shaking my head at the rise in newborns named Renesmee.  It doesn't seem like an attractive name – maybe I'm missing something?  Especially since Twilight and company are packed with such gorgeous, glorious choices.
Which reminds me – I was talking to an expectant mom the other day.  She told me that her husband had suggested Cullen.  Her response?  "I'm not saying no.  I just need to explain that Cullen is the last name of the vampire family in Twilight."  I guarantee the dad truly hasn't got a clue about Bella and Edward, so what happens that we pluck these really current names out of the air anyway?  And no, they're not going to use Cullen …
Loved this post on trends of the past.  Bettye, Buford, Fairy, Tennessee, Queen, Commodore.  Fascinating names, and a great reminder that novelty isn't new.
I'm intrigued by Hawk and Hawkeye.  The former appears in an Arkansas birth announcement.  The latter made Kelli's list of rare debuts.
The Baby Name Wizard analysis on Jacob is fascinating.  It's a good reason to go ahead and use the names that you love, even if they're in Top 100, or 20, or 10 … or even the #1 name.
Despite that data, here's my theory: part of the increasing volatility in baby names is due to conversations like this one.  The parents agree on Olive for their daughter's name, but they're seriously considering using something else for fear that Olive is going to become too popular.  I think Anna gives her excellent advice, and some low-key encouragement to use Olive anyhow.  But if we're thinking this way, that means that we're discarding names as "too popular" before they're even popular.  All of this crystal-ball gazing pushes us towards more and more unusual names, and growing diversity in given names.
Of course, the venerable New York Times explains the dominance of the name Michael in New York, and explains why I know so many little kids named Eleanor and Henry.  It's another quote from Laura Wattenberg:  The more progressively an area votes, the more conservatively it names its babies.   I do think there's change afoot here, too, though – probably because we're likely to avoid a name if someone in our circles has already used it.  More pressure towards diversity, so parents are considering Dorothy rather than welcoming another Beatrix to their block.
Which reminds me: how excited am I to read Off-the-Grid baby names from Nameberry?  I'm saving it for my long, lazy Memorial Day weekend.
That's all the baby name news for this Sunday Summary!  As always, thank you for reading and have a great week.