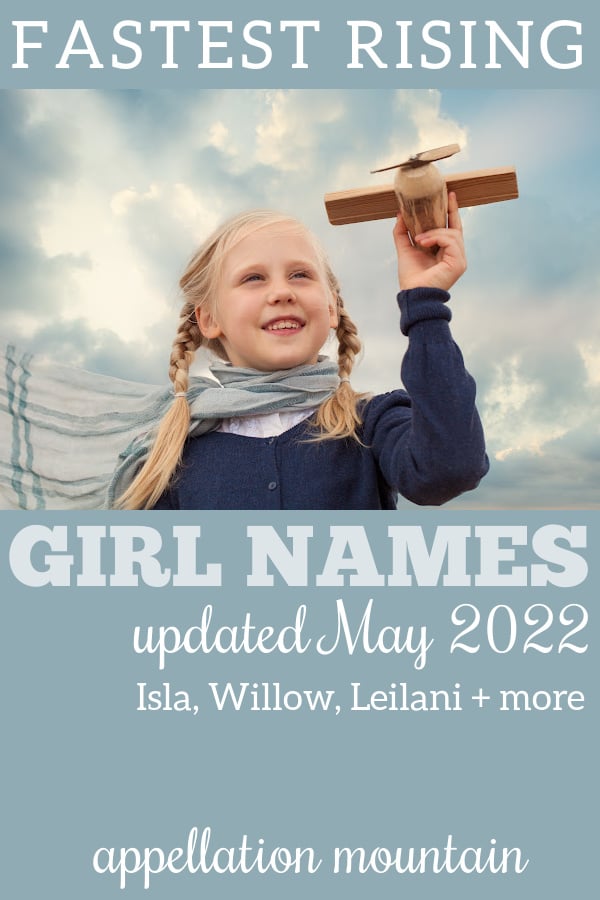 Every year, we talk about the fastest rising girl names. But we usually mean the names that gained the most in terms of rank. Which name leapt from #7935 to #494? (It's Raya. More on that name below.)
But things change when we look at the fastest rising girl names by the actual number of births.
Rank is relative.
The top names are given to fewer children than ever before, but something will still top the list.
In 2021, right around 1% of all girls born were named Olivia, the #1 name. But back in 1971, the top name was given to well over 3% of all girls received the top name – Jennifer.
But absolute numbers – names given to more girls in calendar year 2021 compared to calendar year 2020 – is a different lens on the hottest names.
Looking at the fastest rising names by number can help predict the future.
Often a name that surges in the rankings is destined to fall just as quickly.
But names that post big gains in terms of births, especially if that happens year after year?
Those are the fastest rising girl names to watch.
A lovely floral name, Magnolia is every bit as elaborate as favorites like Amelia, and shares that stylish -lia ending. Making a second appearance on the fastest rising girl names list, Magnolia also points to one of the moment's hottest trends: ecovintage names, blending the antique and the natural world.
#24. SAGE (+344; unranked on last year's list)
Sage succeeds on multiple levels. It's as tailored as Jane or Claire and a green-hued name like Olive or Ivy. Plus, Sage means wise, making it a virtue name – and a unisex one, too. It's been rising quietly and steadily in use for over a decade.
#23. STEVIE (+345; unranked on last year's list)
Boyish nickname names like Charlie and Frankie rank in the girls' Top 1000, and now Stevie does, too. The name almost fits with rock star choices like Hendrix and Lennon, thanks to the legendary Stevie Nicks. But it's rocketed up the rankings thanks to Schitt's Creek, which ended a six-season run in 2020, and main character Stevie Budd.
This high-energy charmer belongs with favorites like Penelope and Chloe. But the big gain is thanks to – once again – television. Netflix unveiled the first season of Bridgerton on Christmas Day 2020, featuring the romance of eldest Bridgerton daughter Daphne with the handsome Duke of Hastings. The blockbuster series combined with the name's stylish sound put Daphne at the top of many parents' lists.
While Luna failed to make last year's list, it has appeared for four of the last five years. In fact, the name may have slowed down if only because there's not much higher to go! As of 2011, Luna ranks #11 overall. Here's guessing we'll see this name in the US Top Ten next year.
#20. ELIANA (+355; unranked on last year's list)
A newcomer to English, Eliana has a longer history in romance languages like Italian, as well as Hebrew roots. But it fits right in with so many favorites in recent years. One challenge with this name? Spelling. Eliana is most popular, at #48 in the rankings. But Elianna, Elliana, and Ellianna all chart, too.
#19. RAYA (+357; unranked on last year's list)
At first glance, Raya is all about the movie. Raya and the Last Dragon is the story of a heroic young girl, a warrior princess. It's easy to imagine parents naming their daughter after such an admirable character. But the 2021 movie is only part of the story. This generation of parents came of age with Rey, the next generation Star Wars heroine, and are used to hearing names like Maya and Kayla in the mainstream. Raya is a successor to them all, and a more clearly feminine choice than Rey – or maybe even Rae.
#18. LILY (+357; unranked on last year's list)
After a meteoric rise, bringing lots of Lily names along, it seemed like just Lily had peaked around 2010. And perhaps the name has peaked. But our love of noun names from the natural world is enough to push it back up in use again in 2021.
Equally graceful and strong, Violet seems to benefit from the same energy that is pushing Lily into wider use.
Wren is both a soaring nature name and a spare, understated choice.
#15. LAINEY (+374; unranked on last year's list)
Depending on your perspective, Lainey might be a feminine form of Lane; an update to former favorite Elaine; or a surname style choice in the key of Delaney. Maybe it's a little of all three.
A flower name that's both hopeful and elegant, Iris echoes the theme of so many of the fastest rising girl names: a little bit vintage, a little bit borrowed from the natural world.
All of the Oak names are having a moment. Spelling matters here – Oaklee and Oakleigh are gaining in use quickly, too.
#12. OAKLYNN (+405; #6 on last year's list)
As if Oakley and company aren't enough, Oaklynn – as well as Oaklyn – are Top 1000 style stars.
For three out of the last five years, Hazel has been among the fastest rising girl names. It's a mix of sound and style, high profile birth announcements, and pop culture references, all pushing this late nineteenth century favorite higher.
From the Latin word meaning new, Nova is a unisex choice with an appealing sound. It's made the fastest rising girl names for four out of the last five years.
#9. AYLA (+544; unranked on last year's list)
Ayla surged into the US Top 1000 back in 1987, following the movie The Clan of the Cave Bear. Based on a 1980 novel by Jean M. Auel, the name Ayla was ahead of its time. Now, with a generation of Kaylas giving way to Layla and Isla, Ayla feels like a fit.
For three of the past five years, Ivy has raced up the popularity charts, a mini name with far more style than a mere three letters might suggest.
The second Bridgerton-influenced name on this list, this time belonging to a younger – and rebellious – Bridgerton sister. Eloise also benefits from our love of El names; it's one of three on this list.
#6. LEILANI (+584; unranked on last year's list)
Hawaiian names are increasingly mainstream choices, used well beyond the borders of the fiftieth state. And Leilani is authentically Hawaiian, a traditional name meaning "heavenly flowers." It's among several -lani names we'll likely hear more of in the coming years.
For the last three years in a row, Maeve has been one of the fastest rising girl names in the US. An Irish import, a mix of pop culture and pure style have transformed Maeve from obscure to favorite.
This culture-spanning classic was a perennial Top 100 choice in the late nineteenth and early twentieth centuries. It's back in recent years, ranking even higher than it did a century ago. One possible reason? Nora has roots in European languages, as a cousin to Eleanor, as well as Arabic, where it comes from nur – light.
#3. ELEANOR (+693; unranked on last year's list)
Speaking of Eleanor, it's among the most stylish of classic girl names, a rival for current favorite Charlotte. With all the strength of Eleanor Roosevelt and a wealth of potential nicknames, it's a strong and enduring choice.
Magical and meaningful, nature name Willow has made the fastest rising girl names' list for four of the last five years. It's a potential feminine form of William, and an o-ending choice as appealing as Margot.
The unstoppable Isla has made this list for five years straight. It looks a bit like island, but sounds like eye-luh. Actor Isla Fisher made it famous; but it's the name's smooth, liquid sound that makes it a perfect choice for the 2020s.
FASTEST RISING GIRL NAMES: FUTURE TOP TEN NAMES

These eight names seem mostly likely to continue growing in use – maybe enough to reach the US Top Ten in the next few years.
ISLA
LUNA
NOVA
WILLOW
MAEVE
IVY
ELEANOR
HAZEL
What do you think of the fastest rising girl names? Do any of these surprise you?