What are the best Pinterest baby names 2018? It's a tricky question. There are well over 500 Pins on Baby Names of the Day alone!
These ten baby names rank among the most popular Pins for the first half of 2018. Some you'll recognize as fast-rising favorites. Others feel far more obscure, falling outside of the current Top 1000. They're a mix of masculine and feminine, traditional and anything but.
Do parents really find their baby names on Pinterest in 2018? I have to imagine the answer is yes – after all, we're finding our wedding dresses, vacation destinations, and living room sofas on the site. Or at least ideas to inspire all of those choices. So why not names for our children, too?
Of course, the Appellation Mountain Pinterest site has tons of lists, advice, and other kinds of baby naming info to browse, too. Once you've finished here, you may want to carve out a few hours and check it out!
Best Pinterest Baby Names 2018: Adeline
Sweetly vintage Adeline followed Madeline right up the US popularity charts. Now variant spellings and forms abound! Adaline – boosted by a 2015 Blake Lively movie – appears in the US Top 200. So do plenty of Adelyn/Adalynne re-spellings of the name, one possible headache of answering to this lovely name. But so far, Adeline ranks #64, the most popular of any form of this traditional, tailored, feminine choice. It's perennially popular on Pinterest, but then, it's just plain beloved by parents everywhere. It's got a great meaning: noble. And the built-in lullaby is yet another bonus!
Best Pinterest Baby Names 2018: Auden
A literary surname name, Auden brings to mind powerfully popular Austin, as well as other Au- names we love, like glamorous Audrey. Even though Auden's 'au' doesn't come from Au, the chemical symbol for gold, it adds a certain luster to the name. It's one of the quirky boy names that's been trending on the site in recent months, probably because actor Kelsey Grammer gave the name to his youngest son in 2016. It's just enough to make fans of two-syllable, ends-with-n names for boys take notice. It's a possibility for a daughter, too. In 2017, Auden was given to 97 boys and 50 girls.
Best Pinterest Baby Names 2018: Isla
Isla sits between two languages, but it counts as a nature name in both. The given name as we know it comes from Scottish, inspired by the name of an island. In Spanish, it's simply the word for island – but it's pronounced ees-lah. Isla follows brief, complete, nickname-proof and vowel-intensive names like Ava, Mia, and Ella up the popularity charts. Australian actress Isla Fisher gets credit for the name's rise. Up until 2008, it had never appeared in the US Top 1000. Today, just a few short years later, it's poised just outside of the Top 100. It's even more popular elsewhere in the English-speaking world.
Best Pinterest Baby Names 2018: Ledger
We love a good Hollywood surname. I've heard of kids named Aniston and Winslet, Harlow and Monroe. Ledger comes from the late actor Heath Ledger, but it also fits right in with rugged, r-ending surname names for boys, an alternative to Archer, a name more subtle than Ranger. While some surname names feel novel, there's actually a Saint Leger, from seventh century France, which gives this a little more backstory. And yes, the surname does seem to come directly from the given name. Accountants and bookkeepers, however, might find this name a little too tied to their day jobs.
Best Pinterest Baby Names 2018: Loxley
Loxley is the first breakout hit on Pinterest, a name I thought no one would notice – except, oh boy golly, how many times has this one been Pinned?! It has a great sound – that middle 'x' has powered many a boys' name into greater use. (I'm looking at you, Huxley.) And unlike many a -ley name, it feels distinctively masculine. But the real story here is a legend: Robin Hood. He's also known as Robin of Locksley or Loxley. We never tire of telling his story, and another big screen version is due out this November, with Taron Egerton in the title role. If it's a hit, stylish Loxley could quickly climb in use.
Best Pinterest Baby Names 2018: Mabel
Vintage Mabel makes my list of best trending girl names. It has a sassy, upbeat vibe, and shares sounds with current Top 100 favorite Hazel. When 90s sitcom Mad About You gave the name to Paul and Jamie's daughter, it picked up an extra meaning: Mothers Always Bring Extra Love. But the name's original meaning is pretty great, too: lovable, from Amabilis. A Top 100 staple from the late nineteenth century into the 1920s, it's easy to imagine Mabel returning to the top of the charts. After all, names like Emma, Clara, Alice, and Grace were also big in that era, and are already back in a big way.
Best Pinterest Baby Names 2018: Nash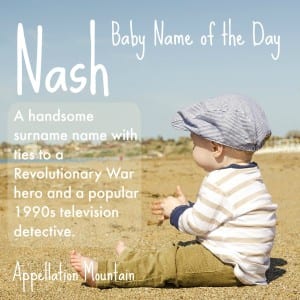 Up until Don Johnson solved the case on the small screen, Nash wasn't often heard as a given name. And no, I don't mean Miami Vice. I mean Johson's other hit show, where he also played a cop – Nash Bridges, a successful CBS drama from the 1990s. Today we've mostly forgotten the television show, but the name has become a mainstream favorite. It currently ranks #283, it's most popular ever. The rise of other -ash names probably helped. There's Biblical Asher, rock n roll Cash, Hollywood Ashton, and speedy Dash. Nash seems like a nice middle ground between the flashier and the more traditional choices on that list.
Best Pinterest Baby Names 2018: Ophelia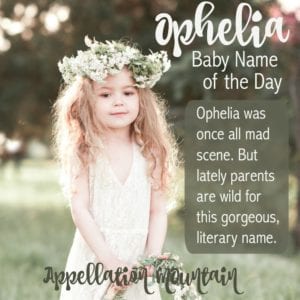 For years, parents cautiously considered Ophelia, but ruled it out because it brought to mind the mad scene, and tragic demise, of Hamlet's love interest. Lately, though, things have changed. Maybe it's because of the Lumineers appealing song by the name. (The song was inspired by Shakespeare's character.) But it's more than just the song. Ophelia also makes a logical successor to the chart-topping (and equally Shakespearean) Olivia, and, like Isabella and Sophia, it's a long and lovely girl's name that bridges English and Spanish effortlessly. In fact, Pan's Labyrinth gave a heroine named Ofelia in 2006. The name re-entered the US Top 1000 in 2015, and just keeps on climbing.
Best Pinterest Baby Names 2018: Silas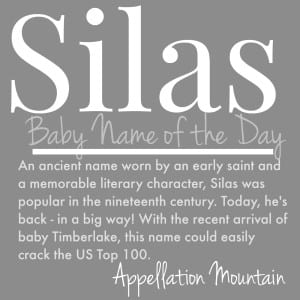 I keep expecting Silas to be big. After all, Justin Timberlake and Jessica Biel welcomed their son Silas in 2015. The meaning of the name makes this a great, ecovintage pick for boys: forest, from the Latin silva, via the given name Silvanus. In fact, Timberlake's 2018 album title, Man of the Woods, is a nod to Silas' name. And yet, so far, Silas remains just beyond the US Top 100. While it's more popular today than it's been since the late 1800s, it's yet to rival other Biblical boy names, like Elijah, Joshua, and Jacob for the top spots. Could that change? Maybe, at least if Pinterest interest is any indicator …
Best Pinterest Baby Names 2018: Torin
Every time we declare two-syllable, ends-in-n boy names over, a fresh alternative comes along that reminds us how appealing they can be. Irish Torin feels fresher and less expected than Aiden. Plus, it connects to the Knights of the Round Table legends, and has a great meaning: chief. Torin has yet to enter the US Top 1000, but it wouldn't be out of place on a playground today. It has continued to rise steadily in use during the twenty-first century. In fact, 178 boys were named Torin last year, marking a new record.
These are the most best Pinterest baby names 2018, according to re-Pins and other measures. Would you consider any of these names for a child. Can you seem some of the rarities catching on?