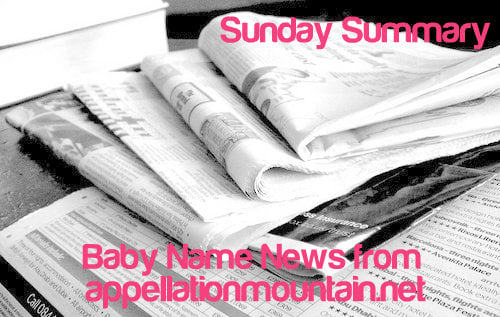 The rational part of my brain is completely aware that small rodents do not have powers of prognostication.  But I spend every Groundhog Day a-wishin' and a-hopin' that those celebrated little furballs will declare that spring is nigh.  Because I am a weather wimp, and while I am happy to melt in a sweltering Washington DC summer, I do not care for the cold.
But this is a name blog, and as it happens, I have a rodent-related name story, too.  My son's third grade classroom has acquired a guinea pig.  After much discussion, the kids in his class have settled on Princess Charlotte for their pet's name.
My question is this: how can it be that a group of mostly nine year old boys – there are about 5 girls and 17 boys in his class – would settle on a currently popular girls' name for their pet?  Other contenders for the pig's name were Sally and Theodora, plus dark horse Fluffy.
So while their suggestions were eclectic, the name that rose to the top was the only Top 20 pick in the group.  Especially with such a high concentration of boys, many of whom have not been naming dolls for the past few years, how did they know?  There's not a single Charlotte in their school – in fact, the names are all over the map.
I've often said that names become popular because they're just great names – and I think there is some truth to that.  I love the sound of Ava and Mason and William, too, if only they weren't so common.  But I also like Avalon and Macon and Wallis.
It isn't just popular names that change from generation to generation – pleasing sounds change, too, and that pushes the names we like in new directions.  And so on.
Now on to the name news:
Actually, the other reason I'm so excited as I write this is that I've just finished pulling together the initial posts for March Madness Baby Names, which starts the first Saturday of the March.  Because once a year, instead of watching sports for the names, the names become the competitors 'round here.
That's all for this week.  As always, thank you for reading – and have a great week!