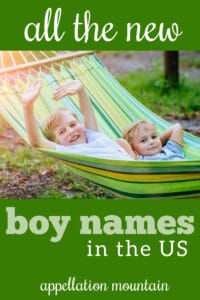 Time for the new boy names 2023!
Every May, on the Friday before Mother's Day, the Social Security Administration releases a list of the 1,000 most popular boy names and 1,000 most popular girl names in the United States for the prior calendar year.
Inevitably, that list changes year to year. Some names fall off, tumbling into obscurity. Other names rise into the rankings for the very first time ever, or return following a long absence. And some names hover on the very edge of the Top 1,000 for ages – in one year, then out the next.
The fun part? It's those returns and debuts. And this year, it's a bumper crop!
45 boy names appear on the 2022 list that did not appear in 2021.
Here's how that stacks up to prior years:
And now, the names!
NEW BOY NAMES 2023
ASAIAH #994
It looks like an Asa-Isaiah mash-up, but Asaiah occurs in the Old Testament.
ATHARV #995
A Hindu name, debuting for the first time on the New Boy Names 2023 list.
AURELIO #986
Golden Aurelia is rising for our daughters, bringing the masculine form along, too.
CARTIER #976
Borrowed from the famous jeweler, Cartier is a luxe surname name. It's the French equivalent of Carter, and Cartier likely succeeds because of the similarity.
CEDRIC #958
Cedric makes the list of New Boy Names 2023, but this is a golden oldie. A Top 300 name from the 1960s into the 1980s, it's only recently slipped off the charts – and now it's back.
CHOSEN #898
A purpose name, Chosen blends the spiritual appeal of Shepherd with the confidence of Legend.
CRUE #868
Crew is preppy, a name that brings to mind athletic college students at regattas. Crue is motley, a little more rough and tumble, more likely to carry a guitar than an oar. But the sound drives them both higher on the popularity charts.
DARWIN #987
Like Cedric, Darwin has hovered on the edge of the US Top 1000 for several years. In 2022, it was back on the list again.
DION #903
Short for Dionysios, meaning "of Zeus," this ancient name had a good run in the 1960s. Credit singer Dion, known for hits like "Runaround Sue" and "The Wanderer." The Rock and Roll Hall of Fame member doesn't necessarily explain the name's return to the list, though; instead, it might have more to do with sound. After all, Dior is also trending, for our daughters and sons.
DUNCAN #924
A Scottish heritage choice, belonging to two kings of Scotland – one of who was immortalized in Shakespeare's Macbeth.
DUTTON #835
Along with Kayce, a name boosted by Yellowstone. Dutton conveys all the rugged strength of the fictional rancher family.
EREN #952
It looks like former favorites Aaron and Erin, but Eren is a Turkish name meaning saint.
EZRAH #941
Put an H on Ezra.
IMRAN #996
An Arabic form of an Old Testament name, well-used in Arabic-speaking world.
IVAAN #997
Ivan with an additional A.
JAIRO #899
The Spanish form of an Old Testament name meaning "he shines."
JRUE #904
A phonetic(ish) take on Drew. On the girls' side, Jream made the list, so maybe it's no surprise to see a JR- name on the New Boy Names 2023 list.
KAISEN #909
Possibly a version of Cayson or Kyson, or maybe a twist on Kaizen.
KAIZEN #905
Like Kaisen, this could be a creative respelling of a name like Kayson. But Kaizen is also a Japanese word meaning "continual improvement" or "change for the better," much discussed in business settings. And, of course, it's also a Kai-Zen smoosh.
KAMRYN #980
A Cameron respelling more often seen for girls, but with potential for boys, too, in our Kade, Kairo, Kaysen moment.
KANAN #998
A Sanskrit name meaning forest.
KARIM #772
An Arabic name meaning "to be generous."
KAYCE #587
The second name put on this list by streaming series Yellowstone.
KHAZA #839
Rapper Kevin Gates put Khaza on the list of possibilities. Not only is it his son's name, but he's used it for the name of an album, too.
KOEN #812
A Dutch nickname for Conrad, or possibly a respelling of Cohen, the controversial surname name.
KOLSON #882
Another spelling for Colson and Coleson.
KOOPER #984
Cooper with a K.
LONDON #1000
This city name ranks in the girls' Top 300, but it's trending for boys, too.
LUX #981
The Latin word for light, Lux is a unisex name. For girls, it's often associated with a title for the Virgin Mary. Jeffrey Eugenides' 1993 novel The Virgin Suicides gave the name to a character, later played by Kirsten Dunst in the 1999 movie version. But today? Lux is Luke meets Jax, a fresh and modern sound with a great meaning.
MARLON #991
As in Brando.
MEIR #992
A Top 100 favorite in Israel, Meir means "giving light" in Hebrew.
MURPHY #885
An upbeat Irish surname, now ranked for boys as well as girls.
RHODES #922
Rhodes joins Brooks, Banks, and Wells as a trending, ends-with-s name for a son.
RYATT #935
Ryan meets Wyatt with a heavy metal edge.
SHMUEL #936
A Hebrew equivalent of Samuel.
SEVYN #842
Seven ranks #754. This re-spelling of the number name isn't far behind.
STONE #982
A nature name with strength.
TEO #945
Boosted by the popularity of Theodore, Leo, and Mateo, Teo feels like a logical successor.
TERRY #975
A 1940s and 50s favorite, Terry left the boys' Top 1000 for a year before returning in 2022.
WAYLEN #891
The success of Waylon brings alternate spellings like Waylen onto the charts.
WESTYN #932
Weston with a Y.
YAEL #993
A feminine name in the Old Testament, Yael means mountain goat. In the US, though, it trends masculine, possibly inspired by Gael or the surname Yale.
YAHYA #938
An Arabic form of John.
ZAMIR #833
A Hebrew name meaning nightingale, Zamir joins Amir, Samir, Damir, and Jamir in the Top 1000.
ZEN #911
In American English, we use zen to meet peaceful or calm. To Buddhists, it's a bigger word, referring to a Japanese school of Buddhism focused on meditation. Sound-wise, it fits right in with Zion and Lux.
Do you have any favorite new boy names 2023?