Let's talk about strong girl names inspired by Hermione.
Have you heard this quote from Stephen King?
Harry Potter is about confronting fears, finding inner strength and doing what is right in the face of adversity. Twilight is about how important it is to have a boyfriend.

A friend – the father of daughters – texted the quote to me a few weeks ago, and I replied:
May our daughters be Hermiones, instead of Bellas.
Of course, I know some lovely girls called Isabella. A name like Elisabetta or Valentina or Lacey or Tess doesn't imply that you can't grow up to be a physicist. But I think there are parents out there looking for a name like Hermione – offbeat, unexpected, brainy, strong – in hopes that their daughter will grow up to be just like that.
The same logic can prompt parents to use conventionally masculine names, a conventionally feminine name with a boyish short form, or a modern choice like Rowan.
But if you're looking names inspired by Hermione, here are a few options – vintage, but not delicate, and clunky, but still cool.
Inspired by Hermione: Agnes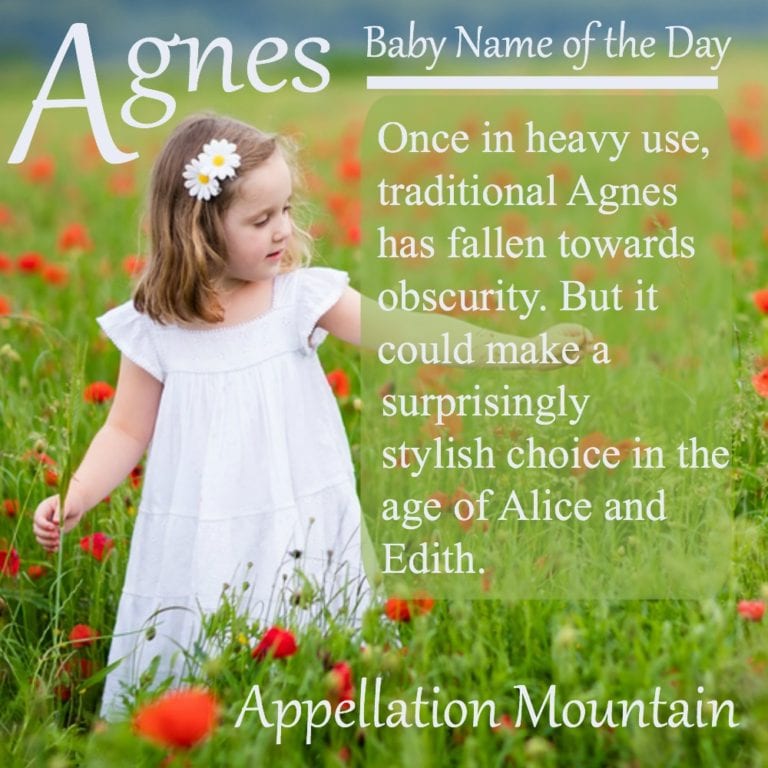 Current US popularity rank: unranked
Jennifer Connelly and Paul Bettany chose this name for their daughter, Agnes Lark. But Agnes still seems lost in the back of the antique shop. Worn by an ancient virgin martyr, a popular choice in the Middle Ages, and a nineteenth-century revival, it's been little heard in recent decades. And yet short form Aggie fits right in with Abby and Addie, suggesting that this name  but perfectly wearable, too. Agatha is another one to consider.
Inspired by Hermione: Beatrice
Current US popularity rank: #559; Beatrix is unranked
Call Beatrice the ultimate proof that smart, brainy names can make a quiet comeback. Boosted by a British princess as well as characters like Mo Willems' Trixie of Knuffle Bunny fame, Beatrice once seemed frumpy, but today feels like the kind of name that you're suddenly hearing everywhere. It occupies a space formerly owned by Charlotte, and slowly being vacated by Eleanor – the go-to name for parents seeking something enduring, but not as common as Katherine.
Inspired by Hermione: Claudia
Current US popularity rank: #761
An ancient name that feels equally right for a villain or a heroine, Claudia could fit right in with stylish -ia enders like Olivia and Amelia. Claudette Colbert offers up some old Hollywood glam with a French twist, but Claudia seems like the more substantial choice.
Inspired by Hermione: Damaris
Current US popularity rank: unranked
A New Testament name with a certain Puritan vibe, Damaris has actually been more popular in recent years than you might expect, charting in the US Top 1000 every year since 1992. This Patrick Wolf track tipped me to something I hadn't realized: it's pronounced DAM er is, not the more delicate da MER is. It almost makes me like this one more.

Inspired by Hermione: Esther
Current US popularity rank: #183
An Old Testament heroine, a former first daughter, and the name chosen by Material Girl Madonna when she embraced the study of Kabbalah, Esther has always been in the public eye. It's also rarely been out of the US Top 300, and feels rather stylish today. It ranked #267 in 2010, but had climbed to #183 by 2016. Like the chart-topping Stella, Esther can be linked to the word star. It also fits right in with all of those -r ending choices, like Harper and Piper
Inspired by Hermione: Fern
Current US popularity rank: unranked
Fern makes for a homespun, almost humble choice when compared to showier botanicals like Violet and Rose. It's also the name of the girl who so famously saves little Wilbur in the novel Charlotte's Web. Call Fern a no-nonsense nature name with a stripe of the heroic. If Wren makes the current US Top 1000, why not Fern?
Inspired by Hermione: Gretchen
Current US popularity rank: unranked
Gretchen Rubin, the bestselling author of The Happiness Project, gives this name a certain joyfulness. Gretchen comes from Margaret – definitely a smart classic for a daughter – but it stands on its own. The gruff, growly Gr combination and -er ending makes this one sound like a girl with a backbone.
Read more about Gretchen here.
Inspired by Hermione: Harriet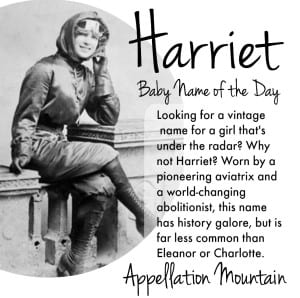 Current US popularity rank: unranked
Nickname Hattie has climbed the charts in recent years, leaving Harriet behind. But while Hattie feels sassy and spirited, Harriet sounds more like the Hermione name. Harriet is an abolitionist, an aviatrix, a spy. From Harriet Tubman to the fictional Harriet Vane, the women who have answered to this name are a daring, accomplished bunch.
Inspired by Hermione: Hermione
Current US popularity rank: unranked
Remember when Hermione dated Quidditch player Viktor Krum, and try as he might, he couldn't properly pronounce her name? Thanks to the character's fame, that would never happen in real life. The Harry Potter heroine isn't the first literary Hermione, either. In Greek myth, the name belongs to the daughter of Helen, and has enjoyed occasional use over the centuries. Today your daughter might be asked if she's named after the brave, bright witch from J.K. Rowling's series – but that's not really a bad thing.
Read more about Hermione here.
Inspired by Hermione: Imogen
Current US popularity rank: unranked
It started out as Shakespeare's typo – he read Innogen's double 'n' as an 'm.' Popular in the UK and Australia, but seldom-heard in the US, Imogen feels strong, distinctive, and nicely balanced between the familiar and the unexpected. And doesn't it sound inspired by Hermione, too?
Inspired by Hermione: Jerusha
Current US popularity rank: unranked
A J overlooked even at peak Jennifer-and-Jessica, Jerusha manages to sound modern and old school at the same time. A minor character in the Bible, this name pops up over the years in surprising places, like filmmaker Jerusha Hess – one-half of the husband and wife team responsible for Napoleon Dynamite. Jerusha's 'oo' sound is right at home with other smart, slightly off-center names like Lucy and Ruby – all while being far more rare.
Inspired by Hermione: Leocadia
Current US popularity rank: unranked
An obscure Spanish saint, Leocadia feels an awful lot like Hermione. It's a heavy name, starting with a conventionally masculine syllable, followed by a lighter, feminine ending. In many ways, they fit with the far more familiar Alexandra and Victoria. It's an elaborate alternative to Leah, and more rooted than the equally heroic Leia.
Read more about Leocadia here.
That's A through L. M through Z is available here! Are there other names inspired by Hermione that should be on this list? Do you think these names are wearable, or do they feel a little too antique or obscure?
Note: This post was published on December 1, 2011. Following substantial revision, it was reposted for International Women's Day on March 8, 2018.