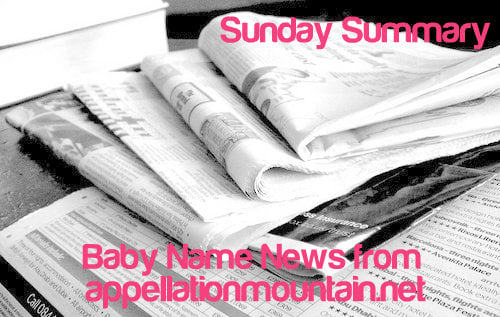 My daughter is all about Lalaloopsy these days.  I like the stitched-together look of the dolls.  And I'm fascinated by their names.  A smattering: Mimi, Marina, Jewel, Rosebud, Prairie, Peggy, Bluebell, Blossom, Holly, Goldie, Winter, Sailor, Ember, Opal, Alice, Petal, Harmony. There are a handful of boy Lalaloopsies, too, with names like Forest and Ace.
It makes me wonder – didn't dolls used to have names like Betsy?  Have doll names become more daring in the post-Cabbage Patch Kid era?  And could it be that those of us who grew up with Xavier Roberts' uniquely named creations are taking a similar approach to naming our children?
With dolls from Monster High and Lalaloopsy taking names in ever more daring directions, will the next generation of parents follow?  Someone searched the blog for Pirouette the other day, and I found myself thinking "hmmm … that could work in the middle."
Elsewhere online:
I sometimes think my fascination with French names is crazy, but then I see lists like Bree's round-up of Team France.  Anemone, Clemence, Aurore, Perrine, Mirabelle and Cyprien, Cyril, Loic, Florent, Sebastien, Sylvain.  Nope, totally justified.
Hello, data!  How great are Elea's charts on rising names in the UK?  And the names themselves are fascinating: Nancy, Darcy, Lottie, Lena along with some more elaborate choices, too, like Aurora and Arabella.  Can't wait for a boys' edition!
Speaking of Aurora, did you catch auroradawn's post at Berry Juice on Secret Identity Nicknames?  This has always struck me as a great strategy – unusual given name, popular short form.  And Lillemor and Bartolomaea strike me as very wearable with nicknames Lily and Mae.
The Stroop Effect and baby names – so true!  Though I tend to notice it in fiction far more than in real life.
I liked Duana's answer to this question: the mom wants to consider a name from Game of Thrones, but considers dad's suggestion from Mortal Kombat to go too far.  And yet, part of me thinks that Thrones has a little more credibility as a name source – they're fantasy novels, which seems a smidge more respectable than video games.  Or is it just that I like the idea of Arya but find Rayden an uninspiring choice in our Aiden/Braeden/Kaiden age?
The opposite of uninspiring: Queen Victoria wanted one of her grandchildren to be named Diamond!  Zeffy has the scoop here.

This is curious.  So Simon Cowell's new son is Eric Philip Cowell, and some have noted that Eric's final 'c' sound runs into Cowell's 'c' sound and make the name sound like Eric Owl.  For the past week, there has been a definite uptick in searches leading to AppMtn for things like "owl names" and "baby name owl."  Could it be?
Do you like these names better for a boy or a girl?  I find that I just plain like the name Rowan, for either gender.  And while I'm surprised to see Milo on a girl and Juno on a boy, it pleases me that parents are willing to be daring with name choices for daughters and sons.
More sneak peaks from Waltzing More than Matilda's new book, International Names for Girls.  Safiya is quite pretty!
This sentence sums up what parents are loving about Bodhi, I think: "… the ultimate peaceful nature name …" Part-tree, part-spiritual choice, lots of history, but a modern sound.  No wonder we're hearing a lot of him.
March Madness starts March 1st – just SIX days from now!  If you're new to the site, AppMtn March Madness pits the sixteen most popular boys' names posts against each other, and does the same for the girls.  You'll have lots of chances to vote: opening round, quarter-finals, semi-finals, and then the big match-up for the crown.  Can't wait to see who wins!
That's all for this week.  As always, thank you for reading – and have a great week!