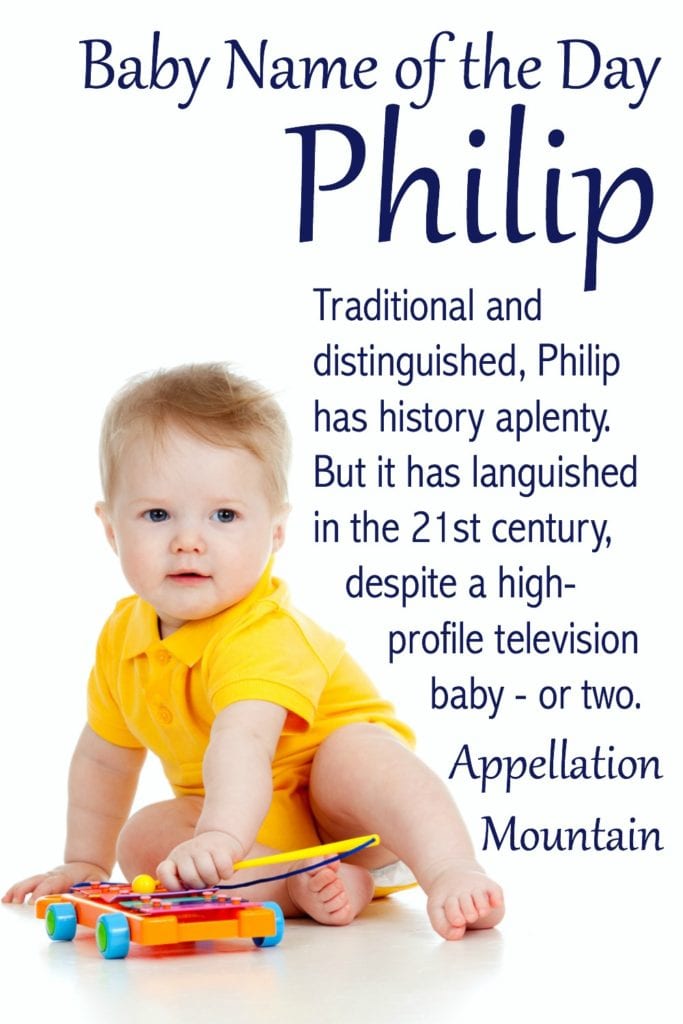 Philip is a traditional name for a boy, overlooked during much of the twenty-first century.
Thanks to Lola for suggesting our Baby Name of the Day.
Philip: One L or Two?
Phillip is the more common spelling in recent decades. It was a Top 100 go-to from the 1930s through the 1980s.
Most famous Phils spell their name with two Ls, which makes it easy to forget that the single-L spelling came first. It was in the Top 100 in the nineteenth century, ran neck-and-neck with Phillip, and was only slowly edged into second place.
The name comes from the Greek philos – friend – and hippos – horses. Phillip was initially more common as a surname form.
Philip: Of Composers and Kings
In the ancient world, five kings of Macedon bore the name, as well as two rulers of the Seleucid Empire and a Roman emperor, plus historians, statesmen and saints.
In the early Middle Ages, it became a favorite name for the Kings of France, as well as rulers of Spain, Portugal, Navarre, Burgundy, Savoy, Artois and Flanders. The current King of Spain is Felipe VI.
Philip, in fact, is the rare name that appears consistently in the historical record over centuries. More modern Philips include:
Composer Glass.
Writers Roth and Dick.
Talk show host Donahue.
Athletes, including NFL quarterback Rivers and golfer Mickelson.
Heavy metal's Anselmo, frontman of Pantera, and Thin Lizzy's Lynott.
And, of course, there's self help guru Dr. Phil and that prognosticator of prognosticators, Punxsutawney Phil, the best known of the weather-predicting groundhogs.
Among the most famous fictional Philips is the hero of Charles Dickens' Great Expectations, though he's known as Pip. It's the first name of Raymond Chandler's detective Marlowe. Nickelodeon gives us animated twins Phil and Lil DeVille on The Rugrats.
Philip: Classic on the Wane
Not surprisingly, this name translates into nearly any European language: Philippe in French, Felipe in Spanish, and Filip in many a Slavic tongue.
None of that seems to matter in the US, where the name has been falling for decades.
The double-L spelling is down to #410 as of 2015, while the single-L stands at #434.
Philip: Pam vs. Angela
I thought that Philip's fortunes might change in 2012.
When The Office's eighth season debuted in September 2011, both Pam and Angela were expecting. And both wanted to use the same name for a son: Philip. Pam was inspired by her grandfather; Angela, by her cat.
They both dug their heels in and argued about who could use the name. In the end, both television families welcomed a baby Philip.
I thought that could be the name's moment, and indeed, there was a small uptick in use of both spellings in the following year or two.
But it didn't last, and the name continues to slide.
Philip: Underused Gem
If you're the kind of parents who prefer nickname-proof names, Philip could be a surprising option. While Phil feels more like your great-uncle or maybe the nice guy down the street, use the name in full, and it's rather handsome.
Or take a page from Dickens, and call him Pip as a child.
It's a great possibility for parents crushed that Benjamin, Alexander, William, and Henry are so very popular.
What do you think of Philip? Do you prefer the name spelled with one L or two? And do you think there's any hope of a revival?
This post was originally published on December 20, 2008. It was substantially revised and re-posted on June 13, 2016.