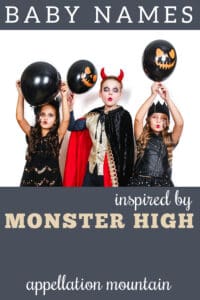 Monster High names blend the traditional and the fanciful.
They started out in the toy aisle, Barbie-sized dolls manufactured by Mattel.
Their backstory is simple: monsters were once teenagers. The students of MH are the children of some of the most famous creatures to ever haunt a horror film. Think Dracula and the Creature from the Black Lagoon, along with more generic scaries, like werewolves and ghosts.
Next, layer on all the trappings of high school, but give them a twist.
The cheerleading squad is the fearleading squad. Ghouls read Teen Scream magazine. There's Home Ick class, too. The cities of the world are transformed to Scaris and Londoom and Boo York. The school itself is located in New Salem, attracting students from all over the world.
The dolls came with webisodes. Television specials and video games followed. Oh, and merchandise. Even if you can't identify the dolls, the skull with eyelashes and a hot pink bow – the official Monsters High symbol – might be familiar.
A live action movie debuted in October 2022, and a sequel is expected in Fall 2023.
Because the dolls were first launched in 2010, the first generation of girls to grow up with Clawdeen Wolf and Cleo de Nile are probably just a few years away from naming children of their own.
Will the fictional ghouls have any impact on future baby names? Let's take a look.
MONSTER HIGH NAMES: GHOULS
ABBEY
Abbey Bominable is the daughter of the Abdomindable Snowman. Since Abigail and Abby peaked right around the year 2000, chances are this character wouldn't influence future naming trends. But it's worth noting that the daughter of the Yeti has a very current name for a teenager circa the 2020s.
AMANITA
Amanita Nightshade is the daughter of a plant monster. And that's the catch. While this name is undeniably pretty, Amanita is a genus of deadly mushrooms. The name might come from the ancient city of Amantia, now an archeological site in modern-day Albania, which might mean river-bed or spring … or could be another name derived from the Latin amor – love.
ARI
Ari Hauntington is a ghost known for her boho style. Wait, make that booho style.
ASTRANOVA
The daughter of aliens, with an appropriately space-centric name.
AVEA
The Monsters High character is half-centaur, half-harpy. As for her name? It looks like a twist on Ava. Possible meanings ranged from sunset to strength have been suggested.
Many of the characters have a pet, but this is one of only two included on the list. Azura is a blue and gold scarab beetle belonging to Nefera de Nile. The name means blue, and is just too good a possibility to overlook.
BATSY
Batsy Claro is a vampire bat, her name clearly inspired by Betsy. While Elizabeth is an evergreen favorite, perhaps the most classic of girl names, Betsy has lingered in style limbo. It's prime for a comeback, though, a name sweetly vintage and just slightly unexpected. Batsy feels less wearable.
The character's full name is Lagoona Blue, but it's the color name that is rich with potential. She's the daughter of the Creature from the Black Lagoon, and, naturally, a member of the swim team.
BONITA
Bonita Femur is part-skeleton, part-moth, one of the few hybrid monsters in the universe, along with Avea.
CATRINE
One of several werecats, Catrine is a cat-inspired take on Katherine and company. It could appeal as a successor to former favorite Kaitlyn. Except names ending with -een aren't quite back in favor just yet. Another character answers to Catty.
CASTA
As the Monster High universe expanded, more and more characters from mythology were introduced. That includes Casta, daughter of the mythological Circe. Her full name is Casta Fierce, and she's the lead singer of the band Casta and the Spells.
CLAWDEEN and CLAUDINE
All the Claud- names remain in style limbo, but that could change. The werewolf's daughter is Clawdeen Wolf. She has a sister named Clawdia Wolf, along with brother Clawd Wolf and sister Howleen Wolf. Swap-out the Monster High spellings for Claudia, Claude, Claudine, and maybe even Claudette, and they feel a little more like sophisticated, surprising choices for a child.
Cleo de Nile is the mummy's daughter, younger sister to Nefera, and one of the series' main ghoulfriends. She's royalty, of course, and maybe a little bit of a mean girl, too. As a given name, Cleo had a good run in the 1920s and 30s. The similar-sounding Chloe dominated the 1990s and early twenty-first century. No surprise that Cleo is back in the  US Top 1000 and climbing. 
DAYNA
Dayna Treasura Jones is the daugther of legendary pirate, and sometimes pirate-ghost, Davy Jones. Dana was a white hot name in the 1960s and 70s, making it feel a little dated circa the 2020s … but that could change as more time passes.
ELISSABAT
Another vampire, fate has made Elissabat  the future queen of all vampires. But before accepting her role, she flees to Hauntlywood and pursues an acting career as Veronica Von Vamp. While Elissabat is clearly a bat-inspired spin on Elizabeth, the classic name has taken so many forms over the years that it's almost wearable.
ELLE
Elle Edee's full name is a play on LED. After all, she's a robot. As Monster High names go, it's among the most mainstream.
Frankie Stein is the daughter of Frankenstein's monster. A name on the rise, Frankie is sometimes short for Frances or Francesca, but also bestowed independently. The Monster High character equals a built-in Halloween costume for any school-aged Frankie.
GIGI
In the series, Gigi is the genie's daughter. While it's rare as a given name, it's a great nickname option for longer choices like Genevieve and Georgia.
HONEY
The Honey Island Swamp Monster, also known as the Cajun Sasquatch, is Louisiana's answer to Bigfoot. The series takes us to New Goreleans, where we meet his daughter, Honey.
Iris Clops is the daughter of the cyclops, and a stylish flower name, too.
JINAFIRE
A clever twist on Jennifer, Jinafire looks like a ghoul, but she's actually a dragon.
JULIA
Actually, that's Ghoulia Yelps, a whipsmart zombie and BFF to Cleo de Nile.
KALA
Kala Mer'ri is a sea monster, the daughter of the Kraken.
KIYOMI
Quiet and soft-spoken, Kiyomi is a ghost from Japan.
LAURA
Well, Draculaura to be exact. She's a vampire, of course. But she's also a vegan. Draculaura is at the center of the series' action from the beginning right through the current movie.
LORNA
An exchange student from Rotland – aka Scotland, Lorna McNessie is the daughter of the Loch Ness Monster.
Luna Mothews is the daughter of the Mothman. It's popular in the real world, but feels very at home among Monster High names, too.
MARISOL
Another exchange student, Marisol hails from Monster Picchu. Her dad is a South American bigfoot.
OPERETTA
While Operetta doesn't seem particularly name-like, it's fitting for the daughter of the Phantom of the Opera.
Purrsephone is an obvious choice for a werecat. Spell it Persephone and the name is inevitably following Phoebe, Penelope, and other ends-with-e Greek names for girls up the popularity charts.
River Styxx is the daughter of the Grim Reaper.
ROBECCA
Robecca Steam's dad is a mad scientist.
ROCHELLE
Rochelle Goyle is the daughter of gargoyle parents.
SIRENA
A ghost-mermaid mix with an appropriately haunting name.
SPECTRA
The daughter of ghosts, Spectra Vondergeist is known as the editor of the Gory Gazette at Monster High.
TORALEI
Toralei Stripe is a werecat, something of a troublemaker, and a name that has yet to register beyond the MH universe. But adding -lynn and -lee onto existing favorites has long been a popular way to form a name. With vintage choices like Coralie and Rosalie so stylish, Toralei fits right in.
VANDALA
The daughter of pirate ghosts, Vandala Doubloons attends Haunted High, a ghost-focused school.
VENUS
Venus McFlytrap is the daughter of a plant monster. This name reads more goddess/planet/tennis champion than Monster High student, and yet the series further demonstrates just how wearable this name can be.
Twyla is the daughter of the Boogie Man, a night-time specific name with a disntictive sound that brings to mind twiglight and legendary dancer/choreographer Twyla Tharp.
VIPERINE
Viperine Gorgon is the daughter of Medusa. While Viperine seems like a stretch as a given name, we do love an ends-with-ine choice, from Josephine to Emmeline.
MONSTER HIGH MANSTERS
CLAWD
Mentioned with his sister Clawdeen, Clawd Wolf is one of the more familiar mansters in the series.
DEUCE
Deuce Gorgon, son of Medusa, takes his name from mom's middle syllable. But in our age of Ace, it's not quite as surprising as it might otherwise have been.
FINNEGAN
Merman Finnegan Wake has a name that's surprisingly literary. Wonder if they read James Joyce in their English class?
GARROTT
A gargoyle from Scaris – that's Paris in the Monster High world – Garrott DuRoque even has wings. Garrott looks like a moster-fied take on Garrett.
GIL
Short for Gillington Weber, a river monsters' son.
Heath Burns is the son of two fire creatures.
HOLT
Here's an interesting character: Holt Hyde has flaming hair. a talent for DJing, and an alter ego, courtesy of his mother's descent from a famous family.
Jackson Jekyll is the other half of Holt Hyde, the great-grandson of Dr. Henry Jekyll. Strictly speaking, Jackson is human. He's a science whiz and MH student; in fact he's the only (mostly) human there.
MANNY
Manny Taur is the son of the Minotaur.
MEMPHIS
A spider, Memphis is an Elvis-styled pet to Operetta.
PORTER
In another clever play on words, Porter Geiss is the son of a poltergeist. It's a stylish favorite in the real world, as well as among Monster High names.
Would you consider any of the Monster High character names on this list? 
Originally published on October 25, 2013, this post was revised substantially and re-published on October 6, 2022.