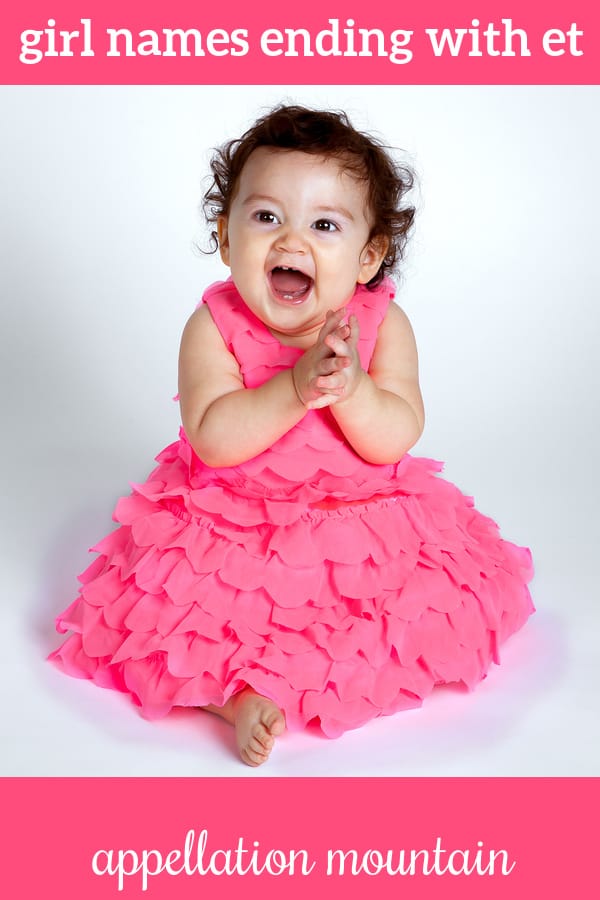 Girl names ending with ette are the It Girls of the twenty-first century.
The term "It Girl" dates to the early 1900s. Clara Bow was called an It Girl. So were Audrey Hepburn, Diana Ross, Ali McGraw, Winona Ryder, Halle Berry, Zendaya, and more famous faces. They earn the title as rising stars, known for talent and beauty alike.
But while their names run the gamut, girl names ending in et and ette share certain qualities.
They sound distinctively feminine, but not nearly as frilly as the girl names ending with lia or ella.
The ette ending girl names tend to be French, but names on this list come from all over the world.
POPULAR GIRL NAMES ENDING IN ET AND ETTE
They're the leaders of the pack, the most popular of the group.

CHARLOTTE
Maybe Charlotte doesn't fit on this list. But it's the #3 name in the US, an unstoppable classic that parents adore. Spelling it Charlette would fit better, but really, there's no need to mess with perfection.
We all recognize Colette, short for Nicolette, which comes from Nicole. But it's far less common than some of the et options, while still feeling timeless and stylish, too.
Add them together, and Juliet/te is a pretty popular name. Juliette out ranks the sparer Juliet.
Does it count as an et name? Let's say yes, because it's a classic that benefits from the distinctive ending sound.
Speaking of It Girls, Scarlett Johansson put her colorful name on parents' radar. Scarlet and Scarlette are seen, too, but the -ett ending is undeniably tops.
Another favorite -et ender, Violet has been boosted by botanical and color associations. And, of course, there's Downton Abbey's delightfully acid-tongue Dowager Duchess.
FAMILIAR ET ENDING GIRL NAMES
Many of these names have had a good run in the past. Some of them could be ripe for revival! Others wait just beneath the radar, emerging possibilities that could be the next big thing.

ANNETTE
A Baby Boomer name, thanks in part to the most famous Mouseketeer, the late Annette Funicello. It's a French diminutive for the classic Anne.
ARLETTE
The Germanic Herleva is one of those medieval names that hasn't made it out of the castle keep. The French form, Arlette, became a hit in France during the 1930s. More recently, it's attracting attention in the US.
Sofia Coppola's 2006 movie showed us a different side of Marie Antoinette. Literary Antonia and elaborate Antonella are the favored feminine forms of Anthony right now, but Antoinette has history. Antonette is another possibility.
BABETTE
Short for Elisabeth or Barbara, Babette is sweetly French. But it feels more like an independent name than a diminutive.
Saintly and, thanks to The Big Bang Theory, brainy, Bernadette peaked in the 1940s. Rich with nicknames and boosted by the et ending, it feels like a candidate for revival.
BETTE
Bette Davis pronounced it like Betty; but Bette Midler rhymes her ends-in-ette name with Jet.
Irish heritage picks like Maeve are climbing. Bridget, Bridgette, Brigitte, Brigette, and other forms of this international name remain surprisingly rare, but solidly traditional.
CLAUDETTE
If silver screen names like Ava and Audrey appeal, then why not Claudette? Claudette Colbert starred in many a Hollywood favorite, earning an Oscar for It Happened One Night in 1934.
From the pages of Les Mis to Broadway and the big screen, Cosette probably has origins in an affectionate nickname, rather than a given name. But if Colette and Cosima are possibilities, why not Cosette?
DANETTE
Danielle remains the most popular feminine form of Daniel, but Danette has seem some use, too.
ELLIETTE
Also spelled Eliette, it's a French feminine form of Elijah. Of course, it also looks like an elaboration of Ellie or a twist on Elliot. Whichever origin you prefer, it's an on-trend choice.
A name invented for stone age fantasy flick 10,000 BC, Evolet is "the love" spelled backwards, minus the h. With Everly, Evelyn, and more Ev names for girls rising, Evolet holds some promise.
Georgia is a favorite for many parents, but add the -ette ending, and this feels like a sparky, retro alternative to Juliette. Nicknames Gigi and Georgie are a plus.
A feminine form of Henry less elaborate than Henrietta or Henriette, Harriet feels sensible and grounded. Nickname Hattie ranks in the US Top 1000, but Harriet might not be far behind.
Janet Leigh was the It Girl of an earlier generation, her star turn in Psycho impossible to forget. Then came Janet Jackson. But this feminine form of John peaked in the 1940s, making Janet more likely to be the grandmother than the newborn today.
JEANETTE
The French Jeanette was the height of glamour in the 1930s. It's also spelled Jeannette.
JOSETTE
Another Jo- name, Josette was once short for Josephine. Today it feels like a separate name.
LAURETTE
Laura is a classic. Lauren is Bacall. Laurel is a straight-up nature name. And Loretta is a Coal Miner's Daughter. So why not Laurette?
Originally a pet name for Elizabeth, this name made waves when the Duke and Duchess of Sussex welcomed daughter Lilibet Diana in June of 2021. Her great-grandmother is, of course, Queen Elizabeth – who was called Lilibet as a child.
MARIETTE
A frilly French diminutive of Marie, it was the name of Catherine Zeta-Jones' character from The Darling Buds of May. The story was that Mariette's dad wanted to name her Marie Antoinette, but decided it was a bit much – so they smooshed it together and came up with this instead.
NANETTE
No, No, Nanette became a Broadway hit in the roaring 20s. Nanette was the It Girl of the musical romp, and it was a good choice – nicely ahead of the fashion curve, popularized by the musical and a pair of big screen adaptations. Today Nanette feels vintage – and, possibly thanks to fashion designer Nanette Lepore – not quite so dated.
NICOLETTE
An elaboration of 1980s favorite Nicole, actor Nicollette Sheridan kept her name in the spotlight. The name's peak coincides with her star turn as Paige on Knot's Landing in the 90s.
Odette has graced the lists of trending baby names, and it has an effortlessly cool vibe. The name of the white swan in Swan Lake as well as a hero of the French Resistance during World War II, Odette is authentically French and nicely artistic. It's daring, but wearable in our age of girl names ending in et.
PAULETTE
This one is a little more common than Danette, but another example of the -ette as feminine ending. Ziegfield Girl-turned-Hollywood actress Paulette Goddard – born Marion Pauline – lends it some retro glam.
SUZETTE
French and frilly, and reminiscent of Crêpe Suzette – a recipe calling for liqueur and a lighter – Suzette might be less wearable than Susannah today.
VIOLETTE
Is it Violet with an extra -te for flourish? Or pronounced the French way, vee oh LEHT or vyaw LEHT? Either is possible.
Also spelled Ivette and sometimes Evette, it's as authentically French as Odette, but has more of a mid-century vibe.
WORD NAMES ENDING IN ET
They're daring, even daffy. But some of them could wear well in our anything-goes naming environment. 
ALOUETTE
The French word for a meadow lark, Alouette is familiar to all from the children's song.
AVOCET
A long-legged wading bird, and a character name from Miss Peregrine's Home for Peculiar Children. 
BLUEBONNET
A flower name much less familiar than Lily or Rose.
Part-preppy nickname name, Cricket feels at home in the 1980s, wearing pearls and Patagonia with Muffy. Then Busy Phillips welcomed a daughter called Cricket, little sister to Birdie. Now it seems more like an edgy nature name.
A sparkling gemstone name, Garnet comes in many colors – though we often think of it as dark red. That brings to mind et ending chart-topper Scarlett.
Kismet would make a bold name, but then again, Destiny has been a popular choice for girls in recent years. It means fate, from the Arabic qismah.
LINNET
Bird names are big, and Linnet could fit right in with Lark and Wren – a small songbird. Of course, Linnet also feels like a respelling of Lynette, which is less like a modern noun name and more along the lines of Annette and Jeanette. Linette splits the difference.
MINUET
It means small, but back in the day, the minuet was huge – a fashionable dance in 1600s France. It's also the term used to describe the type of music. That puts Minuet in the same category as Harmony, Aria, and Lyric.
POET
Literally literary names are a trendlet, with kids answering to Story and Legend and Fable, too. Why not Poet? Soleil Moon Frye has a daughter named Poet Sienna Rose – and a son named Lyric.
Another word name, a type of poetry. Sonnet might be one of the most wearable rare girl names ending in et.
SUNSET
Sunsets are gorgeous, colorful moments, created when the sun slips below the horizon each day. If Sunny is a Top 1000 girls' name, Sunset could be close behind. Except a sunset is an ending, which might not be the most auspicious meaning.
VELVET
Enid Bagnold gave this name to a young heroine in her 1935 novel National Velvet. In 1944, a very young Elizabeth Taylor rose to stardom in the role. But it wasn't until the television adaptation in the 1960s that Velvet had a moment of popularity as a girls' name, appearing in the US Top 1000 from 1961 through 1964.
RARE GIRL NAMES ENDING IN ET
If Kismet and Velvet aren't out-there enough for you, here are some more girl names ending with et, all of which are rare, rare, rare. 
ADERET
It's a Hebrew name, possibly meaning given cape, crown, or glorious.
An uncommon form of Adelaide, Alette feels light and airy.
AMORET, AMORETTE
From the Latin amor, meaning love. Amoret is a character in Edmund Spenser's 1590 poem, The Faerie Queene. 
ANCHORET
Welsh name Angharad means "much loved." It's the name of a character in medieval Welsh literature, and it's been used in Wales for centuries. Anchoret was an early attempt to Anglicize the name. It's less common than even Angharad now, but might be easier to pronounce for Americans.
ANICETTE
A French name from a Greek work meaning invincible.
ANJANETTE
Texas-born Anjanette Comer guested on many a popular television series in the 1960s and 70s, and landed a handful of film roles, too. It was just enough to put her unusual Annette-adjacent name on the popularity charts.
ANNABETTE
An Anne-Elizabeth smoosh that's unexpected, but undeniably pretty.
Another Hebrew name, this one sounds a little bit like "I yell it" and means gazelle. But there's a celestial aspect to Ayelet, too. The morning star is also known as the "gazelle of the dawn."
INGARET
A reader favorite, Ingaret is most likely another cousin to the Welsh Angharad, with the amazing meaning "much loved." But Inga is a very common name element in Old Norse – and in Scandi languages today – so it's possible there's more than one story behind this name.
ISABETTE
There's Elizabeth and Isabella and the Italian Elisabetta. Isabette is rare, but a possibility in our age of Isobel and Eliza.
KINNERET
You probably know it as the Sea of Galilee. But in Israel, this large, freshwater lake is called Kinneret. It might come from the Hebrew word kinnor, meaning harp, and referring to the lake's shape. Biblical place names, like Eden and Shiloh, are favorites, so why not Kinneret?
LISETTE
A French diminutive for Elisabeth, rare in English, but easily accessible at the same time. Lizette is another option.
LUCETTE
Another French borrowing, Lucette comes from Lucie, the French form of Lucia.
It's most likely a form of the Arthurian Eluned, but with Luna in vogue, it reads like another moon-inspired name.
MARET
Maret is a contracted form of Margaret, also spelled Marit, and heard in Scandinavia and the Baltic states. While this name has never cracked the US Top 1000, it feels spare and modern, but carries all the history of the regal, saintly Margaret.
MIGNONETTE
Princess Diaries fans will recognize this as part of Mia's full name. She's Amelia Mignonette Thermopolis Renaldi, princess of Genovia. Mignon means cute; adding the -ette ending makes this even cuter. But the pop culture princess takes it in yet another direction.
A sweet name, a spin on the super-popular Mia, but also a French word meaning crumb. It's used as a term of affection, not a personal name. Think of it as a form of Mia, though, and there's less of a concern.
MINETTE
Many traditonal girls' names shorten to Mina; it's a short leap from Mina to Minette.
PIERRETTE
Pierre is the French form of Peter; Pierrette, the feminine equivalent.
WINSLET
Borrowed from Hollywood A-lister Kate Winslet.
YAMILET
In Spanish, the Arabic Jamila – beautiful – becomes Yamila. And Yamilet – as well as Yamileth – are variant forms in use in Latin America.
What are your favorite girl names ending with ette?

First published on August 1, 2014, this post was revised and updated on August 8, 2020 and again on August 31, 2023.