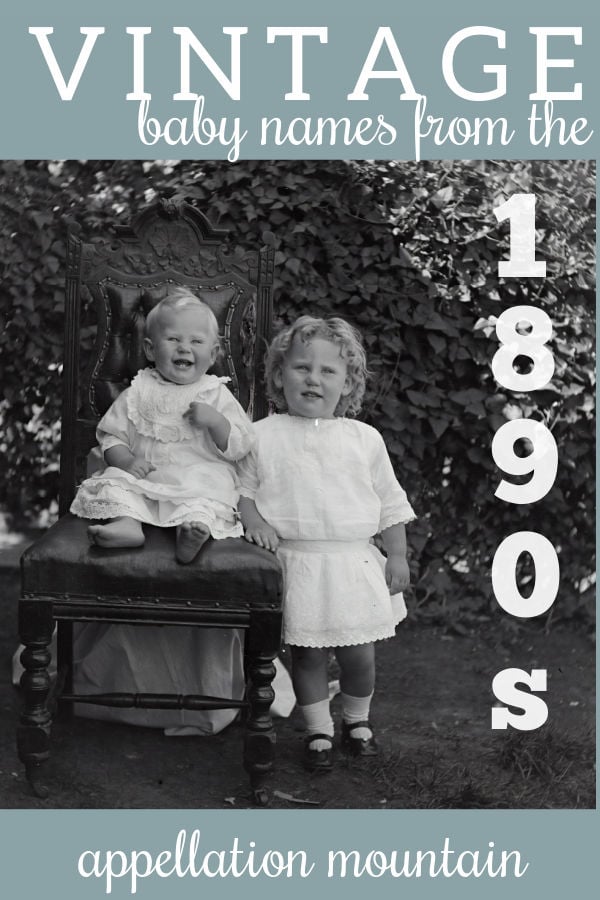 1890s baby names range from traditional favorites to names we've nearly forgotten.
The names on this list would've felt downright ordinary by 1890s standards. They're all drawn from the 100 most popular names for the decade of the 1890s here, compiled by the US Social Security Administration.
James and Anna make the list, of course. Elizabeth and William, too. Some, like Julia and Jesse, aren't quite as classic, but belong in any era. And some, like Leo and Cora, are back in the US Top 100 today.
But the twenty names on this list? They're possibilities feels at least a little bit overlooked – even if some of them are beginning to stage a comeback. Others might feel downright daring for a child born more than a century later.
If vintage gems are your thing, some of these 1890s baby names will almost certainly appeal.
1890s BABY NAMES FOR GIRLS
Sometimes – but only sometimes – used prior to the Crimean War, the name caught on in English after British and French soldiers defeated the Russians at the Battle of Alma, named for a nearby river. But that was the 1850s. What explains Alma's rise to just above the Top 50 in the 1890s? It's not clear. But today, Alma works for yet another reason – it's the Spanish word for soul.
It often appears on lists of names that will never make a comeback. But don't you love nickname Trudy? And doesn't Trudy work well in our Ruby/Lucy age? Saintly, literary, regal Gertrude was given to 23 girls in 2018, up from just 9 in 2009. Maybe it's slowly making a comeback.
Tori Spelling named her daughter Hattie in 2011, and Spelling is an on-trend namer – her other children are Liam, Stella, Finn, and Beau. Sure enough, the name re-entered the US Top 1000 the same year. But this nineteenth century favorite has yet to return to the Top 100, where it ranked throughout the 1880s and 90s. Still, Hattie fits right in with sparky nickname names like Sadie and Millie.
"Goodnight Irene" was recorded in 1933, but the name was popular for girls in the decades leading up to the song. The name climbed steadily in the late nineteenth and early twentieth centuries, eventually spending a few years in the Top 25. The name's tailored, straightforward vibe matches well with other 1890s baby names, like Ruth and Louise.
We love Charlotte and Elizabeth, but somehow the equally traditional Louise has been overlooked. Frillier Louisa re-entered the US Top 1000 in 2014, and Louise followed in 2016. But back in the 1890s, it was a different story. Louise ranked between #30 and #50 throughout the decade.
A sister for Genevieve, an alternate to Madeleine, the French form of Margaret feels both familiar and surprising. While it's seldom heard today, Marguerite reached #78 in 1897 – the name's highest rank. It's currently not even in the US Top 1000.
MARION
Long-time #1 name Mary has fallen from the top of the charts. But tailored Marion deserves a second look, especially for parents drawn to equally elegant and restrained choices like Eleanor and Katherine. Originally a French diminutive for Marie, the name brings to mind Robin Hood's Maid Marion and The Music Man's Marian the Librarian. The -on spelling is used for boys as well as girls; Marian is almost exclusively feminine in English. Marion entered the US Top 100 in 1891, and would stay there through 1936.
A frills-free, yet feminine, choice for a daughter, Pearl ranked in the US Top 30 for well over twenty years. Gemstone name Ruby is a current favorite, opening the door for vintage Pearl to make a comeback.
Traditional and Biblical, Ruth offers a brief, tailored sound and feminine style. That was a winning combination in the 1890s, when Ruth reached as high as #3. What explained the name's rise into the US Top Ten? Credit the 1891 birth of Baby Ruth Cleveland, daughter of President Grover Cleveland and his wife, First Lady Frances Cleveland. Her birth was a sensation, perhaps something like a British royal or maybe a Kardashian birth today. (Though, of course, without Twitter.) That makes it a must on any list of 1890s baby names.
Love Molly and Sadie, but prefer something less popular? 1890s favorite Sallie delivers. Like Sadie, Sallie started out as a short form of Sarah. It hasn't been in the US Top 100 since 1900, though Sally – with a y – became a hit in the 1930s and remained popular through the 1950s. Perhaps that why Sallie doesn't quite feel like a vintage gem – yet – but it's only a matter of time.
1890s BABY NAMES FOR BOYS
A great meaning – noble and bright – combined with several notable bearers makes Albert a household name. From Queen Victoria's prince consort to Albert Einstein and Albert Pujols, notable men by the name abound. Nicknames, too, are plentiful, from Al and Alby to Bertie.
EARL
Grand names like King and Legend feel commonplace these days. But somehow Earl feels more like somebody's grandpa than an epic boy name, even though it was a noble title and originally meant warrior. Earl reached #20 in 1894, and was a Top 100 pick through the 1950s. Even though it's lost much of its aristocratic shine, Earl has a different kind of down-to-Earth appeal today.
Carter, Hunter, Asher, Ryder, Connor are all favorites today. Antique Arthur is enjoying a revival. So how 'bout Elmer? It makes the list of 1890s baby names because it was at its most popular in the decade, ranking in the US Top 40 consistently. Today's it's all Elmer Fudd and Elmer's glue … but does it have to stay that way? 145 parents chose the name in 2018, keeping it under the radar but suggesting that some daring namers still see the name's appeal.
ERNEST
We all know the importance of being Ernest, thanks to Oscar Wilde's witty 1895 comedy, which made famous the play on Ernest/earnest. It also makes this name a must for a list of 1890s baby names. Despite the different spellings, the name and the word share the same roots and originally meant serious. Ernest was a Top 30 favorite throughout the 1890s, and Earnest was just outside of the US Top 100. Author Ernest Hemingway was born in 1899.
Is it fair to call Francis a neglected name? The popular Pope Francis has put it on the radar of many parents, and it seems like Francis names are on the rise. And yet, the name hovers just inside the Top 500, which is far from common. So let's say yes. This former Top 100 favorite qualifies as one of the 1890s baby names we could hear more often.
Frederick has a lot in common with favorites like Alexander and Theodore. They're big names – lots of syllables, lots of sounds. Frederick ranked in the US Top 100 from 1880 through the 1950s, meaning that it can be found on plenty of family trees. It's also a heroic Harry Potter name, and the source of Freddie, the adorable nickname name chosen by One Direction's Louis Tomlinson for his son. Frederick has fallen over the decades, and sits barely inside the current Top 500 – meaning it's not likely to be the next big thing anytime soon, and a safe bet for parents after an under-the-radar classic.
There's something quirky-cool about Otto. Maybe it's that great 'o' ending. Or maybe it's that Otto is a palindrome. Either way, Otto has come full circle. A Top 100 choice in the 1890s but obscure by the 1970s, Otto has recently re-entered the US Top 1000. It could fit right in with Leo, Milo, and Arlo.
PETER
From Saint Peter to Peter Pan to Peter, Paul, and Mary to Peter Capaldi, this classic boy name has endured. During the 1890s, Peter hovered around Top 50 mark, a place it remained well into 1970s. But today, Peter is stuck sharing a bunk bed with the rest of The Brady Bunch, a name that's in style limbo, rather than acknowledged as a true classic.
Ralph instantly brings to mind the little boy from A Christmas Story, which makes it seem adorable – but, since the movie was set in the 1940s, perhaps not quite ready for revival. Pronounce it Rafe – as in British actor Ralph Fiennes – and it seems instantly cooler and suave. (But perhaps an exercise in frustration, as it might be a tough pronunciation to stick.) And yet, just Ralph, rhymes with Alf, has a certain clunky-cool appeal. It hovered around the Top 30 mark beginning in the 1890s, and would remain in the 20s and 30s for decades.
RAY
Ray feels retro and modern at once. With boys answering to names like Jax and Dash, Ray is an obvious choice. The name has plenty of history, too, making it a possibility for parents interested in 1890s baby names. Ray brings to mind jazz great Charles, as well as celebrated author Bradbury. Rey is the Spanish word for king, and the name of the Star Wars heroine.
Are there any great 1890s baby names I've missed? Would you 

consider any of these for a child? And have I lost my mind with Gertrude?



First published on February 24, 2016, this post was substantially revised and re-published on August 26, 2020.