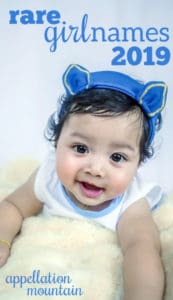 Today we'll look at rare girl names 2019. Every one of these picks was given to just eight girls born between January 1st and December 31st of 2018.
That makes them very rare, indeed. Consider this: parents named 18,688 girls the #1 name, Emma. And even the names perched at the very edge of the US Top 1000, like Kimora and Maliah, were given to around 259 newborns.
The great eights? They fall solidly into the so-rare-you'll-never-meet-another category.
Agape
The Greek word for love, worn as a given name by early saints, Agape seems quirky, even extreme. Except we're naming girls Chloe and Daphne and Penelope, so is ah-gah-peh any tougher to say? Maybe … but I think the meaning and possible nickname Aggie could make up for it.
Ajani
I've heard a handful of meanings for this Yoruba name from western Africa, including warrior. But the one that sticks with me is this: "we fought to have her." It's also used in Jamaica, though I'm not clear if it's the same name or one that happens to be similar.
Anandi
An Indian name, Anandi sounds joyful – and the meaning matches. It comes from the Sanskrit word for happiness.
Bijou
Few words sound like Bijou, a French term referring to something small and elegant, like a piece of jewelry. Model-actor Bijou Phillips, daughter of The Mamas and the Papas' musician John Phillips. It sounds a little out-there, but shares that lou sound with favorites like Luna. Plus, we're wild for Ruby and Gemma is on the rise. So Bijou might fit right in. Read more about Bijou here.

Clary
Clara and Claire are wildly popular girls' names, classic and stylish at once. Clary could be a nickname form of either, or a longer name like Clarice or Clarissa – as in The Mortal Instruments' Clary Fray. And then there's the herb clary, which lends another dimension to this name.
Doria
A lovely -ia ending choice for a girl, Doria has been in the news lately thanks to Doria Ragland, mother of Meghan Markle.
Dulcinea
Long and elaborate, Dulcinea combines a literary pedigree with a great meaning. It's the name of Don Quijote's beloved, the fair maiden to whom he's hopelessly devoted. As for meaning, it most likely comes from the Latin dulce – sweet.
Edelweiss
We might never run out of flowers to inspire girl names. Edelweiss appeals for a second reason, too – the charming lullaby from The Sound of Music. Read more about Edelweiss here.
Eleven
It sounds quite a bit like traditional Evelyn, though of course, Eleven is on our radar thanks to the spooky, chart-topper Netlifx hit Stranger Things. Read more about Eleven here.
Hestia
We love a good goddess name. Hestia comes from the Greek goddess of the hearth, the keeper of the home and all things domestic.
Illyria
Lyrical and literary, Illyria is a historical region in southeastern Europe. It's also often borrowed as a place name by writers, from William Shakespeare to Lloyd Alexander. Read more about Illyria here.
Kinga
It looks like an attempt to name your daughter King. Or Queen? But it's not at all. Instead, it's a Polish form of the medieval Germanic name Kunigunde, mostly forgotten elsewhere, despite a few appearing in the history books. Read more about Kinga here.
Laïs
Straight out of the ancient world, it's a lovely looking name. But the pronunciation could be baffling. I've heard lah EES, but I suppose Americans might say it more like lace. Still, I think it's a rarity that could work.
Lilias
Don't you just love a good Lily name? Lilias – and sometimes Lileas – are the Scottish forms of Lillian, both elaborations of Lily, which probably started out as an Elizabeth nickname. Today it's just different enough.
Nolia
With Amelia and Emilia, Natalia and Cecilia so much in favor, other -lia ending girl names deserve a look, too. Nolia probably comes from Magnolia, but stands on its own nicely.
Pax
Despite the popularity of Max and Jax, we're not stealing Pax from the boys. Nope, they borrowed it from us. In Roman mythology, Pax is the goddess of peace. It remains more common for boys, but it's pretty unusual for both.
Psalm
Yes, parents had discovered this meaning-rich word name ages before Kanye held a Sunday Service.
Rubina
Ruby has held a place in the US Top 100 for the last six years. Rubina looks like a Reuben-influenced elaboration, but it's actually from rubino, the Italian word for the gemstone.
Yardley
A sister for Presley, an alternative to Marlowe, Yardley seems buttoned-up and slightly British. After all, Yardley of London has produced fragrances for decades.
Those are my picks for rare girl names 2019. Do you have any favorites from this list?