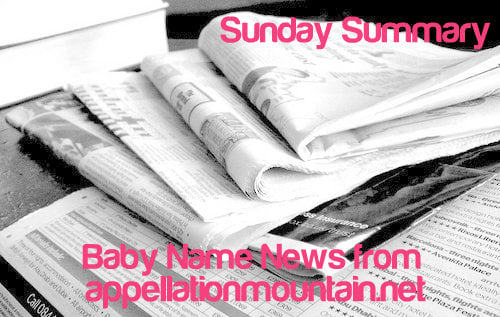 Two name stories.
My uncle passed away recently.  During his memorial service, someone told the story of his birth.  When he was born, his grandfather was critically ill, and would pass away just days later.  While he never got to meet his newest grandson, Vincenzo was told that the child would bear his name – Vincent.  "Are you happy?" Vincent's father, my grandfather, asked.  "Very happy."
Even at the end of your life, the story of your name stays with you, connects you to generations long laid to rest, and ties you to to generations you will never meet.
Another story, this time the joyful story of a long-awaited child.  The mother hesitated to use a family name, for fear it might be not current or pleasing.  (Think of an evergreen classic, like Elizabeth.)  I'm delighted that she chose to stick with the name.  It's so rich with significance, it seemed a shame to sacrifice it for considerations of style.
I do understand the impulse to start fresh, to give children something of their very own.  And not every family has happy memories to bestow along with a great name.  But if you do, it is worth considering.
In other news:
Oh, I like the idea of creating a new family name!  (A stark contrast to my cheerleading for family names above, I know.)  But there's something appealing about beginning a new life together with a completely new name that reflects your values, experiences, or aspirations for your family.
Looking for a formal name for Dax?  I think Daxos could work.
David Arquette says he won't give his baby boy on the way a "quirky" name.  He's also hinted that he'll be honoring his grandfather Cliff with the name.  Could it be Charley?  Cliff Arquette, patriarch of the acting family, was born Clifford Charles, and his most famous character was named Charley.
Aela Mass shared her first-ever list of baby names!  I wish I'd kept the lists I scribbled in notebooks in my much younger days.  While I remember some of them, I'm sure there were some passing fancies that would be a real kick to hear today.
Tess and Sem are the #1 names in the Netherlands.  I love all of the short, spare names on their list.
Place names from Seychelles to Sicily made it onto birth certificates in the Netherlands, along with some more interesting choices.
Then there's the projected Top 20 from Poland – I love Antonina, the total opposite of the slim, spare Tess.
Then there's Wilhelmina, profiled at Upswing Baby Names.  Could she follow other elaborate names like Alexandra into wider use?
Oh, I know how this expectant mother feels!  But unless you're Uma Thurman, you probably can't combine Aurelia, Althea, and Lyra in one name.
These names from early nineteenth century Naples are delicious: Chiarina, Fortunata, Raffaela.
Yay – Elea has completed her Scandi series!  I like this list of Scandi Particulars, especially Soren, Esben, Sunniva, Lumi, and Lillevi.
All the Bell– names you could ever want.
Some great possibilities in the shade of blue.  I think of Wren as a modest little bird, but wouldn't you know it?  Some of the birds are a brilliant shade of blue.
Lastly, congratulations go out to Baby Names from the Bible on reaching 100,000 page views.  And isn't the name nut wallpaper grand?
That's all for this week!  As always, thank you for reading, and have a great week.