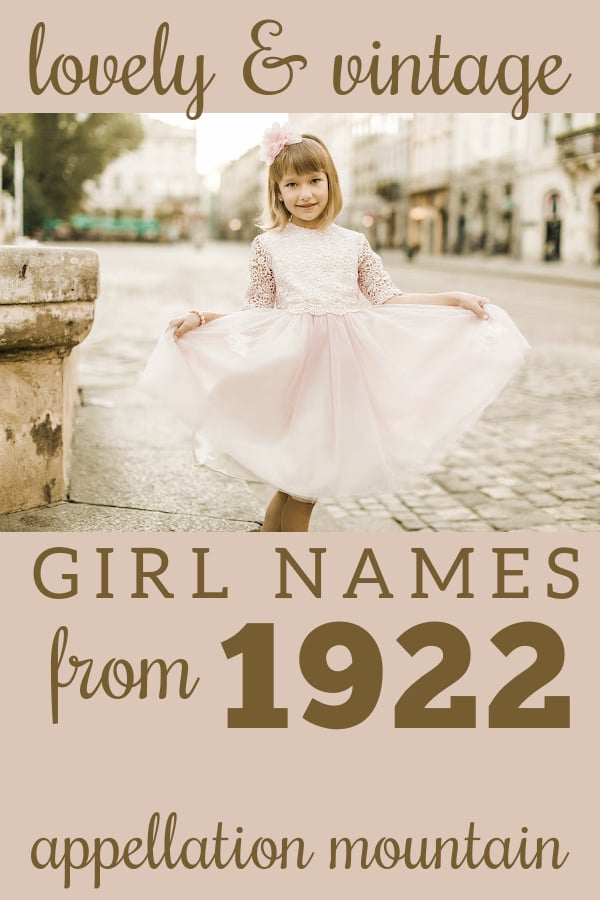 1922 girl names range from classic Margaret and Elizabeth to vintage gems like Esther and Pearl. Some, like Wilma and Bernice, still feel stuck in style limbo, while a few more – Rita, Betty, Mabel – feel ready for revival.
The hundred year rule says that 1922 favorites ought to feel fresh and new, just in time for 2022.
It's never that simple, of course.
Mary topped the charts for so many years that parents still perceive it as popular – even though a baby girl named Mary is rare (and refreshing!) today.
But if you love names with history and antique appeal, turning the clock back a solid century is a good place to start.
First we'll look at the official Top 100 from the year 1922. (Look up the entire Top 1000 here.)
Then we'll look at names on the fringes way back then – but surprisingly stylish today. The second list proves that 1922 girl names are worth a closer look, from the former favorites to the names on the edges.
MOST POPULAR 1922 GIRL NAMES
Mary
Dorothy
Helen
Margaret
Ruth
Betty
Virginia
Mildred
Elizabeth
Frances
Doris
Anna
Evelyn
Marie
Alice
Marjorie
Irene
Florence
Lillian
Jean
Martha
Louise
Rose
Catherine
Gladys
Ruby
Josephine
Eleanor
Edna
Annie
Thelma
Ethel
Lucille
Edith
Lois
Pauline
Hazel
Grace
Shirley
Barbara
Bernice
Marion
Beatrice
Esther
June
Norma
Clara
Gertrude
Ann
Emma
Sarah
Rita
Phyllis
Katherine
Jane
Lorraine
Juanita
Geraldine
Elsie
Julia
Gloria
Agnes
Bertha
Eva
Ida
Anne
Marian
Laura
Patricia
Willie
Pearl
Viola
Kathryn
Vivian
Myrtle
Charlotte
Wilma
Nancy
Vera
Kathleen
Bessie
Maxine
Nellie
Alma
Lillie
Violet
Jessie
Stella
Audrey
Ella
Minnie
Wanda
Lucy
Sylvia
Ellen
Eileen
Jeanne
Genevieve
Mabel
Margie
1922 GIRL NAMES JUST RIGHT FOR 2022
Sweet and sparky Birdie blends the best of Sadie with Wren. It could be short for Elizabeth, Beatrice, or Bernadette … but back in 1922, Birdie ranked in the US Top 1000 on its own.
Take Georgia, add a healthy dose of Juliette, and you'll have Georgette.
LEATRICE
It looks like a smoosh of Leah and Beatrice, and that's likely the name's origins. Silent film star Leatrice Joy put the name on parents' list of possibilities way back in the 1910s.
Author Miguel Cervantes stretched traditional Lucia into elaborate Lucinda. It's been in use ever since.
Strong and delicate at once, Millicent comes with accessible nickname Millie.
NOVELLA
It might be an elaboration of Nova, but Novella feels most like a literally literary name.
Molly is a long-time favorite, while Penelope is a smash hit. Poppy is on the rise. So why have we overlooked Polly? It's the perfect blend of edge and sweet.
Virtuous Prudence sounds at home on Plymouth Rock – or, possibly, as the title of a Beatles song.
Tailored and sophisticated, Rosalind sounds like a name from another era. But Rose and Rosie are timeless.
Dancer Twyla Tharp made her unusual name slightly more familiar. But she wasn't the first to bear it, and Twila had a good run in the 1920s, peaking in the 1930s. It's said to be based on the word twilight.
Cross Willa with all those girl names ending in -lia, and Willia is a logical possibility.
Relatively few Y names are in use, and Yvette remains rare circa 2022. But we do love a great Eve name these days, and Yvette might be a surprisingly wearable vintage find.
Would you consider any of these 1922 girl names for a daughter?