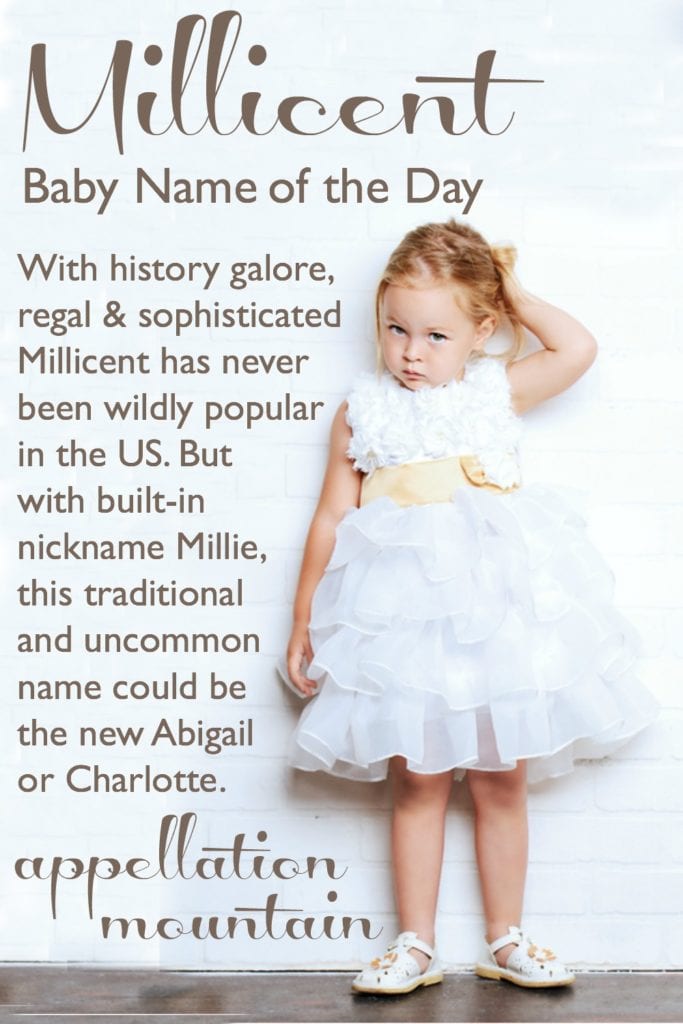 Millicent has languished in style limbo for too long. With Amelia and Evelyn in the current US Top 20, why not this sweetly vintage name?
Thanks to Katharine for suggesting today's Baby Name of the Day.
Millicent: Good Girl Name
Many parents have embraced good girl names, ones with built-in nicknames. Think of Abigail called Abby, Lillian known as Lily, or Eleanor who goes by Ellie. They're traditional names with distinctive sounds, substantial choices that shorten naturally.
Millicent called Millie fits in perfectly.
Millicent: Vintage and Rare
Here's a surprise: this name has never charted higher than the 400s. Back in 1927, Millicent made it all the way to #435.
Millie fared slightly better. Around the year 1900, it hovered around #200.
The breakout star of Mil names? That honor goes to Mildred, a Top Ten name from 1903 to 1926.
Only Millie ranks in the US Top 500 today, while Mildred teeters on the edge of extinction. American parents do adore Mila, though, so perhaps the Mil- names are on the upswing.
Millicent: Amalswintha
The Germanic name Amalswintha was transformed into the Frankish Malasintha and the French Melisende over the centuries. The Dictionary of Medieval Names from European Sources lists two queens and a princess who wore some form of the name.
At least one of them was quite formidable. Amalaswintha, daughter of Theodoric the Great, served as regent of the Ostrogoths in the 520s and 30s. The princess was described as learned and wise, an excellent diplomat and ally of Justinian I, Byzantine emperor. She ruled the kingdom for her 10 year old son. When she was assassinated, Justinian took it as signal to invade.
Amalswintha comes from amal – work or bravery – and a second element, meaning strong.
Melisende and Melisent came to England with the Normans. From 1131 to 1153, Melisende reigned as Queen of Jerusalem.
In England, the name continued to evolve, eventually reaching the current form.
Millicent: Thoroughly Modern
Thoroughly Modern Millie took place in the 1920s, but was actually a product of the 1950s and 60s. In fact, the movie came out in 1967, and the Broadway musical version debuted in 2002. Modern, indeed.
The tale tells of a small-town Kansas girl who moved to Manhattan, bobbed her hair, and donned a flapper dress in search of love and money.
You might also think of a very famous doll. Barbie's full name is listed as Barbara Millicent Roberts.
There's also:
Late nineteenth/early twentieth century activist Fawcett helped open higher education to women in Britain.
Australian feminist leader Preston-Stanley became one of the first women to hold elected office down under.
Feminist and civil rights activist Fenwick served four terms in the US House of Representatives in the 1970s.
More recently, Lisa Yee gave us Millicent Min, Girl Genius, the heroine of a 2003 children's novel. Factor in two minor Harry Potter characters, and the Millicent Bystander references from 2006 animated movie Flushed Away, and a generation of kids is growing up with the name.
Millicent: Millie
Millie entered the English Top 100 back in the 1990s. It took much longer for Millie to warm up in the US. Only in 2009 did Millie return to the Top 1000.
Of course, the English love their nickname names: Charlie and Alfie, Evie and Elsie. While plenty of informal choices are gaining in the US, too, many parents still prefer a formal name.
This opens the question: will Millie take off, following Ellie up the charts? If so, does that leave Millicent neglected, or will it slowly catch on, too?
If you adore Charlotte and Abigail and so many buttoned-up girls' names that rank in the current US Top 100, Millicent seems like a logical substitute. Millie fits right in with Maddie and Molly and Ellie, while Millicent remains distinctively different.
Can you imagine this name catching on today?
This post was published originally on July 20, 2008. Following substantial revision, it was re-posted on March 22, 2017.