Time for the ten noteworthy baby names February 2016 installment!
This new series looks at ten names that were big the month before. Some of them are wildly popular on Appellation Mountain – and only on Appellation Mountain. Others are up for discussion here, there, and everywhere.
Last month we talked about Freddie, Amelia, Bowie, Grady, Sylvie, Ophelia, Decker, Wren, Alessia, and Wade.
Read on for the noteworthy baby names February 2016.
Noteworthy Baby Names February 2016: Arlo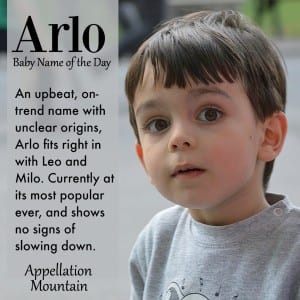 For a while Leo was everywhere. Then it was Milo. Now Arlo seems to be the ends with 'o' boy name that has everyone buzzing. Credit Disney-Pixar's The Good Dinosaur, which gave the name to a, well, dinosaur. (The boy in the movie? His name was Spot.)
It wasn't a mega-hit … and Disney-Pixar knows mega-hits. But even their more modest films tend to have a long shelf life, and The Good Dinosaur is available for home viewing now, which probably explains why it's generating more and more buzz.
Arlo feels sort of edgy and indie thanks to folk singer Arlo Guthrie, but there's nothing like a Pixar pic to make a name just right for the nursery again.
The slow and steady rise of Ellie almost certainly owes something to another Disney-Pixar flick, 2009's Up. Arlo could follow Ellie into wider use. As of 2014, Arlo ranked a modest #539, but it was among the most-viewed posts at Appellation Mountain in February 2016.
Noteworthy Baby Names 2016: Vesper
There's no mystery behind what's boosting Arlo. But another well-viewed girls' name at Appellation Mountain in February 2016 is more of a surprise.
Vesper fits with our interest in night sky names for girls. It's bolder than Luna and Stella, but not so out there with names like Harper and Piper in vogue.
It's also a Bond girl name, possibly inspired by a real life spy Ian Fleming once knew. Vesper Lynd – a play on West Berlin – is a character in Casino Royale, which has been made twice, in 1967 and 2006.
On a very different note, Vespers is an evening prayer service.
Neither the cinematic nor the spiritual references explain the uptick in Vesper's page views last moth, but let's say this: it's a great example of a stands-out/fits-in name. 52 girls were named Vesper in 2014, up from 35 the year before. I fully expect to see even more newborn Vespers in the 2015 and 2016 statistics.
Noteworthy Baby Names February 2016: Harper
Nelle Harper Lee gave the world an American classic with her one and only novel, To Kill a Mockingbird. It became a cinematic masterpiece, the rare example of the book being as good as the movie being as good as the book.
Then came the summer of 2015, and the release of Go Set a Watchman. It changed our perceptions of Atticus, but didn't tarnish the reclusive Miss Lee's reputation as a storyteller unafraid to confront difficult topics.
Harper was poised just outside of the US Top Ten in 2014, with many parents citing the author's influence. With her death in February 2016, it seems inevitable that Harper will crack the US Top Ten – though perhaps that's already happened, and we're just waiting to see the 2015 numbers to know for sure.
Notable Baby Names February 2016: Leidy and Khadija
I'm going to write about an Oscars-inspired baby name in just a minute, but first: the controversy over the lack of diversity in Oscar nominees (or, you know, Hollywood) really hit home. I've been working to write about names from a more global perspective, and I'm especially interested in the impact of bilingual (English/Spanish) families on baby names in the US.
So I was especially pleased to feature two names this month that are outside of the mainstream: Leidy and Khadija. Because for a great many readers, names that are strictly European in origin don't honor their backgrounds.
And yet, it makes me realize how incredibly far there is go – and how limited my education is as regards these topics.
Noteworthy Baby Names February 2016: Alicia
Alicia Vikander is Swedish, and apparently in Sweden, Alicia is pronounced Ah-lee-see-uh. She's big news at the moment following her Oscar win as Best Supporting Actress for The Danish Girl.
American actress Alicia Silverstone pronounces it the same way, but when I first heard her name in the 1990s, I thought, "Hmmm … uphill battle." Because Alicia pronounced Aleesha was such a common name at the time. It peaked around #40 in the middle of the 1980s.
But when I hear Alicia Vikander's name, my reaction is very different. It strikes me as a perfect choice for parents who love Olivia and Amelia, but want something less popular – but still familiar to most.
That's not to say that a little Ah-lee-see-uh wouldn't still have a lot of correcting to do. But it seems more intuitive in 2016 than it did in 1995, when Clueless came out. (Which, yes, makes Clueless more than twenty years old.)
So Alicia proves two things: first, pronunciation counts, and second, the rules about when a name is ready for revival are highly fluid. Aleesha is more mom name than baby name in 2016, but Alicia might be ready for fresh consideration now.
Noteworthy Baby Names February 2016: Sybil
Every hit series has a breakout name or two, but they're not always the obvious choices. Harry Potter launched Luna, not Hermione or Ron. And Downton Abbey isn't enough to revive the classic, but still fast-fading, Mary.
With Downton Abbey coming to a close (at least for US viewers) this month, I'd like to nominate my favorite breakout name of the series: Sybil.
I almost chose Marigold, or possibly Elsie. (Though isn't she always Mrs. Hughes?) But Sybil is the name of the Crawley's rebellious, but beloved, youngest daughter whose early death shocked viewers. Sybil is also her daughter's name, though nearly everyone calls her Sibby.
Sybil was another word for a female prophet in ancient days. Benjamin Disraeli's 1845 novel made it fashionable for parents in more recent centuries. It was last big in the US in the 1920s, but the numbers suggest that the Downton effect is boosting this name in a slow, but steady way. 16 girls were named Sybil in 2004, compared to 86 in 2014. That's a significant rise.
It's also spelled Sibyl, but the y-first version has always been more popular in the US.
Tailored and distinctive, but not at-all invented or unisex, Sybil could appeal to parents who love names like Eleanor, but also names like Sutton and Sloane.
Noteworthy Baby Names February 2016: Ruth and Ralph
Can I tell you how much fun I'm having with these posts on neglected names from decades gone by? Twenty Neglected 1880s Baby Names was first, so naturally, Twenty Neglected 1890s Baby Names was second in the series. (It does not take a mighty brain to imagine what I'll choose next!)
Since I wrote the posts, two names have leapt out at me, both from the 1890s collection.
First, according to my Instagram friends, Ruth is absolutely back! I'm inclined to agree that it's not exactly neglected nowadays – I've seen it on more and more shortlists, and I know of a toddler by the name. But it still remains relatively underused.
Then there's Ralph. I was debating whether it was gone for good when my seven year old daughter named her new stuffed monkey Ralph. Obviously, that's not proof that she'll shortlist the name when she's expecting a son in a few more decades. But it reminded me that no name is ever really gone forever.
Noteworthy Baby Names: Amalswintha
Well, unless the name really does fall so far out of use that we absolutely forget it exists and cease to acknowledge it as a legitimate name.
And maybe, just possibly, modify it in our heads along the way.
Sancta Nomina did a name consultation for an Austrian family, who explained that the local magistrate gets to decide if the name you've chosen is an acceptable name. (Oh, the power! I couldn't handle it.) Apparently, friends of theirs attempted to register their daughter's name as Amalaswintha. The authorities rejected the name, and they settled on Amalia instead. That's despite the existence of a sixth century queen of the Ostrogoths, and a great many Amal- names in use over the centuries.
Incidentally, I remembered the historical figure's name as Amalswintha – one letter different. When I went looking, I could find plenty of spellings of the queen's name, including Amalasuntha and Amalswinthe – but not the one that I specifically remembered.
So while I'm rooting for Ruth and Ralph to make a comeback, I suppose some names do truly become extinct – at least until history-minded parents revive them.
Noteworthy Baby Names: Langston
On a controversial note, Rachel Dolezal – most famous for being exposed as not actually of African-American descent despite claiming so for many years, while serving as a professor of Africana studies and president of the Spokane, Washington NAACP chapter – welcomed a son in February, and named him Langston Attickus, after poet Langston Hughes and Revolutionary War patriot Crispus Attucks, the son of an African-born slave.
Langston entered the US Top 1000 for the first time in 2013, and the name has been catching on steadily in recent years. It fits with so many current trends, and yet I think Hughes' legacy gives the name a power and presence that not every stylish surname name can claim.
But is Langston a name that should be reserved for those of African American descent? I don't think so – literature has the power to move us all, and the Harlem Renaissance poet is a worthy namesake for any child. But I do wonder how the choice is perceived by others – though, obviously, Dolezal's case is controversial for a great many reasons.
Noteworthy Baby Names: Lucifer
You thought it couldn't get any more controversial, right? Nope. Let's bring back Lucifer one more time.
It's not just that I wrote about the supremely controversial name this month. It's also that the marvelous Rachel took on a host of similar names for Nameberry this month.
I really liked Kate's post on names foreign to Christian sentiment. It's written from a religious – specifically a Catholic – point of view. I feel like there's a broader concept here – names foreign to human decency? That seems terribly strong, but when I think of children named Adolf, that's my reaction. Yes, you may have a marvelous great-grandfather from Dusseldorf by the name. But that's not the image that attaches to the name in 2016. Any name that evokes a strong, negative reaction from a great many people probably shouldn't be used, out of consideration for the child – and yet, that's a murky definition, isn't it? And other than Adolf and Lucifer, I have a hard time figuring out which names absolutely, always belong on that list.
But it's one of the questions that I keep twisting around in my head after finally hitting publish on a post I hesitated to write.
Are there any names that caught your eye this month – serious, stylish, or otherwise?