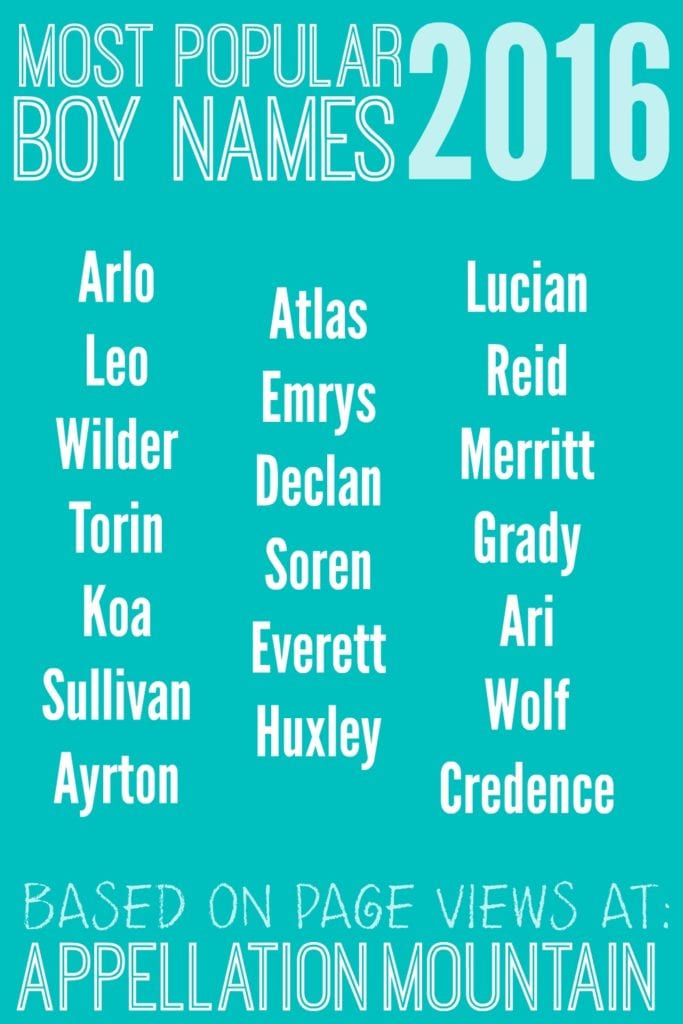 What were the most popular boy names 2016? Sure, we'll see the official Social Security Administration list in May, and plenty of websites, from Nameberry to Baby Center, have compiled their most viewed names.
Here at Appellation Mountain there's a most popular names list, too. Strictly speaking, these are the most popular name posts here, and it makes a quirky collection. After all, I cover around 150 names annually, and they range from Top Ten favorites to seldom heard rarities. No matter how popular, a name post from November will rarely outrank one from March, and often the top posts were actually created in 2015 … or even farther back!
This means that the most popular names 2016 list bears no resemblance to any other popularity list pretty much anywhere else. Some of these names are trending, but others? I doubt you'll be meeting boys with these names any time soon. Still, they're tops in this little corner of the internet.
Which is, if you think about it, kind of awesome.
Read on for the most popular boy names 2016, according to all of you lovely readers.
Most Popular Boy Names 2016: Top Five
Arlo – Okay, Arlo actually rose in 2015. The #1 name at Appellation Mountain matches up pretty nicely with US trends.
Leo – That's equally true for Leo. The name almost qualifies as traditional, or at least vintage. But it also brings to mind the mighty lion, which brings it closer to edgy, modern picks like Fox and Bear. With the top two boy names on the site ending in -o, I'll also mention that this category is deep, and there are plenty of undiscovered options to consider.
Wilder – Wilder entered the US Top 1000 in 2015. I watched the name for a while, and even named it one of the Preppy Hellraisers. It's literary (Thornton), Hollywood (Billy and Gene, who took his stage surname from the writer), outdoorsy (wild), rebellious (the same!), and preppy (move over, Parker and Carter). No surprise to find this one at #3.
Torin – Torin proves that parents continue to riff on the two-syllable, ends-in-n convention when naming boys. While this Irish name has yet to crack the US Top 1000, it fits with current trends, and has a great meaning – chief, in Gaelic.
Koa – Koa sounds like a creative spin on Noah, but that's not the case. Instead, it's a Hawaiian name, and, like Wilder, succeeds for many reasons. Besides the resemblance to #1 Noah, Koa brings to mind Kai, all those ends-in-a names for boys, and the vowel-heavy names of the moment. Plus, it belongs with creative K names like Kade, Kyson, and Kye.
Most Popular Boy Names 2016: 6 – 10
Sullivan – Friendly and upbeat, Sullivan picks up on our affection for longer surname names for boys. He fits right in with Harrison and Donovan.
Ayrton – Sometimes names succeed at Appellation Mountain because they're minimally covered elsewhere. I suspect that's the reason Ayrton ranks #7 here. Made famous by a Brazilian race car driver, the distinctive – and on-trend name – continues to rise in use some years after the death of Ayrton Senna.
Atlas – Mighty Atlas would have made an out-there name for a child just a few years ago. In fact, Anne Heche raised eyebrows when she chose the name for her son in 2009. Since 2013, however, this ancient name has soared, becoming an overnight sensation. It ranks in the US Top 500, and #8 on Appellation Mountain.
Emrys – Like Ayrton, Emrys fares well here because it is so-little covered on other sites. A perpetual contender in our annual March Madness Baby Names competition, Emrys comes from a heroic Welsh figure who inspired Geoffrey of Monmouth's Merlin. It also serves as the Welsh equivalent of Ambrose – meaning immortal.
Declan – Yet another Irish name, Declan has gone from obscure to everywhere in the twenty-first century. This name boasts serious roots, too – Saint Declan lived in the 400s. It fits with Irish names, two-syllable, ends-in-n names for boys, and also shortens to appealing nickname Dex.
Most Popular Boy Names 2016: 11 – 15
Soren – File Soren with Torin, only this one comes from Norse, not Gaelic. Soren evolved from the saint's name Severus. Thanks to Danish philosopher Kierkegaard, this name sounds smart. But it's also every bit as on-trend as many a two-syllable, ends-in-n name. As of 2015, Soren had climbed to the top 600 in the US.
Everett – The eleventh most popular name at Appellation Mountain stands just outside the current Top 100, and may very well arrive there in the next year or two. Derived from Old English and Germanic roots, Everett has always been in use. It appeared in the Top 100 during the late nineteenth and early twentieth centuries, making this modern-sounding name a true vintage gem.
Huxley – Literary surname names offer lots of potential – just ask children named Harper. But Huxley has long made my favorites list, thanks to the combination of sounds: the H from Henry and Hugo, that great 'x' in the middle, and a traditional -ley ending. Huxley debuted in the US Top 1000 in 2015, and seems likely to climb even higher.
Lucian – Lucas and Luke dominate the boys' Top 30, with plenty of other Luc- and Luk- names, plus Lu- choices like Luna, ranking well in recent years. We also love Julian and Gideon and lots of other three syllable boy names. Lucian seems somewhat neglected, but perhaps the name's #14 rank on this list indicates that could change.
Reid – Handsome Reid comes with a spelling challenge. The 'ei' spelling ranks only about fifty spots above the 'ee' spelling. Like Everett, Reid feels traditional and modern at once. And we do love those single-syllable names for boys, don't we?
Most Popular Boy Names: 16 – 20
Merritt – Like Reid, Merritt might be spelled multiple ways. Merit seems like a straight-up modern virtue name. But the double-r, double-t spelling comes from an Old English place name turned surname. It enjoyed steady use in the US up until the middle of the twentieth century. Now it makes the most popular boy names 2016 at Appellation Mountain, but in the US, it was given to just 71 boys last year. And 80 girls! Maybe this one actually belongs on the unisex list, coming up later this month …
Grady – I adore the name Grady. It comes free of the quarterback baggage of Brady, could shorten to Gray, and means noble. While Grady makes list of most popular boy names 2016 at Appellation Mountain, the name hasn't cracked the US Top 200 since the 1910s. Today it hovers in the mid-300s, familiar but far from over-used.
Ari – Ari can come from a Hebrew name meaning lion or a Scandinavian name meaning eagle. Either way, the name feels fierce and edgy. Entourage's Ari Gold made the name more broadly familiar in the early part of the twenty-first century, and the name has continued to rise in use. Another reason we love Ari: like Eli or Koa, it's short, vowel-intensive, and modern in sound.
Wolf – Is Wolf a traditional name rediscovered? Or a modern name invented by parents eager to stand out? Well, yes. While Wolf lands on the most popular boy names 2016 list, traditionally it would have been Wolfgang. Or some other Wolf- name; check out the W section at the DMNES for more! A mere 58 boys were named Wolf in 2015, but that marks a new high – so perhaps all those page views at Appellation Mountain do mean something.
Credence – Maybe Credence's popularity is explained by Fantastic Beasts and Where to Find Them. But the movie was released just a few weeks ago. Could it be Potter fans searching in advance? Maybe. Still, some of the name's appeal might be due to our ongoing interest in virtue names, too.
Most Popular Boy Names 2016: March Madness
The top 16 names will move on to compete in next year's March Madness tournament, which kicks off on March 4, 2017. However, in 2015, we decided that once a name has won, it is retired from competition forevermore. That means that Everett – the 2014 tournament winner – becomes ineligible, and the #17 name, Grady, takes the spot.
What's your favorite of the most popular boy names 2016? Do you have a favorite heading into March Madness 2017?