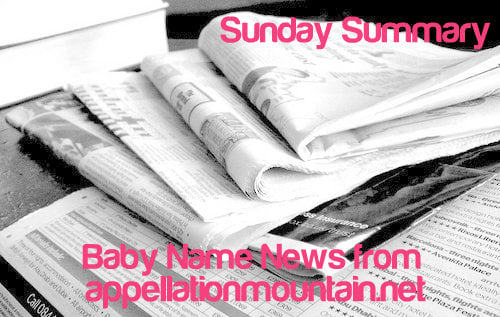 First, after years of fearing I'd hit the "publish" button instead of "save draft" button and not notice, I actually did, sometime late Saturday night.  If you're trying to figure out why there were incomplete sentences and lots of … and X in the Valo post, no worries … Valo will return later this month, all shiny and complete.
Now, on to Sunday …
I was flipping through latest issue of Oprah's magazine, when two respellings on adjacent pages caught my eye: Aerin and L'Wren, as in Lauder and Scott.
We really are living in a moment where everything must be spelled.
But L'Wren is more memorable than Lauren, Aerin more intriguing than Erin.  While I still can't get behind Eighmei or Dustynne, I find myself feeling more and more generous towards alternative spellings with every passing year.
In other baby name news:
I remain convinced that a name nerd has infiltrated Pottery Barn Kids' embroidery department.  The latest evidence?  A personalized item for Tobin in the most recent catalog.  Civilians do not dream up names like Tobin and embroider them on upscale kidgear.  After Blythe made several appearances a few months back, to say nothing of Sheldon, I think it is safe to assume that one of the stylists is one of us.
Australian athlete Joel Reddy and his wife Rearne Goodwin officially have the daffiest taste in baby names.  No, really.  I think they rival Jamie and Jools Oliver.  I'll give the Goodwin-Reddys a pass on Rock, their son's name.  It's a little out there, but only a little.  But their new twin daughters are Maple Gray – which, okay, I could get behind, even though I think the Bateman's Maple Sylvie is better balanced – and Skeeter Jo.  Skeeter?  All I get is mosquito.  Oh, wait … could it be in homage to The Help heroine Skeeter Phelan?  I might have to withdraw that daffiest taste statement.  But please tell me Skeeter is not the next Harper.
Sutton Isobel, Stella Blue, Clayton Foster, Booker Reid, Cleo Adeline … there's lots to love in this list of birth announcements.
Could Margery and Marjorie make a comeback?  Does her Game of Thrones connection give her a boost?
I love Rosalind, horse connection or no.  Now I'm intrigued by Canter, Vanner, and Lorimer, too, thanks to Isadora's round-up.
Take one part Sasha, a little bit Dashiell, mix and arrive at the Russian Dasha.  Love it.
I've written before that andro-girly is the one style that I just don't get, but I loved this New York Times slideshow via Laura Wattenberg.  I went to a rodeo in Jackson Hole last summer, and yes, many of those girls sporting the tiara-cowboy hat combo answered to names like Harlie and Ashlyn.  As Wattenberg wrote of seeing the pictures, "You still may or may not like the Andro-Girly names, but I'll bet that now you get them."  She's totally right.  And one of the girls is called Lariat.  I could get behind Lariat.  It's a little bit geek chic, with a generous helping of Wonder Woman and rodeo queen.
From the wayback machine: Calliope, a featured name in 2009.
Real Housewives of Atlanta's Phaedra is already mom to Ayden with husband Apollo.  Now the happy couple is expecting boy #2.  But get this: the mom-to-be said "I don't have any baby names in mind as my husband will be giving him his name. I don't know if he's actually decided on a name yet."  Say what?  I've heard of couples alternating decision rights – if mom's favorite name wins out for their firstborn, then dad gets more say with the second baby.  But my goodness … can you even imagine not having any idea what your husband was thinking?  I'd be following him around, looking for clues.
I agree with Eponymia completely – why aren't we using Spring as a given name?
Another one of her list: Maerose.  Along with Mayrose, Rosemae, and Rosemay, I think they make for a charming smoosh.
Bruce Lansky gets it wrong … names' images aren't fixed and unchanging.  Dexter would have been a burden if you were born in the 1980s.  To a 2013 boy, it hits all the marks of cool.  Lola was once too much of a temptress name, but she's shed that image.  Lena might make your Swedish grandmother flinch, but chances are that the Lena and Ole jokes aren't familiar to most of us.  I'll agree that Adolf and Bambi are best avoided, but there are very few names that really can't be worn.
Let's end on a high note: Angela's advice is solid.  I love what she says about "bully phobia."  And about compromising with your partner.  And accepting that not every one is going to love the name you pick.  I'm nodding my head at every one of her points.
That's all for this week – as always, thank you for reading and have a great week!